Getting Clearer: Schooling Loss, Not Learning Loss
The narrative of "learning loss" is weaponizing static achievement against young people and families in ways that further harms them in a time of global pandemic and disarray. Instead of falling back on the nostalgia of an outdated and mechanized education system, we must push forward into the global shift of our human existence and post-pandemic learning needs and opportunities. As we design teaching and learning now, and in the future, it is best we recycle the good mineral components of the previous education machine and build new resources for teaching and learning that serves the needs of all of our futures.
Students are experiencing school loss and peer interaction loss, not learning loss. Our students are learning every, single day. They are learning deeply, personally, and significantly about many things. What they are not doing is schooling. There is a narrative in America that assumes schooling is learning. It is not. There are stories being told right now assuming that since students are not schooling in the ways they did before the pandemic, they are losing access and they are "behind". Behind what? Behind the content and measurement of the set of students that navigated schooling at that grade/level before them? That is true, and it is also true, that now our students are not journeying on the same path set by soft metrics derived from a perceived average student as that set of students were. None of our students are there anymore. We are off the machine belt and we are on a shifted ground.
There is no schooling based learner in this pandemic time, moving forward without the impact of the pandemic. There is no child behind now, that wasn't behind before. Students in exceptional circumstances and/or wealth are continuing in those circumstances, and students marginalized by systems of oppression and inequity are continuing in those circumstances. The concept of leveled competition, or "meritocracy", showcasing the ability to succeed in an education system like everyone else, was exposed in a new way through this pandemic as false and harmful. We see it clearer now. We see it through a different lens. We name it in pandemic terminologies like digital inequity, or lack of internet and technology access, or learning loss.
Students have been prohibited from accessing meaningful content and learning experiences well before pandemic schooling circumstances. Students are not failing more now than they were before. The system is failing more now than it did in the past. The controls of location and delusional thinking that students at school, in buildings, sitting in classrooms means that they are learning has been unable to translate to remote instruction. The static outcomes for what we learned in schooling a year ago, no longer apply. Our human ecosystem has shifted. We will never be back to what was; we are all changed. We must let go of standardization and turn towards personalization and actualization. Our ability to do this well will be a turning point as the entire world shifts into a new way of being, post-pandemic.
The pandemic is a portal for the opportunity and not a setback. Our children are experiencing continuous learning. They aren't necessarily learning what we measured in the schooling of the past. They aren't predetermined content, formulaic, rote, memorized, or skilled question analysis and multiple-choice selections types of learning. It is agile time learning. Learning in constraints. Learning in family and local communities. Learning about the human condition. Learning about their own human condition. They are learning in relationship with digital resources. It is the responsibility of those of us in post-pandemic learning communities to welcome in our students and get to know each other again. We need to listen to our families and communities and establish our steps together as we continue forward in our learning journey.
Renew Your Learning Community and Learning Outcomes
As school and district communities prepare for the next school year and beyond, keep in mind you are not returning to school. Prioritize these steps:
Rebuild and renew "schooling"

with

families and community partners.
Ensure you take time to know your students, as they are in the present, not what they were in the past. Investigate all the ways your learning community has grown. Invite students and families to share with you all that they learned while in remote schooling and pandemic circumstances.
Prioritize time for teaching communities to re-engage with each other and reflect on their transformed teacher identities, abilities, and priorities for the facilitation of learning.
Invite ideas for the best ways to design student learning differentiation, course and content modifications, and personalization strategies.
Expand options for students to personalize their learning through competency-based pathways, performance assessments, and individualized learning resources.
Continue to build on the capacity of asynchronous learning experiences, a digital resource, and a learning management system organization.
Let go of Monday-Friday seat time and create options for a meaningful time in learning communities. Work with community partners as learning places and establish partnerships for child care flexibility to accommodate families with more fluid, intentional in-person learning schedules.
Look towards shifts in post-secondary education and workplaces to revise/refine graduate outcomes, content, and experiential priorities.
For more, see:
---
Stay in-the-know with innovations in learning by signing up for the weekly Smart Update.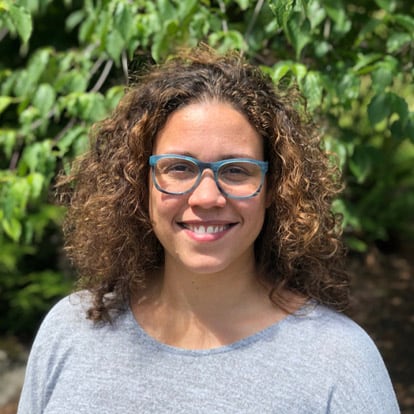 Kelly has been an educator for fourteen years. She began her career teaching in Southern California and has helped schools and systems reimagine teaching and learning, as well as serving as a school administrator. She is a Deeper Learning Equity Fellow, driven by the relentless belief in the possibility of social justice within education systems. Kelly focuses her education leadership on re-imagining structures for teaching and learning in order to empower all students for the future. Kelly is also a member of the Getting Smart Advisory Board.
Rebecca Midles is the Vice President of Learning Design at Getting Smart and is an innovator in competency education and personalized learning with over twenty years of experience as teacher, administrator, board member, consultant and parent.