The Lure of the Classroom
In 1994 I made what many of my colleagues considered a foolish choice: I quit a successful career in journalism to become a classroom teacher.
That decision led to six years of teaching middle school in Southern California and another four years at New Technology High in Napa, Calif. I earned many accolades for my work, so I knew I was good. However, that external validation paled in comparison to the immense satisfaction I derived from the classroom. I was doing good work, work that mattered in the lives of children.
And then another risky move. I left the classroom to launch a consulting practice, which soon landed me a position as Senior Director of the Buck Institute for Education (now PBLWorks). From there, I moved to Washington D.C. and assumed the role of CEO for the Partnership for 21st Century Learning.
The 11 years I spent atop the management structures of two influential nonprofits gave me unparalleled access to the best schools and teachers in the world. I avidly participated in every classroom visit I could wrangle so I could soak in best practices and rub shoulders with the youngsters I deeply missed.
What I saw depressed me, but not for reasons the reader may suspect. The teaching I witnessed was awe-inspiring. It was the personal insight that was painful. I had been a good teacher, but had barely scratched the surface of the craft. It ate at me.
When P21 was acquired by Battelle for Kids in late 2018, I had the opportunity to reflect on my career and plan for the next adventure. I was offered executive positions at education nonprofits in New York and Washington. I turned them down. The unbearable itch I felt to reconnect with students wouldn't be answered by managing another team of educators who did the trench work.
I used to tell myself—and anyone who would listen—that the reason I left the classroom the first time was because I wanted to increase my impact. As a teacher, I could improve the learning of 100 or so students every year, but that wasn't enough for a talent (and ego) like mine.
At the Buck Institute, we created a professional development engine that trained over 10,000 teachers per year. That was impact. At P21, we created a coalition of business, education, and policy leaders that developed and promoted legislation and research that shaped the work and thinking of countless educators. That was impact.
But it was impact without a face. The magic act of connecting the management work I was doing to the needs of young learners became increasingly more difficult. Sitting next to a struggling student and using your skills, knowledge, empathy, and experience to help them construct a deeper understanding is a visceral experience. The satisfaction is immeasurable. I never got that feeling in a boardroom or in the halls of Congress. It only appeared when I walked into a classroom and started to lean in, however briefly, to the learning lives of children.
This spring I began to apply for teaching jobs. I was looking for:
Middle school, ideally sixth grade
Project-Based Learning focus
Small district with a high number of diverse learners who lacked opportunity or means
Technology focus
Collaborative grade-level team
Responsive school leadership that honors a teacher's professionalism and independence
After many interviews, I found the place I was looking for. When I was offered and accepted the job, my wife immediately noticed the difference in my usually glum demeanor. I was back in the classroom, where I was meant to be.
In 1996, I was honored as Teacher of the Year at Corvallis Middle School. In my acceptance speech I revealed a secret: The only reason I was successful was because I was good at learning from the remarkable teachers around me. I was the product of their exceptional work. Since then, I have learned so much more.
Nearly a decade later I was asked by the senior class at New Tech High to deliver their commencement address. They were heading off to college, career, adventure, or service. They weren't quite sure what they wanted to be when they grew up. During the speech I confessed to the same: I was a middle-aged man who didn't know what he wanted to be when he grew up.
Well, now I know. I want to be a teacher.
For more see:
---
David will be chronicling his return to the classroom in a monthly series of blogs. Follow along.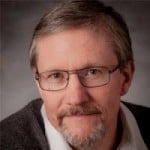 David Ross is a global education consultant and former CEO of the Partnership for 21st Century Learning.