The Getting Smart Podcast: Season Two Summary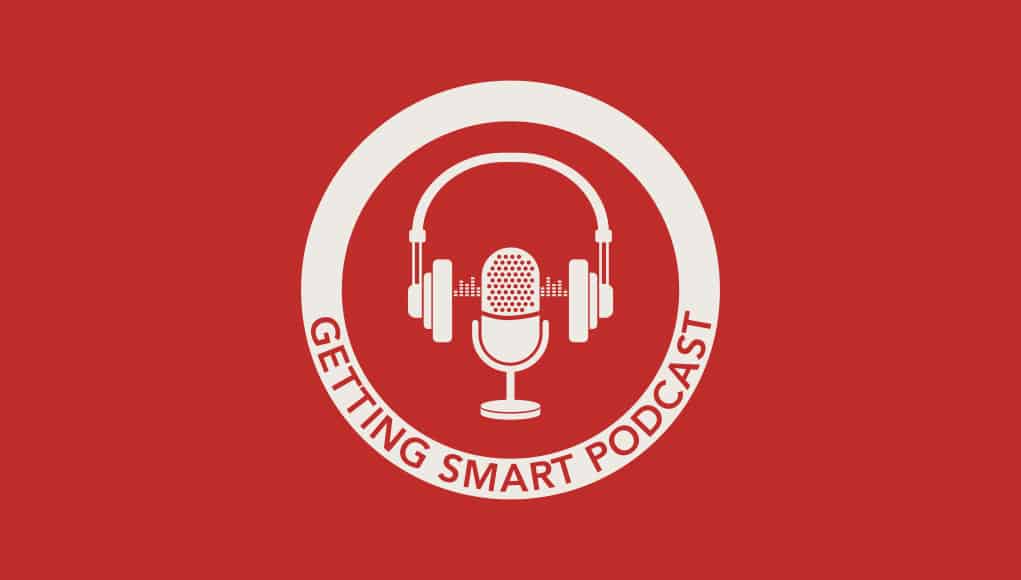 Season Two of the Getting Smart Podcast officially wrapped with 75 episodes and Season Three launches next week (plus don't forget to check out Season One of the podcast for 40 more episodes).
But before we finish this season completely, let's take a look back at some highlights of what we learned this season from education leaders across the nation:
#AskAboutAI
The Future is Here: Artificial Intelligence & What it Means For Our Kids: Emily Liebtag sat down with Tom Vander Ark and senior Silicon Valley software engineer Gerald Huff to discuss how artificial intelligence will impact the future and how important it is for today's students to #AskAboutAI.
Zoran Popovic on Accelerated Learning with Smart Tools: Zoran Popovic, Director of the Center for Game Science at the University of Washington, chats about computer science, gaming, virtual reality and how we can help today's students be successful using artificial intelligence.
Competency-Based Learning
Demonstrating Mastery for Future Success: Chris Sturgis of CompetencyWorks and Tom Vander Ark share their thoughts on what Mastery (or competency-based learning) is, what it does and why it's important as part of the continuing conversation sparked from the recent National Mastery Communication Week.
District 51 On Building a Performance-Based Education System: Former Superintendent Steve Schultz and Executive Director of Performance-Based Systems Rebecca Midles share more on Mesa County Valley School District 51's efforts to shift to a competency-based education model.
Cool Schools
Acton Academy: Building a Student-Centered School…And Global Network: Acton Academy co-founder Jeff Sandefer shares more with Tom Vander Ark about this student-centered K-12 private school where students are tasked with "finding a calling to change the world."
Denver Public School System Exemplifies A Healthy Educational Ecosystem: Denver Public Schools education leaders share why their school system continues to lead when it comes to providing school choice for students and families.
Making the City the Text at High Tech High: High Tech High leaders Larry Rosenstock, Jeff Robin and Kaleb Rashad share musings about student projects, starting new schools, hiring teachers and why the city the school is located in is so important.
Student-Led One Stone is Transforming Boise: A real life example of the results that can come from setting a stage for students to lead and then allowing them to apply the skills received.
Education Leaders
America's Edu Power Couple On Balancing Innovation and Execution: Erin Mote and Eric Tucker, co-founders of Brooklyn Lab Charter School, discuss building a durable school that is also future-ready, as well as a customized learning platform from scratch.
EdLeader Voices at the iNACOL Symposium: Listen as education leaders share with us why they attend this annual, what sets it apart from others and exciting takeaways they're bringing back to their district or organization. (Don't forget to register for this year's iNACOL Symposium!)
5 Lessons on Impact Leadership: Curriculum Associates CEO Rob Waldron shares more on his unique employment arrangement, as well as the most valuable lessons he has learned so far about successful and impactful leadership.
Google's Jaime Casap on Inequity and Inquiry: Jaime Casap, Chief Education Evangelist at Google, shares more about inquiry-based learning, technology in education, bridging the digital divide and how a boy who grew up on welfare in Hell's Kitchen was able to beat the odds and succeed.
How Networks Make The World Better: Curtis Ogden, Senior Associate at the Interaction Institute for Social Change, discusses how networks are part of the education solution.
Learning Anywhere, Anytime: Things Are About to Get Interesting: Katie King of KnowledgeWorks interviews Tom Vander Ark about EdReform, EdTech, EdLeaders and what learning will look like a decade from now.
Matt Candler on the #FutureofSchool: Here we share segments from a 4.0 Schools Community Summit keynote by CEO and founder Matt Candler, as well as his thoughts on the #FutureofSchool.
Higher Education
HigherEd Reinvented: Minerva Goes Global: Minerva founder and CEO Ben Nelson discusses this unique college's innovative undergraduate program that combines four years of world travel with interdisciplinary study to prepare its students for success in the global future.
Project Based Engineering at Olin College: We discuss how project-based learning is more important than ever for students to succeed and share an interview with Olin College of Engineering students who experience project-based engineering.
Language Learning
Supporting English Learners in K-12 Classrooms: Dr. Bernadette Musetti shares benefits of bilingualism, programs or innovations in education that move emerging bilingual students forward and common myths or misconceptions about teaching emerging bilinguals and English learners.
What's Next In Language Learning? With the world globalizing and changing at an unprecedented rate, it is important for us to be considering how we can give students global and cultural competencies. Language learning can be a great, accessible way to provide those skills.
Why Language Learning Matters: Parent and Student Voices: Parent and student perspectives are often left out of education conversations, so in this episode of the podcast, we capture ideas and insights around language learning from several members of these two important education stakeholders.
Personalized Learning
Leading Personalized Learning: State Policy Advice & Successes: Senator Howard Stephenson, Utah Preparing Students Today for a Rewarding Tomorrow (UPSTART) champion, discusses his successful leadership on state policy for personalized learning.
Mississippi District Personalizes Learning for Teachers and Students: Dr. Philip Hickman, Superintendent of the Columbus Municipal School District in rural Mississippi, discusses how Columbus is proof that personalized learning and innovative education can happen anywhere.
Transforming Border Learning Experiences: New Tech Network in El Paso: Emily and Tom spend the day at Oso New Tech in El Paso, Texas to learn more about how they are personalizing learning through project-learning for all students.
Pilot Programs
Using Pilot Programs as a Foundation for Innovation: What do you do when you think a new program or EdTech tool could benefit your district or school's students, but you just aren't 100% sure? In part one of this three-part series on pilot design best practices, we look at how you can make an informed decision.
The Details Behind Pilot Design: So you've decided that you want to plan a pilot for a new EdTech tool. Where to start? There are a number of factors that affect the outcome a pilot, from the technical down to the cultural. In this podcast, we take a detailed look at those factors.
Involving Teachers in the Process of Innovation: Teacher voice and engagement are crucial to the success of a pilot program. In this podcast, we hear more about how those seeking to design a pilot can ensure that teachers are a valuable part of the process of innovation.
Project-Based Learning
Building 21st Century Skills: David Ross, the new CEO of the Partnership for 21st Century Learning, sat down with Bonnie Lathram to talk about the current golden age of project-based learning and how it connects to the importance of social and emotional learning.
Coaching for High Quality Project Based Learning: As part of the High Quality Project Based Learning project, Emily got to talk to Andrew Biros, New Tech Network Coach. Andrew shared some really powerful lessons and messages about trusting the process, being ok with failing ("It's only failure if you stop trying) and even shared a couple of laughs about the joys of learning as you go. Worth the listen!

Leaders on High Quality PBL: Doing it Well at Scale: At a High Quality PBL steering committee meeting, we had the chance to ask ten EdLeaders to share their thoughts for this podcast around the benefits of project-based learning and the challenges to more high-quality PBL at scale.
Readiness
AVID: An Integrated Approach to College Readiness: Sandy Husk, CEO of AVID, discusses how this college and career ready system began, and how it helps create college-going cultures in schools through critical teacher professional development.
It's Time to Update Your Graduate Profile – Here's How: Ken Kay, CEO of EdLeader21, shares more about the "Profile of a Graduate" campaign, created to help districts, parents, students and community leaders to envision the essential competencies for a successful graduate in their community.
Getting Smart Podcast | Partnerships Propel Readiness Results with a Focus on Equity: College Spark senior program officer Heather Gingrich and Bob Wise, president of the Alliance for Excellent Education, discuss the importance of helping today's students become college, career and life ready, and how a partnership approach to this goal is really the best option.
Social Emotional Learning
CASEL: Leading Advocate for Social Emotional Learning: Why is Social Emotional Learning (SEL) important in schools? Roger Weissberg, chief knowledge officer of The Collaborative for Academic, Social and Emotional Learning (CASEL) and SEL expert, shares more in this podcast.
Dr. Daniel Siegel on the Teenage Mind: Dr. Dan Siegel of Mindsight Institute discusses the importance of promoting strong relationships in the learning process while working with young students, focusing efforts on growing their Social-Emotional and Academic Development (SEAD).
Are You Ready for Season Three?
We have an exciting upcoming season planned that you won't want to miss. Subscribe to the Getting Smart Podcast today on iTunes and Soundcloud (please rate us there, too!), and use the podcast app to be notified when new episodes drop!
---
Stay in-the-know with all things EdTech and innovations in learning by signing up to receive the weekly Smart Update. This post includes mentions of a Getting Smart partner. For a full list of partners, affiliate organizations and all other disclosures please see our Partner page.
The Getting Smart Staff believes in learning out loud and always being an advocate for things that we are excited about. As a result, we write a lot. Do you have a story we should cover? Email
[email protected]