Charting the Path for Personalized Learning By Planning Backward
Key Points
With the growing interest in unpacking learning models and refining teaching and learning frameworks, foundational learning practices are resurfacing in conversations about personalized learning.

One such practice gaining traction is Backward Planning by Design, also known as backward mapping.
With the growing interest in unpacking learning models and refining teaching and learning frameworks, foundational learning practices are resurfacing in conversations about personalized learning. One such practice gaining traction is Backward Planning by Design, also known as backward mapping, which finds its roots in the influential 1998 book, Understanding by Design, by Grant Wiggens and Jay McTighe (UbD). 
This instructional approach revolves around three key stages: setting desired outcomes from the start, devising a plan to evaluate and achieve the outcomes, and formulating a strategic learning approach. The emphasis is placed on the process and tailoring the starting point for appropriateness (find out more about this on the ASCD website). Learning systems undergoing instructional shifts often prioritize strengthening instructional practices, and Backward Planning by Design serves as a foundational practice for personalized learning.
A Collaborative Tool: Implementation Progressions
The continuum below is a guide for educators to revisit Backward Planning and foster a systemic approach in classrooms and learning systems. It originated in Colorado through a collaboration involving K-12 educators, leaders, and stakeholders in Mesa County Valley School District 51. While it has been refined over time, the core purpose has not changed. Educators optimize learning and refine instruction through co-design and deliberate feedback. These progressions can also be integrated as educator competencies or included in a comprehensive Portrait of an Educator.
Identify Learning Outcomes
Determine Acceptable Evidence
Design Learning
In personalized learning frameworks, learner agency and co-designing elements are essential, empowering learners to contribute to their educational journey. To support this, there is an additional row for learner agency, followed by a section that emphasizes aligned instructional strategies. 
IDENTIFY LEARNING OUTCOMES PRACTICES
Learning outcomes can pull from competencies or standards. They may also be referred to as learning goals, Essential Understandings, Essential Questions, and Knowledge and Skills
Consider the learning outcomes. Questions to consider:

What are the essential concepts for students to understand?
What essential questions will students keep considering?
What knowledge and skills will students acquire?
What established outcomes are targeted?

Review the depth of knowledge identified to know the learning outcomes. Set clear, achievable, and measurable learning goals and share them with learners. Prioritize collaborative, learner-centered learning. Determine how the design of learning contributes to a learner's success and how the assessment process will impact the final mark (reassessment opportunities). 
DETERMINE ACCEPTABLE EVIDENCE PRACTICES
Assessment design incorporates assessment literacy and learning science principles to effectively utilize formative, summative, and performance assessments.
Consider the assessments and performance tasks learners will complete in order to demonstrate evidence of understanding and learning. How will I know if students have achieved the desired results? What will I accept as evidence of student understanding and proficiency?
Choose the types of assessments to gather evidence that will be used for designing. Considering Summative, the culminating assessment activity at the end of the unit or a version of a formative assessment, that measures learners' understanding along the way, such as quizzes, reflections, peer feedback, conferring, performance tasks, or practice work.
Access Prior Knowledge & Gather Feedback. This can occur through a pre-assessment, a type of diagnostic assessment to check students' existing knowledge (which may not be needed in learning systems where the data is not averaged or archived) and/or formative check-ins (most common: KWL organizers, pre-tests, skill checks, and interest surveys (start of year/course). Timely, specific, and descriptive feedback that invites and allows student improvement
Self & Peer Assessment. A key component of effective formative assessment is the involvement of learners in the process. This process Impacts the brain's executive functions, ability to focus attention, monitor actions, and use feedback to make adjustments when necessary
Performance Assessment. The authentic application of learning, the ultimate transfer of learning. Learners show what they know – not just for their teachers, but for themselves.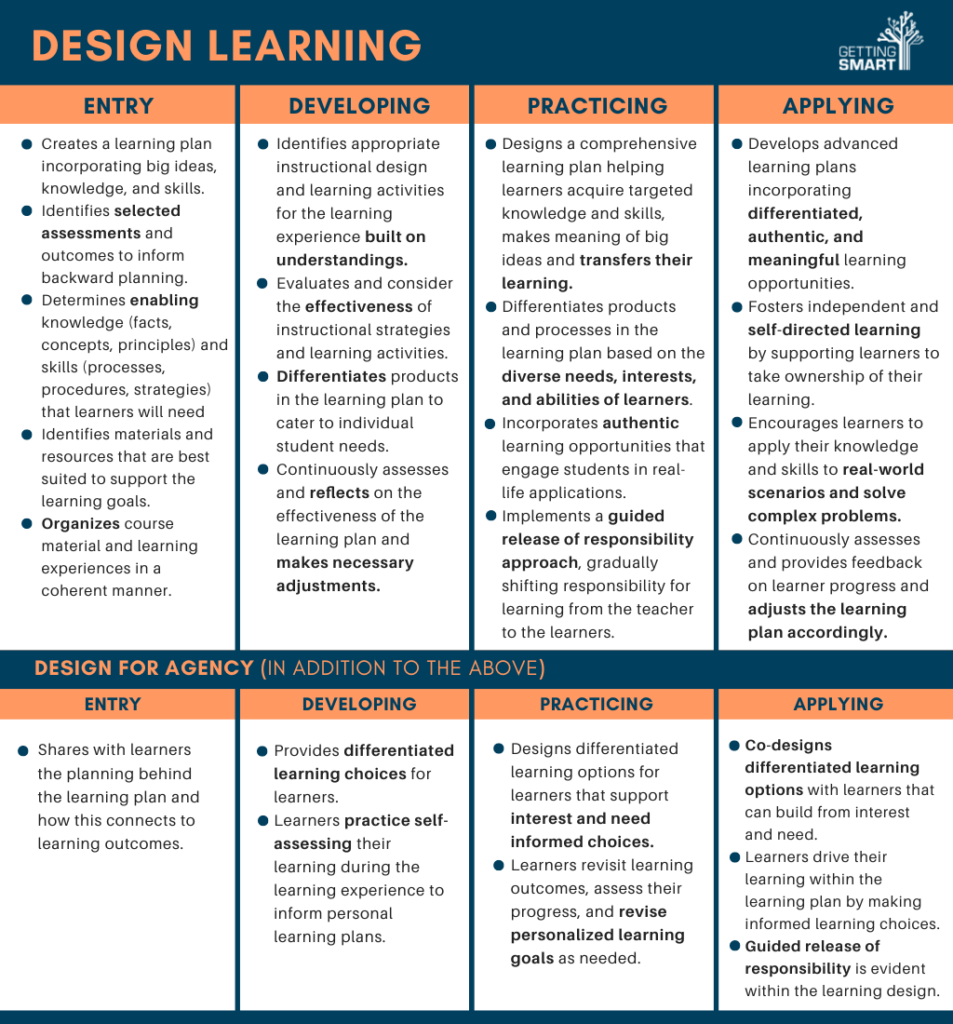 DESIGN LEARNING PRACTICES
Backward Planning from selected assessments and outcomes should incorporate instructional strategies and activities. Instructional strategies and learning activities are evaluated and considered for learning design.
Questions to consider:

What enabling knowledge (facts, concepts, principles) and skills (processes, procedures, strategies) will learners need in order to achieve desired results?
What activities will equip students with the needed knowledge and skills?
What materials and resources are best suited to accomplish these goals?
How will course material and learning experiences be organized?

Instructional strategies are the teaching methods used to present new information. Methods can include teacher-centered approaches like demonstrations or lectures or student-centered approaches like peer discussion and inquiry-based learning. Instructional activities are the specific ways in which students interact with the course content. These activities run the gamut of watching educational videos, creating posters or presentations, completing a group project, or playing learning-based games
These implementation progressions serve as a reflective tool for educators and PLC teams to self-assess their understanding and application of the Backward Planning stages. These tools foster a culture of reflection and growth, leading to ongoing improvements in instructional practices and enhancing learner achievement.
Rebecca Midles is the Vice President of Learning Design at Getting Smart and is an innovator in competency education and personalized learning with over twenty years of experience as teacher, administrator, board member, consultant and parent.