Assessment as Revelation, not Destination
Key Points
When we think about the implication of education within high stakes societal times experiencing struggle and scarcity, we often succumb to the comfort of what we know, and what we think we can control. 

We must open the possibilities in learning spaces to improve the livelihoods of our students and support their growth and development into a world of possibility.
We find ourselves in a liminal space in education work, moving forward from a global pandemic that interrupted the education institution and timelines, and looking onward to what the future of humanity needs. When we think about the implication of education within high stakes societal times experiencing struggle and scarcity, we often succumb to the comfort of what we know, and what we think we can control. However, it is precisely because of the high stakes we find ourselves in that we must open the possibilities in learning spaces to improve the livelihoods of our students and support their growth and development into a world of possibility.
Current headlines about education are focused on post-pandemic schooling test scores and a narrative of learning loss (which really is schooling loss). There are also reports of student unhappiness and increases in student mental health support needs. When looking into the data of anxiety causing factors for students in learning settings, we find a trend in assessment impacts. High stakes testing, student competition and comparison, celebrations of hierarchical lists of student ability, and emphasis on what students have missed and are unable to do in comparison to pre-pandemic times is inundating our young people with pressure and expectation that lacks humanity and meaningfulness.
As educators working to ensure that there is an alignment between liberatory philosophies and practices in learning spaces, we found an opportunity to reset the relationship with assessment by sharing our Assessment as Revelation, not Destination framework. This lays the foundation to create the partnership we seek for educators and students and an opportunity to walk our talk about liberatory learning possibilities.
As previous DL Equity Fellows, we continued our collaboration pushing the education field through any possible partnerships we could establish. In one of our conversations, we discussed the challenges with the assessment experience and institutionalization of assessment within American schooling systems. We also talked about how our work on the edges of this institution, such as competency based assessments, performance assessment, mastery learning etc. although building some alternatives, was still shy of the type of meaning and relationship we sought for our young people. The concept of the finish line- this "destination" that a student must reach surfaced as a key barrier to more liberatory learning experiences. We wondered, what if we shifted the mindset of assessment to experience it as a journey and revelation vs a destination? That shift would be significant for the learning culture and learning experience for students. With this construct in mind, we developed a framework to map out that shift and began to think more specifically about what revelatory assessment feels like, looks like, sounds like, etc.
Defining Revelation and Wayfinding
As the framework was emerging, and in acknowledgment of the power of words as both identifiers of culture/identity/ideology as well as tools of power, it felt important to establish some definitions. Beginning with the central idea of the framework of revelation, we wanted to capture the essence of what we believe to be possible with an experience of learning… namely the embodied experience of wonder and joy. With that in mind, we are proposing the following definition for revelation:
an emergence of meaning, understanding, and/or action about self, community, or world that reveals the use and purpose of learning and growth, and encourages how to best continue onward through wonder and discovery.
The last part of the definition refers to our belief that an important and beautiful aspect of revelation is that it can show us where we are in our learning journey, and then point us to where we might wonder next. This led us to the concept of wayfinding. We want to note that we know wayfinding has been used to appropriate and misuse indigenous cultures and contexts across the globe. We do not use wayfinding to co-opt ways of knowing from time immemorial, but rather propose our own definition in relationship to revelatory assessment:
wayfinding:
a continuous journey that seeks and trusts that what we need is in us and our relationship with our community and place. We persist onward honoring the mutual reciprocity of living and knowing alongside the earth and each other.
Revelatory Assessment Characteristics
It is a funny thing to try to design something that is rooted in liberation, wonder, and discovery while also working to articulate it such that others can imagine it as well. Without trying to create another framework that strictly delineates what is and what is not, we landed on five characteristics that illustrate how assessment can be more revelatory.
Personal

: There is a purposeful, meaningful, and authentic "why" to the assessment, designed by the learner, and an invitation to bring all of the rich identities of the learner into the moment

Narrational:

The assessment centers storytelling and other non-quantifiable methods as a way of knowing/being that is valued, and the learners are the authors and narrators of their own stories of learning

Relational:

The design of the assessment is rooted in sharing power to support meaningful exchanges of insight and learning between all those engaged in the learning and reduce positionality

Iterative:

 The assessment is built into a continuous cycle of learning that offers insight and celebration as to the current milestone along a journey

Reciprocal:

The assessment is built upon the importance of giving into and receiving from the community at large, and asks the question "what impact will students have on the collective wisdom, knowledge, experience of those around them?"
Because these characteristics emerged in part from inspiring innovation that we were seeing in the field, we have collected examples of how different folks are implementing these characteristics across the country. Each time we share this framework with others, the hope is that we can continue to learn about, collect, lift up, and share the ways in which this work is already happening. It is very important to us that we propose Revelatory Assessment not as a novel concept that no one has conceived of before, but rather an assemblage of visionary and deeply rooted wisdom and practices from those who have come before us and who are doing the work right now.
Mālama Honua Public Charter School
We found the Narrational characteristic at the foundation of an incredible learning community on Oahu, HI is Mālama Honua Public Charter School. Mālama Honua is one of seventeen Hawaiian-focused Charter Schools (HFCS) that are "working on reclaiming Hawaiian rights and practices directly tied to traditional and ancestral knowledge." (EdWeek article) A K-8 school serving the Waimanalo community, Mālama Honua students deliver portfolio defense presentations at key moments throughout their journey that are structured as stories. Beginning with an ʻŌlelo noʻeau, students choose and often sing a traditional story that connects to the overall learning they will then narrate during their defense presentation. (ʻŌlelo noʻeau are "proverbs or wise sayings that hold and reflect the beauty, wisdom, and flavor of the Hawaiian worldview", as defined by community partner, Hoʻokuaʻāina). In front of a panel of teachers, peers, and community members, students tell their story of how they are learning the wisdom of their kupuna (their ancestors) and making meaning of it in today's world. They tell the story of their learning in at least two languages – Hawaiian and English – and they do this through song, dance, images, and their own academic work. These presentations are just one version of the important rites of passage that the school has incorporated into their model, and we think they exemplify how we can center storytelling that is rooted in culture, ancestry, and intellectualism.
Current revelations from our facilitation journey of Revelatory Assessment reveal:
Often when ideas push on the status quo of things, it is the mindsets and mental models of those who have positional power that need to shift before anything actually changes within a system. This has come up repeatedly as we share Revelatory Assessment with folks, and the need for ways to help move the adults in learning systems continues to be voiced and emphasized. Because of this, we are working to expand the "Mindset Shifts needed" part of the framework, and developing collaborative learning sessions during which adult educators and facilitators of learning can examine and explore the lived experiences, training, and messages that shape our current notions of assessment so that we can take on the work of shifting them.
There are so many examples of folks who are incorporating one or more of these characteristics into assessment already! We want to know about all of them so that we can highlight the people, places, and communities where it is happening, and continue to learn about how all of this can live and breathe within a system. The more opportunities we all have to point to how this is possible, the more opportunities we have to unlock the collective wisdom and imagination of learners and facilitators of learning everywhere… and to ultimately shift the system of assessment itself.
We are learning so much as we share our framework and journey with others into liberatory assessment practices. If you have examples you want to be part of our assessment as revelation collection or would like to learn more about how you can begin these shifts in your classroom, school, or district, we'd love to connect with you. Find out more about upcoming workshops and events at https://core-shifts.com/events.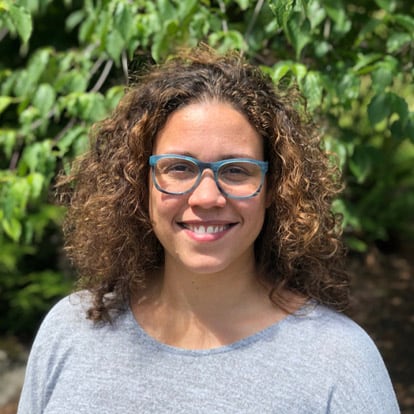 Kelly has been an educator for fourteen years. She began her career teaching in Southern California and has helped schools and systems reimagine teaching and learning, as well as serving as a school administrator. She is a Deeper Learning Equity Fellow, driven by the relentless belief in the possibility of social justice within education systems. Kelly focuses her education leadership on re-imagining structures for teaching and learning in order to empower all students for the future. Kelly is also a member of the Getting Smart Advisory Board.
Abby Benedetto is a Senior Fellow for Getting Smart and works at the intersection of school re-imagination & anti-racism as Founder of Core Shifts.