The Future of Leadership is about Legacy, not Self-Preservation
Key Points
We need leaders able to see through a new generation of communities, who can hold pain, and heal wounds.

We need new legacies, and leadership that builds anew not maintains what was.

Here's what leadership for legacy demands.
Some leaders in education are afraid. Some are insistent to see through the challenges of this time. Some are trying their best and making impossible decisions. Some are thriving with the opportunity to continue the shift in identity, demand and priorities that surfaced in the pandemic era. In rebuke of the deficit narrative being shared about schooling, leaders have been provided opportunities to make substantial changes to their work that are better for students and communities. Those gifts have not been without their challenges, and many educational leaders have been left vulnerable to conflict or unable to meet demands.
It goes to say that pre-pandemic leadership allowed mediocrity, perpetuation of status quo, and erasure/marginalization to exist without much consequence. Keeping the district/school settled without much controversy was appreciated. Investing in the resources and partnerships to appease broad goals for categorical labels and outcomes was considered successful. However, the last two years took away covers in educational systems that revealed areas of neglect and inefficiency. It also revealed opportunities for community partnerships and student-centered learning. There were leadership traits that flourished in ambiguous, vulnerable, collaborative circumstances, and there were leadership traits that perished in these circumstances.
Reports share an exodus of leaders due to unforgiving circumstances such as conflicting information for health and well-being, lack of resources, divided communities and demoralized staff and students. There is a level of exhaustion experienced in all levels of education systems that diminishes the ability to see a way forward. But only for some leaders, who know the ways of leadership that were not made for these times. They were made for predictive circumstances, set routines, rhythm of legislative cycles and policy processes. They were made for status, ladders to be climbed to a set destination with predictive goals and outcomes. What we see now is the inability to preserve that way of being.
Our current times call for leaders that are able to meet current challenges with curiosity and diligence. We need leaders that are creative, collaborative and humble. We need leaders able to see through a new generation of communities, who can hold pain, and heal wounds. We need new legacies, and leadership that builds anew not maintains what was. We need leaders who center students for who they are now, and for their future, and not hold on to a nostalgia for the past. There is a reckoning consuming us in the cores of our humanity- our vulnerability in health, identity, government, race, community. Who can lead us forward in these times? What is the legacy we need?
Leadership for Legacy, demands:
Laser Sharp Vision: Susan Enfield, recently named 2022 WA State Superintendent of the Year, has a clear vision for students in her district, "all students are known by name strength and need" and she relentlessly pushes for improved practices of school leaders and school systems to serve the needs of each of every student they serve.
Capacity Building: The Kauffman Foundation in Kansas City has prioritized investment in community capacity building, through a key initiative, Real World Learning in K-12 schools that ensure each student graduates with meaningful and marketable experiences and capacities.  
Interdependency: Better Together: when students, staff and community members can trust each other and work together, great outcomes occur for students, as seen by this collaborative research study in Arcadia School District.
Nimble Systems: When we think about a skilled workforce able to live full lives with financial security, the college education argument has become vulnerable and questioned. However, higher ed institutions like SHNU and ASU are nimble in their access points and personalized pathways that will tell the future story of higher education for years to come.
Creative approaches: We can see a new way forward for schooling when we follow the lead of organizations like the Center for Love and Justice that chart new paths for school design and partnerships.
Community Centered: Learning Policy Institute is leading efforts to engage more students in community-based learning experiences, and showing us a future for student learning with their four pillars. 
Humility in place and time: When leaders decenter positionality and let go of their "expertise" to be in the work with others and lead from a place of humility and service, learning communities thrive, as explored in Shane Safir's book, The Listening Leader.
In times of challenge, the human condition finds a way to survive. It survives by learning, adapting and establishing ways to live and navigate new demands and resources. Education can cultivate the abilities for future generations to learn best, adapt well, and establish themselves in ever-changing circumstances and thrive- given the right leadership to see our learning systems forward.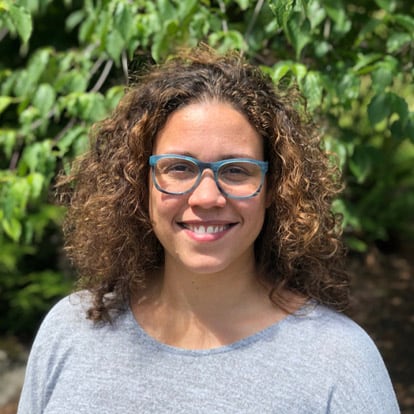 Kelly has been an educator for fourteen years. She began her career teaching in Southern California and has helped schools and systems reimagine teaching and learning, as well as serving as a school administrator. She is a Deeper Learning Equity Fellow, driven by the relentless belief in the possibility of social justice within education systems. Kelly focuses her education leadership on re-imagining structures for teaching and learning in order to empower all students for the future. Kelly is also a member of the Getting Smart Advisory Board.