Emancipating Equity for Learning Justice
Equity has been taken hostage. It has been scooped up, appropriated, and scattered as a belabored solution term. As we round a corner of a global pandemic, those of us working towards liberation must set equity free from its oppression and reclaim our work for justice. Similarly, as Black people are racially profiled and over-policed, Black children are experiencing discriminatory discipline policies and practices in schools that disproportionately suspend or expel them.
The institution of education (and those in power struggling to keep control of it) is continuing the schooling assembly line by mechanizing equity. Oh? So the pandemic (further) revealed that schooling can throw students off the conveyor belt? Or allows them to fall off? Or doesn't bother to bring them back on the belt because they just couldn't fit right and keep going? No worries! Equity will fix that.
Except, equity is not a tool that improves machine operation. It is a way of being in the human condition. It is a belief in the abundance of each of us, as we are, in our authentic self. It values community. Equity wants for all children. It cares for each other. Equity is nuanced and personalized. It wants what is possible and knows all are worthy. This is why, if we are truly ready to weave equity into schooling, we must dismantle the machine and emancipate equity for learning justice.
Social justice is about identifying and attempting to address structural disadvantage, discrimination, and inequality by refocusing on the process, participation, and collective rights. Learning justice frames this work transparently within our educational and social system.
We have guides that are leading the way. They are inviting us back into the human ecosystem that is natural, and full of wonder and resources. It is our birthplace. Learning is our birthright. Generations of Indigenous peoples have cultivated a way of schooling that included equitable practices. Our human ancestors, representative of varied and rich cultures and communities across the earth, learned, grew, progressed, and thrived for millennia. Each generation offered us ways of knowing that have enabled us to continue in this developing world. It is these knowings we need now, more than ever, to repair and restore our natural world, and to heal our social systems.
Equity Tends to Heart and Soul
When equity is a belief and value, it is not the intellectual performance of a student that matters most, it is their well-being that is prioritized. Equity-centered learning communities focus on each child, value the intergenerational learning opportunities, and seed belonging, not production. In recent years, there has been a focus on "the whole child" and research/resource on Social Emotional Learning. That concept [Social Emotional Learning] is another opportunity for liberation and justice to be mechanized before our eyes. But fear not! Dena Simmons is guiding us forward to true equity-centered SEL through LiberatEd_SEL. Her leadership is surfacing capitalistic and oppressive approaches to human knowledge and showing the way the work can be done to tend to all hearts and souls in education work.
These are adult and student hearts and souls alike. This is the liberatory heart and soul work that looks deep into our being–good and bad. Equity-centered social-emotional learning knows that all learning is social-emotional and that all of us in the learning community must be in the "right community," where we can be whole, seen, and trustful. That means journeying together, committed to each other through conflict, reconciliation, and celebration. We learn who we are. We teach who we are. We belong to each other. We need each other. We contribute to each other. We ask and we receive. We give when there is a need. That is equity.
Equity Respects Minds
Our young people are brilliant. Those of us centered on equity know this. That's why we push for multiple modalities to experience learning, varied school contexts, authentic relationships between content and community, and meaningful assessments that engage and empower each childs' brilliance. While much of the mechanized approach to schooling depends on standardized tests and competitive ideals of meritocracy, there are leaders in the field that are leading the work of respecting student brilliance and cultivating the minds of our youth and we can follow along in the journey to ensure no student mind is lacking respect.
Young minds are brilliant and are ready to engage in complex thinking. Akiea Gross is inviting young minds into brilliance through their #wokekindergarten learning. There are organizations leading the connection of little fires burning everywhere- shining light of student brilliance through learner-centered communities.
Equity respects the minds of our youth. Equity sees students. Equity loves students. Equity cultivates learning that celebrates students as they are and cultivates experiences for students to grow to be who they want to be.
Equity Centers
Community
The industry of schooling has created buildings that hold all the information. The representatives of the schooling institution hold the knowledge. Students are required to go to the school building and parents are required to go to school offices, and whatever they are told when they get there is "right" or "best". Equity is not isolated. Equity is not something or someone to accommodate. Equity is collaborative. Equity asks, listens, and responds. For students to experience learning-centered equity, that learning experience is organized and facilitated in the community. Students are cultivated in interdisciplinary experiences, with multiple stakeholders that build relationships with content and real-world application along the way.
Equity-centered learning experiences value families as first teachers and collaborators. The book Learning Forward invites us to the table of learning where parents, students, and educators gather in the best interests of children. Just Schools shares research and stakeholder voices prioritizing family engagement centered in equitable practices that empower the community and cultivate community-centered learning for students.
Equity also centers community for students through meaningful relationship development where students can be vulnerable and experience a sense of safety to develop fully actualized in their learning communities. The machine of schooling is appropriating an advisory curriculum to "teach" students this. However, there are leaders of this cultural development; Expeditionary Learning schools have been a trailblazer of authentic relationship development, and you can learn more about their Crew model as an equity-centered approach to student community building.
Equity engages all stakeholders in learning, as exemplified in the project Learning in Places. This project facilitates learning in harmony with the Earth, students, families, educators to engage in rich, meaningful place-based learning. Learning in this way is equitable across all layers of our humanity and in community.
As students develop, their need for self-awareness and actualization becomes more apparent. Most schooling experiences ignore student development and focus on student production. There are ways to ensure students are learning in ways that invite them to find purpose and actualize in ways where students can contribute to the community and know their value in the community. Difference Making provides examples of how this intentional work is happening in various learning communities.
K
no
w Equity, K
no
w Justice
The dominant system of schooling locks in students and moves them along. Students and families are told what matters, when it matters, and how students fall in line with knowing what matters in that system. This is not learning. This is compliance. We must shift to cultivate learning communities, and we need to center equity in our communities so we can learn towards justice.
In a Learning Policy Institute article, Janel George and Linda Darling-Hammond rightfully call out that investment to improve our learning system for underserved populations improves learning for all. "Investments in social and emotional learning, restorative practices, and mental health supports—as well as in community schools providing health and social services that address the trauma many children experience—pay off in stronger relationships, safer schools, and better achievement. So, why then are not all schools investing and committing to the work of equity, the hearts, souls and minds of learners?
This commitment entails more work, and as we are rebuilding and planning for a new way forward, it is the right work. We know this to not only be good practice but at the core of what education should always promise to do, SERVE. And to start by serving those who have historically not been. It is a moral obligation. Equity, and ultimately true agency, are the promises we should all be making when learners walk through our doors. We must center equity in our schools so they become foundational experiences for our future generations to engage in the human journey. And as educators, we must settle into the necessary work of wayfinding to the horizon of justice.
For more, see:
---
Stay in-the-know with innovations in learning by signing up for the weekly Smart Update.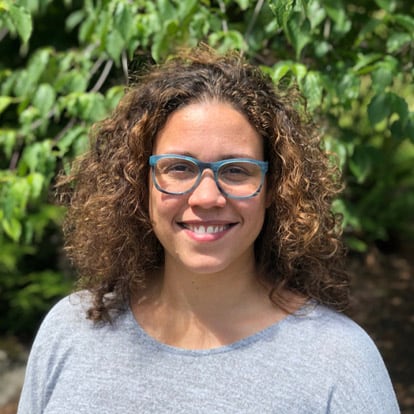 Kelly has been an educator for fourteen years. She began her career teaching in Southern California and has helped schools and systems reimagine teaching and learning, as well as serving as a school administrator. She is a Deeper Learning Equity Fellow, driven by the relentless belief in the possibility of social justice within education systems. Kelly focuses her education leadership on re-imagining structures for teaching and learning in order to empower all students for the future. Kelly is also a member of the Getting Smart Advisory Board.
Rebecca Midles is the Vice President of Learning Design at Getting Smart and is an innovator in competency education and personalized learning with over twenty years of experience as teacher, administrator, board member, consultant and parent.