Getting Smart Podcast | Santa Ana Unified School District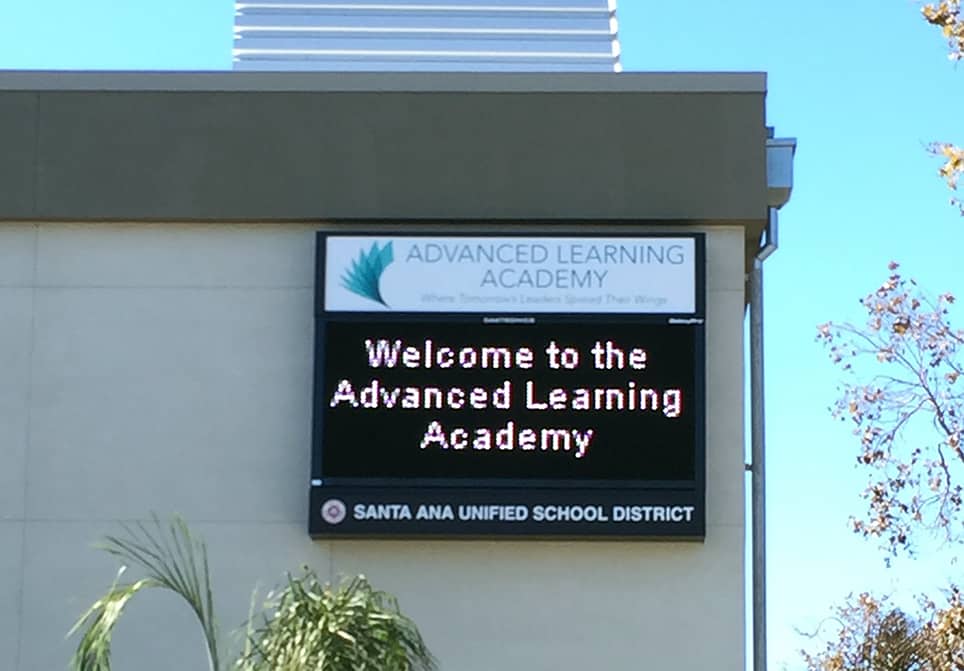 To the perennial question of how to lead an urban district, the Santa Ana Unified School District offers three important innovations:
High access strategy: school-based decisions about devices and deployment;

Portfolio strategy: a shift from district-led managed instruction to school-led personalized learning; and

New school development strategy: promoting school options and incubating next gen models.
Backstory.
Santa Ana is a vertical rectangle north of the Orange County airport. It's mostly hispanic families, many new to English, living in or near poverty. Santa Ana has one of the highest population densities in the nation.
David Haglund joined superintendent Rick Miller as his deputy 18 months ago. Their commonsense approach to online and blended learning in Riverside USD was an inspiration to many. Miller and Haglund lead a positive empowerment agenda that balances improvement and innovation.
Joining Santa Ana is a homecoming for Haglund, he keeps a picture of his grandfather who played football at Santa Ana High School in 1934.
Access. When David arrived 18 months ago there were about 9000 devices for 60,000 students. That has been increased to about 30,000 devices. But unlike nearby LAUSD, they did not attempt to roll out a single device; each school made their own choice. The district dropped their ban on cellphones and encouraged students to bring their own device (BYOD) and use their own network (BYON). While that makes other administrators nervous, Haglund thinks locked down networks are like teaching young people to drive on a Disney ride; he thinks instead that we should teach them to become responsible digital citizens.
Taking advantage of the density, the district has made efforts to boost home Internet access by boosting school signal strength to cover nearby apartment units and, in partnership with the city, increase access to wifi hotspots.
Portfolio. Santa Ana had been managed instruction district, David Haglund leading the shift to portfolio model where teams of teachers have the ability and responsibility to create coherent personalized learning models.
Haglund said back to school meetings looked more like an ISTE conference than scripted PD. Haglund is promoting field trips to promote adult learning and exposure to next-gen models.  
Next-gen. Advanced Learning Academy (ALA) is a new lab school formed as dependent charter. It is "high-tech, project-based, and STEM" focused. The blended and competency-based school opened with grades 4-6 and will grow a grade a year to grade 12. ALA will move to a new location as it expands. The space near the central office will incubate other schools.
Kim Garcia, a 15 year teacher in the district, is head of school at ALA. She said they diagnosed the learning levels of the 125 students and placed them in six groups (often different levels in ELA and math).
Why start in 4th grade? Garcia said 4th graders have the independence to handle the individual progress model.
Students set academic goals and receive coaching weekly. Progress reports just went home but there were no surprises because parents have access to student's digital diary in Google Docs.
Like the district, ALA uses a combination of Canvas and Gooru to make and manage assignments across the project-based curriculum. Students make regular presentation of their learning and progress through the curriculum at their own pace.
For more podcasts, check out:
---
Stay in-the-know with all things EdTech and innovations in learning by signing up to receive the weekly Smart Update.
Tom Vander Ark is the CEO of Getting Smart. He has written or co-authored more than 50 books and papers including Getting Smart, Smart Cities, Smart Parents, Better Together, The Power of Place and Difference Making. He served as a public school superintendent and the first Executive Director of Education for the Bill & Melinda Gates Foundation.