The Getting Smart Podcast: Season One Summary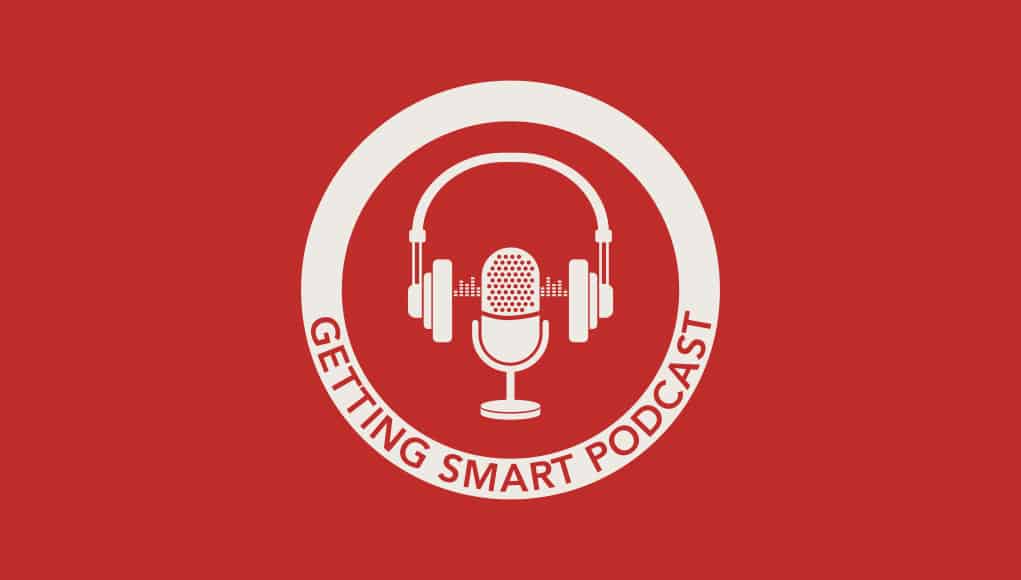 We produced 40 episodes of the Getting Smart Podcast during Season One — here's a recap of what we learned from education leaders across the nation:
Talent Development
Why Talent Matters. We discuss how schools and districts are finding new ways to recruit and develop talent, and how it will be increasingly important that we find ways to scale.
Badging for Business: Next-Gen Professional Learning in the Workplace. We talk to Catie Bull and Sam Herring from Intrepid Learning about Collaborative Learning at Scale.
Rethinking Educator Professional Development with Micro-credentials. Jennifer Kabaker, Digital Promise, and Jason Lange, Bloomboard, talk about microcredentials — a new framework for professional learning .
Deeper Learning & Leadership Prep. Jeff Petty, founder of the Puget Sound Consortium for School Innovation, talks about the essential experiences and mindsets that principals need in order to lead schools.
Great Schools
New Tech Network: Making the Nation Proud of its Public Schools. Napa New Technology High School got a lot right 20 years ago. A network of schools 200 strong has grown up around nine notable elements. We spoke with the leadership team about the past and the future of the network.
Paul Tough on Helping Children Succeed. Tough reviews his new book and lays out a detailed outline for what works for cultivating noncognitive skills and mindsets.
Back to School: A Time to Thrive. A visit to Thrive Public Schools to see personalized project-based learning in action.
Mike Feinberg on Opening Great #NewSchools. The co-founder of KIPP discusses school culture, teacher recruitment and execution as keys to opening great new schools
College & Career Readiness
Why Guidance Matters for College and Career Readiness. Tim Stensager, Washington State, shares lessons from a ten-year statewide guidance project.
Superintendents Aim to Redefine Readiness. Dan Domenech, executive director of the superintendent's association, discusses the need for broader measures to define college and career readiness.
Charting Your Own Course
Leveraging the Gap Year to Solve the World's Most Pressing Problems. We spoke with Andrea Wien, author of Gap to Great: A Parent's Guide to the Gap Year and the founder of Gap to Great, the world's first global gap year community.
The One Thing Everyone Needs to "Buck the Quo." Albertson Foundation's Nick Groff discusses lessons from the Buck the Quo initiative including believe in yourself, work hard for your dream, be resilient, be grateful and treat people well.
GenDIY: Emerging Options for Students Navigating Life. At a One Stone design challenge in Boise, we spoke to students and guidance experts about making good postsecondary decisions.
How Applied Learning is Accelerating Students to Technical Careers. We interview the team from GPS Education Partners, a Milwaukee-based accelerated technical education program.
Deeper Project-Based Learning
Deeper Learning Conference 2016. Interviews include Lewis McCaleb, a senior at High School for the Recording Arts in Minneapolis; educators from EL Education, University of San Diego's Mobile Technology Learning Center; and educators from the El Paso Independent School District.
It's a Project Based World. Interviews from PBLWorld including Ashanti Branch of Ever Forward Club, Gia Truong from Envision Education and Bob Lenz from Buck Institute for Education on how all three are invested in PBL.
The Students and Parents of Project-Based Learning. Two sisters and their immigrant parents share life-changing stories of project-based learning. Kevin Armstrong and Abby Schneiderjohn discuss project-based teaching at Katherine Smith Elementary School in San Jose.
Project-Based Learning Connects Real World with Deep Impact. We talked to Bob Lenz and John Larmer of Buck Institute for Education (BIE) and a group of students about project-based learning.
Blended & Personalized Learning
The Future of Blended Learning. Recorded at the iNACOL Symposium, we interviewed leading blended learning experts including Beth Rabbitt and Daniel Owens, The Learning Accelerator; Shawn Rubin, Highlander Institute; and John Rice, District of Columbia Public Schools.
Student Voice: A Catalyst for Personalized Learning. We spoke about the importance of voice and choice with students from RB Stall High School from Charleston, SC, and leaders from Student Voice.
Progress and the Path Forward for Digital Learning. We talked to Mickey Revenaugh, co-founder at Connections Education and Director of New Schools Models for Pearson, about the future of personalized learning.
Innovative Blend Could be the Spark for South Africa. We interviewed the leadership team from SPARK Schools about their blended learning model serving low-income students in Johannesburg, South Africa.
Systems Leadership
Leadership: Key Competencies for Whole-System Change. Michael Fullan and Lyle Kirtman discuss seven competencies for systems leadership.
Santa Ana USD's High-Tech, Project-Based and STEM Focused Lab School. Deputy Superintendent David Haglund shares lessons from leading and innovation agenda.
Social Emotional Learning
Why Growth Mindset Matters. Interviews from the iNACOL Symposium where we talked with Eduardo Briceño, co-founder & CEO of Mindset Works, and personalized learning students from RB Stall High School in Charleston, SC.
Schools Really Can (and Should) Measure Noncognitive Skills. Jonathan Martin, Strategic Implementation Advisor to ProExam Tessera™,  shares more on the importance and benefits of schools measuring students' noncognitive skills.
Language Acquisition
All Children Should be Bilingual: The Dual Language Economic Imperative. Juan Cabrera, El Paso ISD superintendent discusses the benefits of dual language learning environments.
Supporting English Language Learners. Highline and Federal Way Public School leaders talk about tools and strategies for supporting English language learners.
EdPolicy Landscape
EdWeek Chief Reflects on Three Decades of Change in U.S. Education. Virginia Edwards discusses changes in education policy, EdTech and publishing.
Reclaiming the Classroom with America's Teachers. Author Trenton Goble shares candid and powerful stories of his own time teaching and leading schools as a principal.
EdTech & Innovation
Everybody Needs an Equal Opportunity to Participate in the Future. Mike Moe, GSV, discusses the future of learning and the potential for innovation to spread equity and access.
Getting the Right Data to the Right People in the Right Way. Mark Milliron, co-founder of Civitas Learning, discusses big data solutions to HigherEd challenges.
Learning Spaces
Designing Beautiful Places for Learning. Victoria Bergsagel, president of Architects of Achievement, discusses design principles for effective and inspiring learning environments.
Horace Mann Elementary: Where A Shared Pedagogy Vision Informs Design Principles. Liz Whisnant, Principal at Horace Mann Elementary, shares more about the most interesting pedagogy to facilities translation we've ever encountered.

Open Learning Resources
Principals Supporting Teachers as Curriculum Designers. R.L. Stevenson Elementary principal Michael Corneau shares how he helped his teachers help students by designing curriculum using Literacy Design Collaborative (LDC), eventually turning his school into an LDC school.
The Role of OER in 21st Century Classrooms. We spoke with Layla Bonnot, CCSSO, about the rise of open education resources.
Parenting & Student-Centered Learning
Student-Centered Learning & Smart Parents. We talk to The Nellie Mae Education Foundation's Nicholas C. Donohue and Big Picture Learning's Andrew Frishman about Student-Centered Learning.
Framing the Future of Learning One Story at a Time. We recap some of our major initiatives including Smart Cities, Smart Parents and GenDIY.
Smart Parents. In this pilot episode, we recap findings from our last book Smart Parents: Parenting for Powerful Learning.
Are You Ready for Season Two?
We have an exciting upcoming season planned that you won't want to miss. Subscribe to the Getting Smart Podcast today on iTunes (please rate us there, too!), and use the podcast app to be notified when new episodes drop! 
---
Stay in-the-know with all things EdTech and innovations in learning by signing up to receive the weekly Smart Update. This post includes mentions of a Getting Smart partner. For a full list of partners, affiliate organizations and all other disclosures please see our Partner page.
The Getting Smart Staff believes in learning out loud and always being an advocate for things that we are excited about. As a result, we write a lot. Do you have a story we should cover? Email
[email protected]