Napa Junction: Deeper Learning for All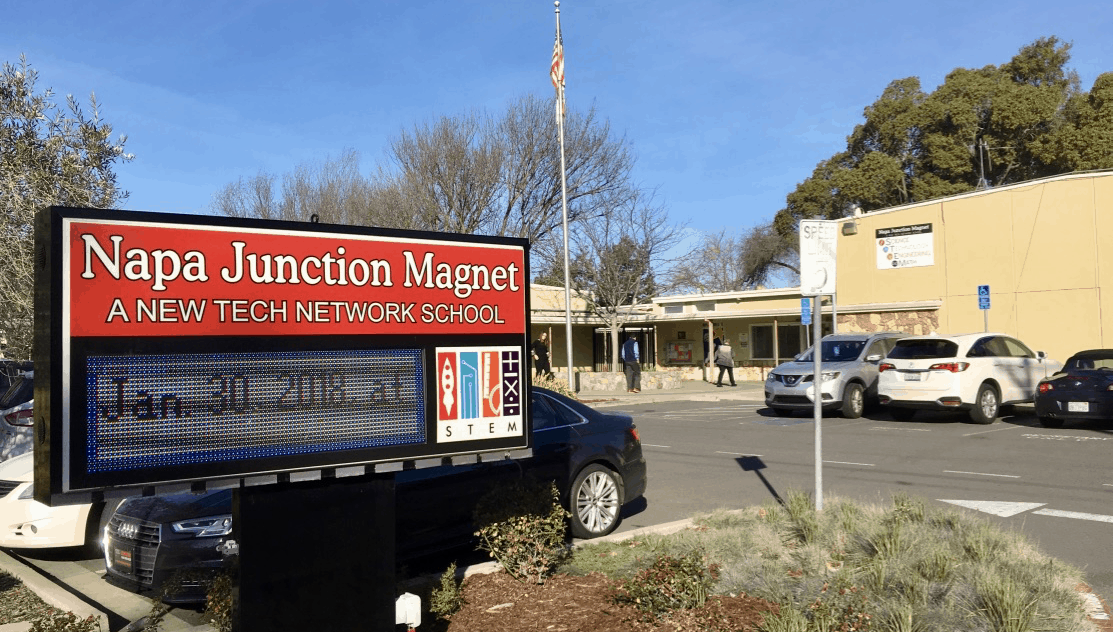 Frustrated that only affluent suburban kids get access to engaging projects and deeper learning experiences? We found another high challenge school that responds with high engagement learning.
A few minutes south of the vineyards in Napa is the community of American Canyon where Napa Junction Elementary serves a diverse group of K-5 learners–about two-thirds are Latino, new to English and living in or near poverty.
Donna Drago (below) has been principal of Napa Junction for eight years. In an old building, she leads an enthusiastic staff that engages and supports diverse learners.
Drago facilitated a staff culture that prioritizes deep collaboration, risk-taking and a growth mindset: "We gave ourselves permission to fail, to talk about gaps, to bring these things forward."
Design thinking starts early at Napa Junction. Kindergarten teacher Lindsey Kosanke introduced a design process. The day we visited, they applied the design process to architectural engineering and built Lego models.
In third grade, Tiera (below) serves as a classroom ambassador. She showcased quality examples of student writing where students made claims, provided evidence and explain their reasoning. Drago said, "With PBL the writing took off."
Lisa Anderson (below) started teaching at Napa Junction in 2007. She took on leadership roles after Buck Institute training eight years ago and became the full-time project-based learning coach four years ago.
After recess, fifth graders gather in a community circle for a quick check in (below). The conversation started with norms for success in circle time. When dealing with challenges a restorative circle can be part of the solution.
STEM PBL Magnet
All the projects at Napa Junction start with learning targets based on Next Generation Science Standards. Like Thrive Public Schools in San Diego, they avoid the "swiss cheese problem" by combining personalized skill building with a disciplined use of learning targets in project-based learning.
Anderson helps teachers integrate foundational literacy skills throughout their projects, deciding which reading skills should be taught within projects and others alongside them.
Teachers assess learning at each phase checking for understanding and providing support. Drago seeks a 50/50 partnership with students, she wants to make sure they are clear about learning goals.
Napa Junction students don't just learn science, they learn to think like scientists. They begin projects with driving questions and then identify what they know and what they don't know. They often uncover and label misconceptions.
STEM is central to the magnet designation that Napa Junction received. A magnet grant allowed the school to improve access to technology and join the New Tech Network.
Parents are involved at Napa Junction. Students run conferences where they talk about goals, projects and other evidence of academic progress.
Getting Better Together
With Katherine Smith Elementary in San Jose (featured here), Napa Junction is a demonstration elementary school for New Tech Network, a network of about 200 project-based schools that share four design pillars:
Culture that Empowers. School-wide culture of empowerment for students and adults.
Teaching that Engages. Project and problem-based approach to instruction.
Technology that Enables. Use of technology for collaboration, access to information, and self-directed learning.
Outcomes that Matter. Student outcomes for college, career and civic readiness.
High schools in the network report high graduation, college persistence and employability rates.
As a demonstration site, Napa Junction hosts tours that allow visitors to experience a New Tech school firsthand. Student-led tours cover project-based learning, integrated use of technology and the culture shift that is integral to every school in the New Tech Network.
The three demonstration elementary schools in the network meet regularly to discuss progress and barriers.
Napa Junction demonstrates that a committed staff and effective leader working in a network of like-minded schools can create extraordinary learning experiences for students that need them.
For more, see:
---
Stay in-the-know with all things EdTech and innovations in learning by signing up to receive the weekly Smart Update. This post includes mentions of a Getting Smart partner. For a full list of partners, affiliate organizations and all other disclosures, please see our Partner page.
Tom Vander Ark is the CEO of Getting Smart. He has written or co-authored more than 50 books and papers including Getting Smart, Smart Cities, Smart Parents, Better Together, The Power of Place and Difference Making. He served as a public school superintendent and the first Executive Director of Education for the Bill & Melinda Gates Foundation.