Wall-to-Wall Project-Based Middle School Learning
After a visit to Napa New Tech High School, Evergreen School District superintendent Superintendent Kathy Gomez knew the school model was a fit for her east San Jose K-8 district. While the integrated projects were impressive, it was the New Tech culture that really sold Gomez.
Interest in replicating the project-based high school led to the development of the New Tech Network, now 200 schools that share projects, a learning platform and professional learning.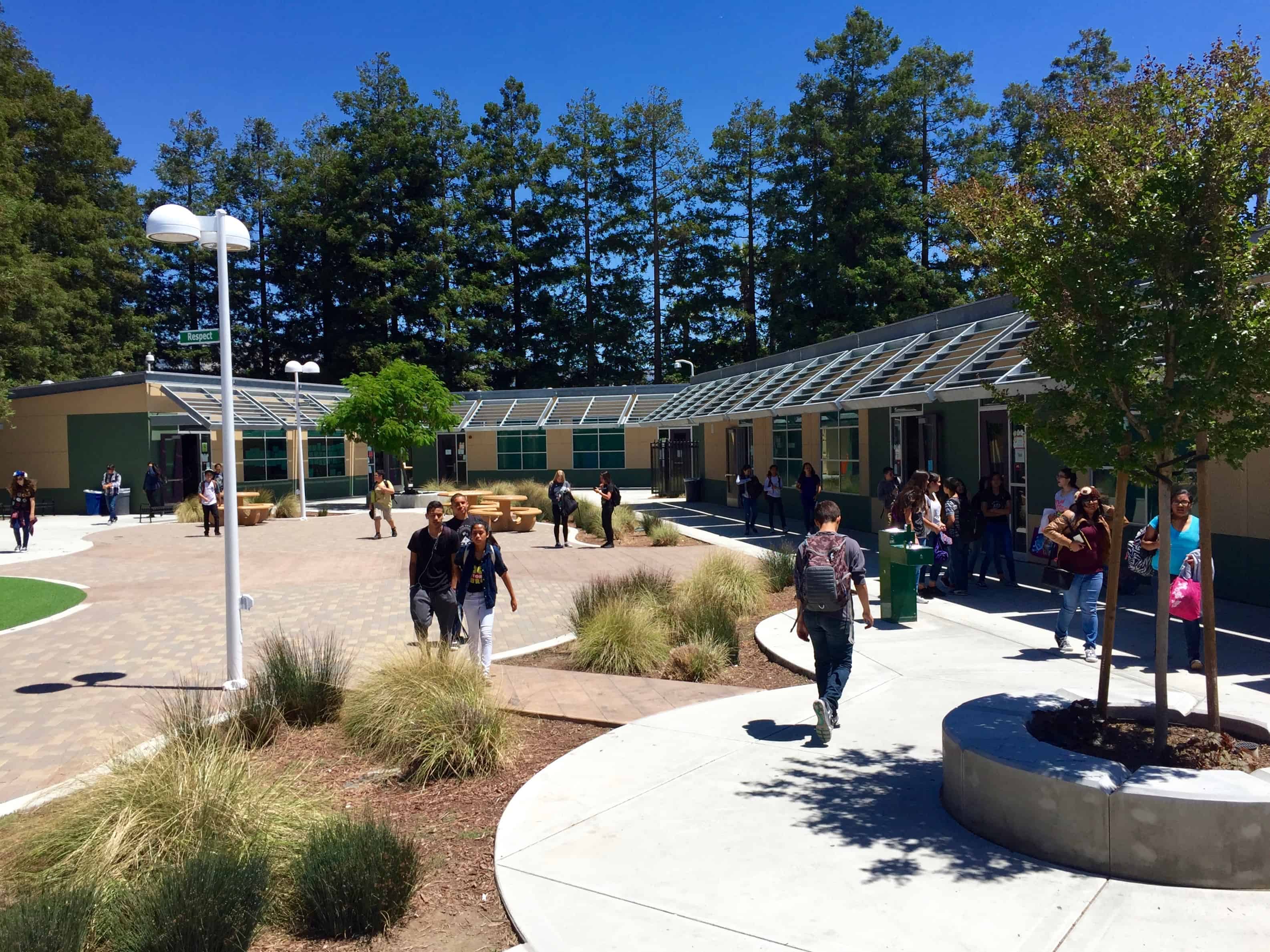 Bulldog Tech (@Bulldog_Tech) was the first New Tech school in Silicon Valley. It shares a campus with LeyVa Middle School but is located in a purpose built facility with big double classrooms that support the team taught integrated blocks common to New Tech schools.
The 7th and 8th grade school serving 300 students shares the same calendar as LeyVa but has a different schedule. Core content classes and integrated electives are incorporated into three large instructional blocks during the first part of the students day.
As soon you enter the Bulldog campus, you immediately become aware of the commitment to project-based learning and student collaboration. Student work products are displayed on just about every surface possible and students can be found huddled together in the courtyard discussing their projects.
The school is "wall-to-wall project-based" according to school head Randy Hollenkamp. The entry wall displayed student work from the Unsung Hero Project–watch this video of a student describing the project:

Subject areas are integrated and taught in one large room, often with two teachers and about 50 students. We visited a classroom where art and science are taught together and it was full of vibrant examples of student work.
Two students enthusiastically shared work product combining the art and science of curing cancer. Students researched existing treatments for cancer and then made online graphics and displays to share with members of the community.
There is also an immediately evident culture of trust and collaboration. A panel of students shared with us that as they work on projects; they (not necessarily the teachers) are the ones holding each other accountable. Likewise, teachers at Bulldog daily rely on one another and work closely in teams. In fact, one of their goals it to make each
project collaboration
more effective each time.
When we asked a student panelist why she liked learning at a project-based school, she said, "I like to create products and present, because I know that is the type of thing I will need to do when I am working and in the real world." Another student chimed in that he used to be nervous presenting, but now has had practice in front of big groups and no longer feels nervous. Bulldog students present their work to other students, teachers, parents or community members over 200 times over two years. See a video of the project-based environment at Bulldog:
"We have brought teams from over 15 states and 3 countries to Bulldog Tech, and every visitor continues to rave about their supportive staff, student culture and the level of student engagement," said Tim Presiado, New Tech Network COO.
Bulldog success has led to the spread of the New Tech model in two neighboring districts and three other schools in the Evergreen School District, beginning with the 
Katherine Smith School
(see
December trip report
).
For more, see:
---
Stay in-the-know with all things EdTech and innovations in learning by signing up to receive the weekly Smart Update. This post includes mentions of a Getting Smart partner. For a full list of partners, affiliate organizations and all other disclosures please see our Partner page.
Tom Vander Ark is the CEO of Getting Smart. He has written or co-authored more than 50 books and papers including Getting Smart, Smart Cities, Smart Parents, Better Together, The Power of Place and Difference Making. He served as a public school superintendent and the first Executive Director of Education for the Bill & Melinda Gates Foundation.