AdvancePath Academics: Positive Environments + Flexible, Blended Learning
GenDIY is comprised of talented students who are hacking high school, launching career-focused startups, and earning career credentials and college credits while in high school.
GenDIY also includes students who face challenging circumstances and have had to overcome significant negative histories. The GenDIY series is about all students coming of age and navigating pathways to college, career, and contribution. Figuring a journey to these can be tough for anyone, and yet we know that figuring out one's pathway, what college to go to, what career to explore, or what startup to join, may take a backseat to more pressing life issues.
For young people between the ages of 16-24, there is an estimated 6.7 million 'opportunity youth' who are majorly of color and have left high school before graduating who cannot find work.
According to a recent report, "Opportunity youth may have caregiving responsibilities in their families," that can contribute to their decision to leave high school before graduating. Some have had children. For these students, launching their startup or exploring their higherEd options is secondary to the need to put food on the table and ensure they have a roof over their heads. These are Smart Parents.
For many GenDIY students, these life experiences develop grit, determination, and a drive that propels careers, graduates them from college, and builds the rungs for ladders out of poverty.
Programs like those developed by AdvancePath Academics see the potential of students in these circumstances and are recognizing that with the proper supports, success in secondary education isn't an exception, it's the norm. John Murray, co-founder, chairman and CEO of AdvancePath Academics, firmly believes in the potential of these young adults and sought to create a new dynamic in secondary education. He says:
"Most people leave school prematurely because they have to make choices – stay in school or work, look after a baby, look after an ailing parent, or something else. I wanted to create a model that meant kids no longer had to make that choice – they could do those things and attend school because of a flexible schedule and our Blended Learning Model of instruction. I also wanted to offer the opportunity for education in an environment that wasn't judgmental of people's past or current lifestyle."
AdvancePath works with district partners to implement a flexible, blended learning model with a supportive, positive environment that engages students in individual learning plans. Academies serve middle and high school students with a personalized model of instruction that gives students the tools and opportunities to take care of life's responsibilities and succeed in school.
Below is a GenDIY blog from La Entrada High School AdvancePath Academy in Sacramento, CA. Their voices reflect the experiences that are core to GenDIY: students who are empowered to learn to pursue futures that are unique and guided by passion and calling.
---
"If you were to ask me what learning is, I'd have to say, it's where everything is pretty fluid, we're working at our own pace, kinda independent, definitely using every tool to answer questions and own the courses. That's my Academy.
We're using Google and Chromebooks, we work in teams and our teachers believe in us," shares high school student Danya Aguirre, Class of 2015 with the La Entrada High School AdvancePath Academy.
"The more we do, the more I see that I can do this, and I can do a lot more with my life."
Danya reflects. "I have been accepted into a four-year college next year. Before I started, here, I kinda planned on a two-year program, but now, I think about myself in a different way. I am so much more confident, it's pretty amazing." Student Alex Phillips agrees. "There are two big differences between here and my old high school class. Here I have to be the one to stay on task, to set my goals. Here, my teachers really are like mentors to me. They listen to my ideas for my future, they help me figure out the best ways to learn, they encourage me, but I'm the one doing the work," he laughs. Fellow academy classmate, Alex Bruger continues that thought, "When you are working your coursework and tests on a computer or in a group that is depending on you, there is no faking your way through it – like there was in my old high school. Here, if you don't contribute, you don't move forward, and you sure don't graduate to where you want to be. That motivation comes from me – I love coming to school now." Alex "P" reflects, "Yea, it's on you to get the work done and get it right. My teachers are focused on my success, but definitely, this blended learning can make or break you."
"No matter where you came from, or how far behind you are, you can succeed. This kind of classroom showed me that – especially when you have teachers who have your back," continues Alex "B".
"Now if you were asking me what learning is and how ready I am to start a career, I would say it's everything Alex and Danya said," reaffirms Alex "P". "And, it's also seeing that you gotta set your own way and give yourself every advantage to get to where you want to become. I have the tech skills now to look up stuff. And I'm not afraid to ask for help. I can keep it moving in my direction. That wouldn't have happened in my old school. Nah."
Students of the Class of 2015, La Entrada High School AdvancePath Academy in Sacramento, CA, share more about their goals, preparing for life after high school, and what led them to the decisions they have made.
Teacher speak: Who are DIY students?
" We always say that our students aren't one-size fits all. The paths they take in life shouldn't be either."
"The good news is that students today in our academy are incredibly flexible, fast learners," shares teacher Angela Rodriguez, an AdvancePath Academy lead teacher working with students at La Entrada High School in Sacramento, CA. "They are essentially 'Do-It-Yourself' learners and actually, they are pretty anxious to get started! What we try to model with them is how to continue to be self-starters and to be mindful of how their habits and work choices today can prepare them for a rewarding job and future that reflects all that they put into it," states Angela.
"What's the future for high school kids today? If I were to be completely honest with myself, I'd have to say that we have to prepare them for more than the coursework they need to graduate. We have got to prepare them to continue to create and work goals post-high school," states Angela. "More than anything else, they have to find a comfort level with change. They need flexibility, the ability to self-teach and to examine options critically. The Academy's blended learning environment is a big, big help in that direction. Students practice working both independently and as part of a team. They learn to research, to be tech-savvy and by this, I mean, they are comfortable using a variety of tech tools and they are learning discernment and critical thinking skills with every research assignment, every project, every self-paced lesson. The more they incorporate tech and interact with teams, here in the classroom and beyond, they build self-confidence. Every small success leads to the next."
Angela shares, "Blended learning is more than using tech-assisted coursework and small group and one-on-one facilitating. It is about incremental growth of critical thinking skills and personal resiliency. It is self-discovery – for both students and their teachers. We mentor each other," she says with a chuckle. Chris Thomas, Instructional Assistant at the Academy, surveys the classroom, "Blended learning has created a level of interaction that we never experienced in a traditional classroom. High school kids are working in a self-determining style – besides the pace of learning, the students are taking ownership of their work and, becoming incredibly tech-savvy, trouble-shooting problem-solving pros. They know what they need, when they need it. And they are using every classroom and community resource we can get to in order to help shape their future selves. Critical thinking is the byproduct of everything these kids do. They are going to do well. That much is obvious."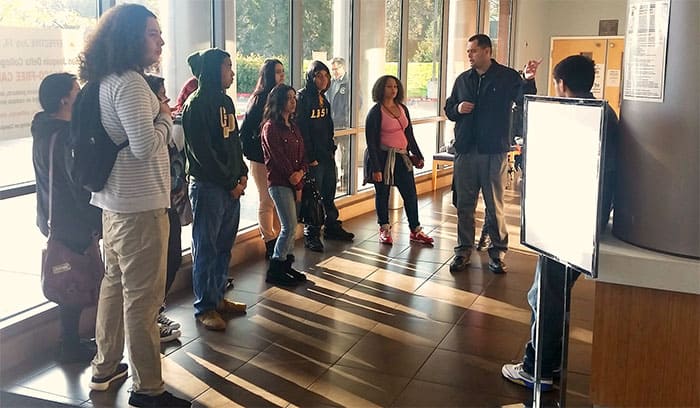 On The Road: Building Career Awareness And Readiness
"Career readiness is embedded in the AdvancePath model and now, we're seeing this tenet in Common Core standards," suggests AdvancePath's CA Regional Director Ed Jackson. "Here in our California academies, we strive to increase the relevancy of coursework for our students with directly related activities outside of the classroom. Bringing students in touch with college counselors and business persons is one of the most readily accessible activities with a long-term benefit," continues Ed.
Lead Teacher Angela Rodriguez agrees, "Exposing students to all sorts of programs and opportunities for 'life after high school' is a big focus this year." She continues, "College visits, training programs, job fairs, volunteer experiences, job shadowing, collaborative, project-based problem solving – they're all a part of the instructional mix. These kids have the passion and drive. Now, they need the exposure to every option out there."
Student Alex, from the La Entrada High School Academy, shares his perspective, "Meeting with speakers and visiting college campuses is a great way to help me prepare for the day after graduation. We had a speaker three weeks ago who totally changed my mind on my career goals. I am going to continue training after high school and get my welding certification. That means higher pay. I am excelling in school and will keep setting goals to succeed in life."
Alex shares what he feels is the biggest payoff of his academy's hands-on approach to learning, "We have college and career prep apps, financial planning apps – they're cool. But it is learning how to invest, it is disagreeing with other kids in the project and figuring out stuff together. Small groups are something you have to sign up for here and everyone wants to be there. You can do way better in this type of classroom."
AdvancePath is a portfolio company of Learn Capital where Tom is a partner. 
This blog is part of our GenDIY project. To contribute a blog, ask a question, or for more information, email [email protected] with the subject "GenDIY." For more information about the project see Tell Your Story: Do-It-Yourself Pathways From School to Career as well as other blogs:
Photos Courtesy of  Audra Wrisley, Audra Wrisley Photography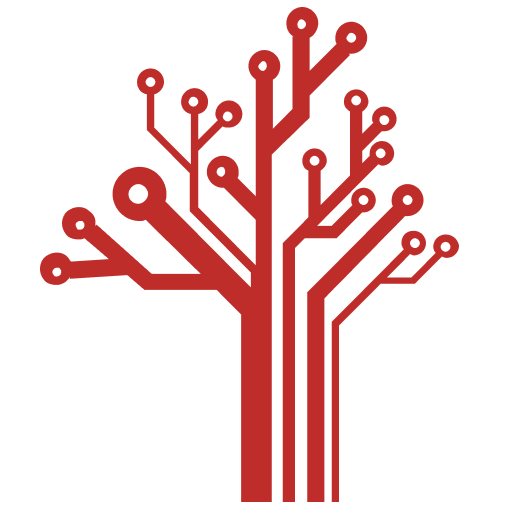 Getting Smart loves its varied and ranging staff of guest contributors. From edleaders, educators and students to business leaders, tech experts and researchers we are committed to finding diverse voices that highlight the cutting edge of learning.