Finding the STEM in Sports with NBC Learn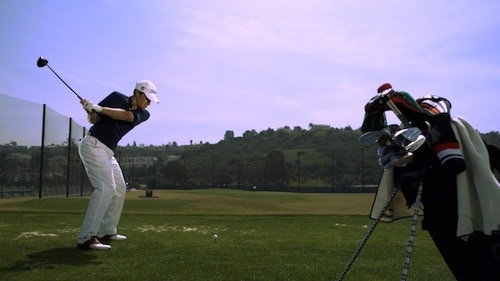 Anyone who knows me, knows that I love sports. So when I heard that NBC Learn, Chevron, and the United States Golf Association (USGA) had partnered up to create the "Science of Golf" video series I was excited to learn more.
"Science of Golf" shows students how the principles of science affect everything about the game- from the anatomy of a golf bow, a player's swing, the math behind golf scoring, and the evolution of the golf club. Each video has a tailored lesson plan available for teachers, and features a USGA scientist who explains the scientific principle, while golfers describe why these principles are important to their game.
Not only is there a "Science of Golf" series, you can also find series describing the science of football, hockey, the olympic games, and many others on the NBC Learn website.
Last week I had to opportunity to have a Q&A session with Mark Miano, Senior Producer for NBC Learn about the Science of Golf series:
Jessica: Why is STEM education important to NBC Learn?
Mark: STEM education is important to NBC Learn because it's important to the audience we serve: students and teachers at thousands of K-12 and Higher Education institutions across the United States.  NBC Learn believes that teaching science, technology, engineering and math is integral to helping students understand the world around them, build critical thinking skills, and prepare for their future career options.  Furthermore, STEM is important to the future of the United States, which must have a STEM-literate population in order to build the next generation of innovators.
Jessica: How did NBC, Chevron, and USGA select the School Districts for the Gift of "NBC Learn K-12"? Will there be another opportunity for districts to apply?
Mark: The main NBC Learn website, has hundreds of high-quality educational videos, including "Science of Golf," as well as lesson plans and other teaching and learning materials.  It is available for free to anyone with internet access. In addition, NBC Learn oversees two subscription websites: NBC Learn K-12 and NBC Learn Higher Ed.  These websites contain nearly 15,000 stories that are aligned to major subject areas, correlated to state standards and the Common Core, and available for download.
NBC Learn K-12 was gifted to more than 500 middle and high schools in 14 districts across the United States.  The districts include Houston Independent School District, TX; Washington D.C. Public Schools; St. Bernard Parish Public Schools, LA; Jefferson Parish Public Schools, LA; St. Charles Parish Public Schools, LA; Plaquemines Parish Schools, LA; St. James Parish Schools, LA; St. John the Baptist Parish Public Schools, LA; Washington Parish Schools, LA; San Francisco Unified School District, CA; Oakland Unified School District, CA; School District of Philadelphia, PA; Charlotte Mecklenburg Schools, NC; and Wake County Public School Systems, NC.
These school districts were chosen based on geographic importance to Chevron, the USGA and NBC Learn.  For example, Chevron has an ongoing commitment to New Orleans, Houston, Oakland and San Francisco.  The USGA held its 2013 U.S. Open golf tournament in Ardmore, PA, near Philadelphia, and the 2014 U.S. Open will be held in Pinehurst, North Carolina.
Jessica: What do the student/teacher lesson plans provided by NSTA look like? How are they aimed to help students comprehend and retain the information?
Mark: The lesson plans for "Science of Golf" were produced by the National Science Teachers Association – NSTA.  All ten lesson plans can be found at www.nbclearn.com/science-of-golf by opening the story and clicking on the tab that reads "Lesson Plans."  These lesson plans are an incredible resource for teachers.  They are geared to the Next Generation Science Standards (NGSS) and provide ideas for classroom instruction as well as a connection to the STEM concepts present in each story.  One thing K-12 teachers often struggle with is how to integrate the "other parts" of STEM – namely technology, engineering and math – into their classroom instruction.  These lesson plans will help them devise ways of doing that, as well as providing information on how to effectively utilize the "Science of Golf" video collection in the classroom.
Jessica: Why do you think using sports to teach science lessons to K-12 students will be more effective?
Mark: "Science of Golf" is the fifth collection in our Emmy Award-winning series "Science of Sports."  We've already covered "Science of NFL Football," "Science of NHL Hockey,"  "Science of the Summer Olympics" and "Science of the Olympic Winter Games."
Our goal with this series is to provide teachers and students with engaging high-quality stories that demonstrate that STEM is everywhere in the world around us, including our favorite sports.  As you can imagine, golf is a great sport for illustrating this.  The series has given us the opportunity to explore the physics of a golf swing, the technology and materials of golf equipment, the math of scoring and handicapping, even the issues of water sustainability facing golf courses.
One of the amazing things about this series is that we use real amateur and professional athletes to illustrate the sports in front of a high speed Phantom camera – a camera that allows us to shoot at up to 10,000 frames per second.  For "Science of Golf," we shot for three days in San Diego with LPGA golfers Paula Creamer, Suzann Pettersen, and Belen Mozo, professional golfer Drew Weaver, and amateur golfers Mike Miller and Patrick Rodgers.  This access to real athletes performing their sport in such an evocative way is a big reason why the series is so engaging.
 NBC Learn, in partnership with the USGA and Chevron, will be producing another ten stories for "Science of Golf" that will be released in May 2014.  In addition, NBC Learn is also partnering with the National Science Foundation to produce "Science of the 2014 Olympic Winter Games."  This collection will be released in January 2014.
Jessica: Can you tell us more about what NBC Learn K-12 looks like?
Mark: NBC Learn K-12 is a database of nearly 15,000 stories.  The stories come from the NBC News Archives— one of the largest news archives in the world, dating back to the 1920s. In addition, collections are updated with current events every day, Monday through Friday, with stories from such celebrated programs as NBC Nightly News, the TODAY show, Meet the Press, Dateline NBC, as well as the networks of MSNBC, CNBC, and Telemundo.  We are also staffed by NBC News producers and editors who are skilled at creative storytelling.  This team has produced all of our original content, such as "Science of Golf."
On NBC Learn K-12, stories are aligned to more than 30 subject areas and correlated to state standards and the Common Core.  All of these stories are downloadable, which is really important for use in the classroom because many schools are still challenged by low bandwidth and poor internet connections.
One of the coolest things about the K-12 resource is the CueCard media player that supports videos, photographs, newspaper articles and primary source documents.  The player is "flippable," providing bibliographic information and a citation generator on the back, a full transcript along the side and additional tabs along the bottom that let users annotate the resource with their own notes.  The resource is also Section 508 compliant, meaning that it can be used by people with motor, vision and hearing disabilities.
I would urge people to visit the website and sign up for a free trial.  It's one of the most innovative educational websites in existence today.
Jessica: What kind of educational impact do you hope your collaboration with Chevron and the USGA will have?
Mark: By developing the "Science of Golf" with the USGA and Chevron, we have developed a high-quality offering that will help teachers engage students and enhance their classroom instruction.  We also hope to play a role in helping these students realize the importance of STEM in the world around them, and perhaps inspire some of them to become the next generation of scientists and engineers in the United States.
For more information about the "Science of Golf" series, read the full press release by visiting NBC Media Village.
Here's one of the videos, "Science of Golf: Evolution of the Golf Ball"
Visit NBCNews.com for breaking news, world news, and news about the economy
Jessica is the Senior Director of Impact at Getting Smart. She leads business development and growth of advocacy campaigns, advisory services, product development, marketing, and Getting Smart's blog. As part of her role, Jessica also oversees team events, conferences, and speaking engagements.