Big History: An Organizing Principle for a Compelling Class, Block or School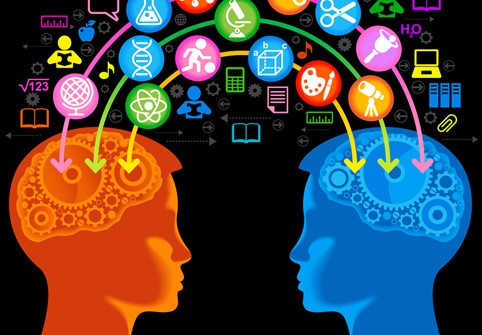 After Bill Gates saw a series of lectures by David Christian on big history Gates said, "He really blew me away. Here's a guy who's read across the sciences, humanities, and social sciences and brought it together in a single framework. It made me wish that I could have taken big history when I was young, because it would have given me a way to think about all of the school work and reading that followed. In particular, it really put the sciences in an interesting historical context and explained how they apply to a lot of contemporary concerns."
Gates and Christian met and launched the Big History Project, an effort "to get Big History taught to as many students around the world as possible." The team then went out to recruit current high school teachers, university level educators and curriculum specialists to design the course – working together with software developers and designers.
Big history is a field of study that starts with the Big Bang 13.7 billion years ago. It draws on cosmology, astronomy, biology, geology, and economics to explain how we got here.
The Big History's website presents content in an integrated and visually compelling way. The 10 chapters consider stars and elements, life, early humans, agriculture and civilization, expansion and interconnection, and the future. You can find about 280 hours of content — 300 custom-designed and curated pieces of content. Yet the core content of about 80 hours is designed for a blended high school social studies course. To make the content as approachable and effective as possible, everything from texts and videos to comic books and custom-designed illustrations are available for use at the teacher's discretion.
About the feedback from the early pilots sites, Bill Gates said, "One of the most encouraging signs was that students said Big History was really teaching them to think and not just memorize things."
There are four aspects of Big History that were immediately appealing to me not just as instructional materials but as an intellectual mission for a course of study:
Integrated and multidisciplinary studies: Our formal education system, particularly secondary courses and credits, have compartmentalized the world. We've largely succeeded in making history and science boring. Big History is, as Rabindranath Tagore said, "Where the world has not been broken up into fragments by narrow domestic walls … and where the clear stream of reason has not lost its way into the dreary desert sand of dead habit."
Compelling multi-modal content: Big History content is presented in 10 unique chapters and all materials can be used in a variety of ways – videos are suitable for smartboards, all texts are downloadable and printable or viewable online and everything is designed to work across tablets or PCs. It's a great example of premium content — and it's free!
Big not small questions: Big History asks big questions like "How did we get here?," "How do we decide what to believe?," "How did earth form?," and "What is life?" If we want deeper learning, we need to ask bigger questions. There is great potential for humanities integration with the sciences–and it begs for evidence-based writing.
Launch pad: Big History is not a canned curriculum; it's a launch pad. The questions behind Big History are big enough to support a course, a school, or an entire degree program.
This is the second year of a pilot project that started with seven schools. There are now 87 schools, 50 in the U.S., using the Big History content. The pilot program will more than double in size next year. To ensure a network of high fidelity implementations, Big History provides support directly to schools and teachers selected for the pilot to offset training and support costs. Many school also simply leverage the content and website on their own in self-service mode.
Following are examples of how Big History is or could be used.
Course. The most common use is and will be as a 9th or 10th grade social studies course.
Denver School of Science and Technology uses the content in a 10th grade social studies at their Stapleton campus. Big History could serve as preparation for AP world history or serve as a high school capstone course.
"I really like how the course challenges students to wrestle with big questions – questions like how different time scales affect our perspective on history, how language transformed humanity, and what it means to be human," said project sponsor Bill Gates. "It's a course I believe everyone should take."
Block. Big History lends itself to a big block incorporating science, social studies, and lots of research and writing. A Long Island high school uses Big History as instructional resources for a science and social studies block with a focus on human geography. A California school using the content in a English and Social Studies block.
Academy. I'm so excited about Big History as an organizing concept, I would love to see it incorporated into the intellectual mission of a two or four year academy. For example:
Four-year STEM-focused high school: Big History could be combined with an applied engineering curriculum like Project Lead the Way.
Four year art and humanities-focused school: add Leonard Shlain's Art & Physics as a text and visit High Tech High for integration inspiration.
Four year project-based learning school like Edvisions.
Two year prep academy (9th-10th) for a upper division program of IB, AP or dual enrollment.
With a little more work, a Big History merit badge high school would be very cool. Khan Academy is showing the way with maps, playlists, & badges. The key concepts in Big History could be converted from 10 chapters into knowledge maps and 100 badges with multiple options for demonstrating mastery. Add 50 badges for math, 50 for communications, and 50 for foreign language, fitness, and other stuff and you've got a very interesting 250 badge DIY, exploration-based high school experience. By blending online and onsite, individual work and project teams, and adding lots of field trips, Big History High is a pretty compelling idea.
Teaching Big History as a course or using it as the central idea for block or an academy currently takes a lot of teacher initiative. Over the next couple years, archetypal uses, lesson plans, professional development opportunities, and other supports will emerge.
Big History is a big idea. More precisely, it's a set of big questions. It's a set of question that I'd like to see every young person have the chance to ask.
For more background on the Big History Project, see David Christian's TED talk.
This blog first appeared on EdWeek.

This blog is brought to you by The Nellie Mae Education Foundation as part of a series on blended humanities. For more stayed tuned for the Getting Smart on Blending Middle Grade Humanities bundle and see the other posts in this series:
Tom Vander Ark is the CEO of Getting Smart. He has written or co-authored more than 50 books and papers including Getting Smart, Smart Cities, Smart Parents, Better Together, The Power of Place and Difference Making. He served as a public school superintendent and the first Executive Director of Education for the Bill & Melinda Gates Foundation.