XQ Super School Live: National Television Event
Did you know that 70% of American high school students feel that the classroom experience simply isn't relevant to their daily lives? The good news is, we are a nation of problem solvers, and XQ America is asking us to address that issue and to rethink high school.
About a year ago, XQ hosted an epic event revealing the ten XQ Super Schools.
Those schools are making awesome progress, and so is XQ. The best part is, there are multiple ways to engage. When asked about one of my favorite parts about being an XQ judge, I said that "there's something for everyone" — the initiative extends far beyond the ten Super Schools. The knowledge modules, the 30-city bus tours…and now the XQ Live event are all like nothing we've quite seen before.
On Friday, September 8, 2017, XQ is making high school education part of the cultural conversation to rethink high school together, and — through a live broadcast event — is literally inviting America to engage in the process.
XQ Super School Live
XQ Super School Live is a special one-hour telecast event will invite the public to help rethink the future of American high schools. The program is executive-produced by XQ and will air live from Barker Hangar at the Santa Monica Airport on all four major U.S. networks – ABC, CBS, FOX and NBC at 8:00 P.M. ET.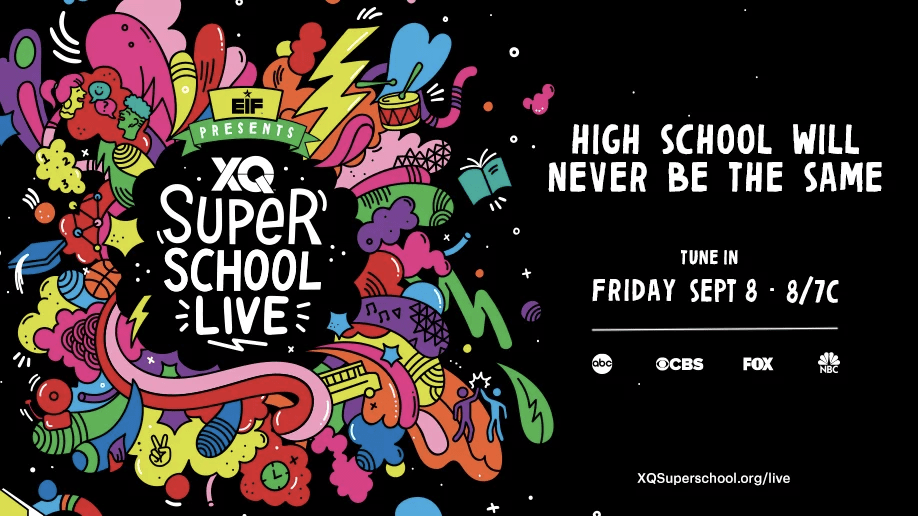 The show will feature a variety of musical, comedy and documentary segments, as well as dedicated celebrity guests such as Viola Davis, along with real students and educators who will inspire and empower Americans to get involved in education in their communities.
XQ Institute and Entertainment Industry Foundation (EIF) formed an education and entertainment partnership in this effort to bring awareness to the need for high school education to truly prepare students for the future.  The show will also include multi-platform digital components to encourage viewers to engage and participate online, on mobile and in their communities.
Bringing the Bus Tour to the Living Room
One of the focuses will be sharing the bus tour. In the past year, they've taken their mission on the road with a 30-city tour in a remodeled school bus, stopping in different communities from coast to coast to support and bring attention to groundbreaking programs that emphasize interdisciplinary learning, critical thinking skills and individualized learning plans.
During the cross-country tour, they heard from the change agents who are rethinking our nation's high schools: educators, parents, school administrators, entrepreneurs, business leaders and – most importantly – students themselves. By bringing their message to every living room in the U.S. on Sept. 8, they aim to uplift these voices and inspire our nation to take action for a better future.
💡 Future Super Schools are on a journey to #ReThinkHighSchool. See how they are bringing these projects to life. ⬇️https://t.co/9gmXkAAMfE

— XQ America (@XQAmerica) August 11, 2017
Spread the Word
XQ has made it easy to spread the word – here are some sample social media posts:
I'm watching #XQLive on Sept. 8 to rethink the future of American high schools. Join me! bit.ly/xqshow
High school will never be the same. On 9/8, I am watching #XQLive to #RethinkHighSchool bit.ly/xqshow
Can't wait for Sept. 8! Tune in and host a #XQLive viewing party ! 🎉📺 bit.ly/viewingp
To join the movement and learn more, visit https://xqsuperschool.org/live/.
A Challenge
I'd love to see what tech-savvy students across America can do to stream the event during half-time of any of the many  "Friday Night Lights" football games happening across America. I realize that it would take some creativity given the fact most high school stadiums don't include jumbotrons – but wouldn't it be cool to see some schools figure out how to stream XQ Live?
For more, see:
---
Stay in-the-know with all things EdTech and innovations in learning by signing up to receive the weekly Smart Update.