5 Reasons Self-Awareness Matters for Leaders
Perhaps one of the most readily recognized—and memorized—quotes is Socrates' "Know thyself." While one reason may be its brevity (who doesn't want to memorize a two word quote?!), another is because of its importance. Self-awareness is indeed one of the four key realms of emotional intelligence (along with self-regulation, empathy and social skill), according to guru Daniel Goleman.
Dr. Daniel Siegel describes someone who is self-aware as cognizant of how feelings affect reasoning, thinking and ways of interacting with others. In essence, it is the ability to monitor our inner world of thoughts and feelings.
For those who lead and work in a school environment—a constant web of human interaction—self-awareness is especially important. Let's take a look at 5 reasons why it matters here—be sure to also check out the simple 5 minute activities for improving school & organizational culture in the 5 to Thrive Toolkit provided by Mayerson Academy, a non-profit professional learning organization.
Why Self-Awareness Matters
1. Self-awareness is a core leadership competency. In writing his book Working with Emotional Intelligence, Goleman studied over 200 leadership competency models from leading companies. As Goleman reflects in How Self-Awareness Impacts your Work, one of the most common themes in these models was self-awareness.
2. Self-awareness makes way for empathy. Reflecting specifically on the role of school leaders, Kari Lopez, Woodbury Middle School Principal, says, "Being able to see, understand and deal effectively with others' perspectives is key to successful leadership. In order to practice empathy, I need to be self-aware. As a leader, relationships play a key role for success in a school both with the adults and students."   
3. Self-awareness increases effectiveness.  The roles of educators and physicians have a lot of parallels. In order to be effective, both must be able to attend to self and others simultaneously. Dr. Siegel provides this example, "During medical school I knew certain professors who were aware of their internal experiences, and subsequently could also be aware of the experiences of their patients. So if someone was given a difficult diagnosis, they knew to stay with the patient and be attentive to their feelings. Other professors acted as if it was just a diagnosis. And it struck me then that some people could see their minds, and some people couldn't. I termed this ability mindsight."
4. Self-awareness promotes flexibility. As those who have practiced mindfulness know, self-awareness isn't just sitting back and looking at the clouds. Rather, it is is having the presence of mind to be flexible (as opposed to knee-jerk) in how one responds.
5. Self-awareness naturally leads to engaging others. There's this interesting paradox whereby if one person is self-aware enough to know he/she grows best in connection with others, the simple act of reaching out can often lead to the growth of others. The ultimate win-win. Martha Williams, School Counselor in Chicago Illinois, was so excited about the #5toThrive challenge that she is sharing it with others:
"Thank You! This is AWESOME!!!  Yes, I take the Challenge! What a great way to begin the New Year!  This initiative is one I will definitely share with my fellow network counselors and our central office counseling team. And, of course, this will be shared with my middle school team, as well."
When we find something that is helpful, it's hard not to share!
How to Develop Your Self-Awareness
Join people like principal Molly Roeske in a commitment to build skills like self-awareness by taking the #5toThrive Challenge.
Join @LakeMiddle principal Molly Roeske & take the #5toThrive Challenge https://t.co/IWGLIFqVji via @Getting_Smart @MayersonAcademy @ISD833 pic.twitter.com/GBH3GTehdW

— Mary Ryerse (@maryryerse) January 9, 2017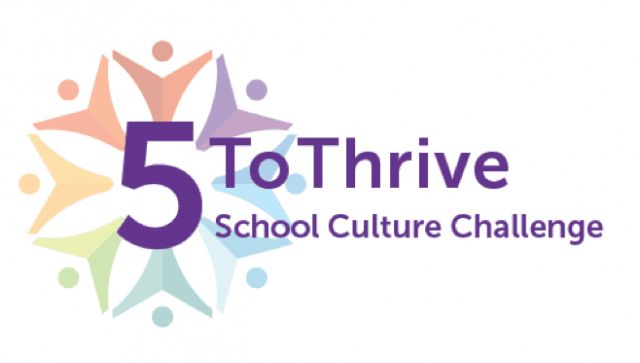 For more, see:
This post is part of the 5 to Thrive School Culture Challenge produced in partnership with Mayerson Academy (@MayersonAcademy). Download the free Toolkit and join the conversation on Twitter using #5toThrive or #EdLeaders.
---
Stay in-the-know with all things EdTech and innovations in learning by signing up to receive the weekly Smart Update. This post includes mentions of a Getting Smart partner. For a full list of partners, affiliate organizations and all other disclosures, please see our Partner page.