Quality Work + Project-Based Learning at Katherine Smith Elementary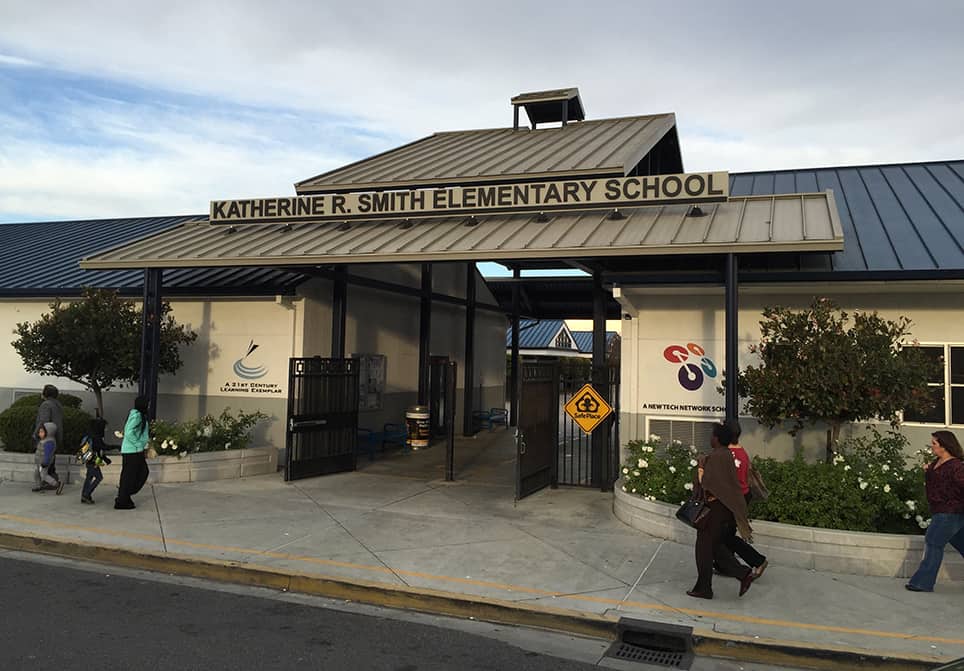 "Every time we cross this line we set goals for ourselves," that's a 4th grader's response to the question of why the words "College Bound" were written on the ground at the entrance to Katherine Smith School. This 4th grader was one of a handful of impressive students that guided our recent tour of the school. (See goal setting line behind principal Principal Aaron Brengard.)
Located in a low income neighborhood behind a strip center in the Evergreen School District in East San Jose, Katherine Smith is a great example of what happens when you have a dedication to community, a drive for excellence and an innovation mindset.
Rewind back about five years, and you would see something very different than what we were lucky to witness. The low performing school housed in a maze of old modular buildings was focused on low level tasks and test preparation. Principal Aaron Brengard recognized a need for a dramatic change in what learning looked like at Katherine Smith and for him Project Based Learning (PBL) was part of the solution.
The team he took to Buck Insitute's PBL World began investigating if PBL was the "How" to their "Why." When Aaron introduced the idea to the staff, he was very transparent about the changes that were about to take place. He wanted to ensure that educators were both comfortable and excited about the shift that was about to happen. This meant priority transfers to all those who didn't feel as though they could be on board – 75% of teachers chose a different path.
They are now one of the few elementary schools that are part of the New Tech Network–a national network of PBL schools–and projects are at the heart of how students learn as well as how the school connects to the community.
"Aaron Brengard and the team at Katherine R. Smith are engaged in some of the most powerful, student-centered elementary-level work in the New Tech Network," said NTN CEO Lydia Dobyns.
There were 18 things we liked about Katherine Smith:
Student portfolios

are personalized and meaningful. (The fifth grader below is showing us her research paper on the wall and in her binder)

Quality work

products are on display in every classroom. The level of work that is being produced is impressive and students seem to understand the purpose for every element of classroom decore.

Driving questions

power project-based learning. The students are excited to talk not only about the work that they are doing, but also the problems they are solving. For example in the 5

th

grade, one driving question was focused on cancer and raising money for a sick classmate.

Goal setting

is a regular part of the school experience. They do this as early as kindergarten. Teachers have built a more templatized system for the early grades and transition into more free form as students progress.

Clear learning targets

are more than just words on the front board. Students know what they are learning and and are ready to share that with you.

Student agency

was evident from the minute we stepped on campus. Not only did the students lead our entire tour, but it is clear that the leadership has complete and genuine confidence in their ability to do so.

Student led conferences

encourage students to take ownership of their work and allows families the space to be an active participant in goal setting.

Student ambassadors

are in every classroom. They can share goals, learning experience, artifacts, and even a teacher's business card! Ambassadors use this time as a learning opportunity, they not only meet to plan the process and the tours, but they set goals for themselves and reflect after each visit.

Community Matters

to the students and the school leadership.

Example: "Our job as a neighborhood school is to unite a community"

Wall art reinforces 4C's


College and Career Readiness

starts in Kindergarten. There are intentional systems put into place to effectively support the progression from younger grades to the older grades, but high expectations are evident no matter what the age. John Larmer, Editor in Chief at Buck Institute for Education, agrees "

We're really proud of 

"the little school that could." They've done so many great projects, at all grade levels. I loved hearing the kindergarten students present their

"Stray, Stray, Go Away" project

a couple of years ago."
Real world

skills and language are used–great examples of connecting learning to real life. You could say assignment, but why not talk "deliverables."

Exhibitions

of student learning. We saw evidence of screen casting presentations uploaded to YouTube as well as kindergarteners prepping for book exhibitions.

Student made

infographics allow for creativity and showcase the ability of teachers and students to use a variety of resources to skill up in how they share what they know.



Real

student jobs

on campus and in classrooms — kids have the opportunity to lead and manage.

Trust

is important. There is solid evidence of mutual trust and respect among all stakeholders.

Reflection

is key. Students have no problem identifying the wrong turns that they have taken. They call them out as part of the process. There are regular opportunities for reflection (for students and teachers).
The Smith School turnaround is encouraging. Aaron Brengard's commitment to social justice and community development is inspiring. This school shows that kids from disadvantaged backgrounds embrace agency, relish challenging work, and produce quality work product given a powerful culture and the right supports.
The project-based approach is catching on in the Evergreen district. Three other schools are adopting PBL. It also benefited the New Tech Network. "Our partnership with Evergreen helped helped shape our district-level support strategy, and every visit to Bulldog Tech, the middle school that is also a New Tech school, blows me away," said Lydia Dobyns.
Superintendent Kathy Gomez is leading an dynamic district, where the teaching and learning aligns beautifully with the Evergreen brand promise:
We are responsive, future thinking, and reflective of the innovative community in which we live. We aspire to provide an unparalleled education for our students, one that will prepare them for the world that awaits them. We embody the warmth of a family, one that looks out for one another at all times.
We are a community of education professionals that respects the talents, skills and imagination of our teachers, staff and administrators. Our people are our greatest resource and the relationships with and among that resource must be nourished in every interaction, every communication.
We are part of a thriving, vibrant community. That community gives life to the school district. We are only as strong as the families, neighbors and partners that make up the Evergreen community and we work to strengthen those community bonds in everything we do.
Add Katherine Smith and Bulldog Tech to your list of schools to visit.
For more check out:
---
Stay in-the-know with all things EdTech and innovations in learning by signing up to receive the weekly Smart Update.