Canvas: A Learning Management System Built for Educators
"Occasionally, things are not 'too good to be true.' Think of a product that is seemingly flawless and nearly perfect. Chances are that same product is supported by an immediately perceptible and unmistakable foundation of brilliant forward thinkers and creators who are undeniably in-touch with the customers who swear by their product."
-John Hardison, Canvas by Instructure: The Perfect LMS? Quite Possibly
Instructure started in 2011 with the development of Canvas and continues to iterate and design in order to make teaching and learning a lot easier. Their most recent project, Bridge, will transition into the corporate world to support employee engagement and training. Instructure takes the business of learning very seriously, and with Canvas, they are dedicated to a learning management solution that meets the specific needs of educators. This means developing a suite of resources that are seamlessly integrated into one effective and efficient solution.
Magic Marker
Gone are the days of walking around with a clipboard checking off students for participation and understanding. The next generation of instant teacher assessment is the Magic Marker app. Using touch technology, teachers can build groups of students, link to learning objectives and turn any activity into an opportunity for instant feedback. The kicker here is that this data has a direct input to the gradebook.
Learning Mastery View
The Canvas gradebook has two views. In addition to a more traditional view, users can also access a mastery based gradebook view that supports educators assessment of student understanding and a more progress based measure. Schools can customize calculation method for how mastery is reflected.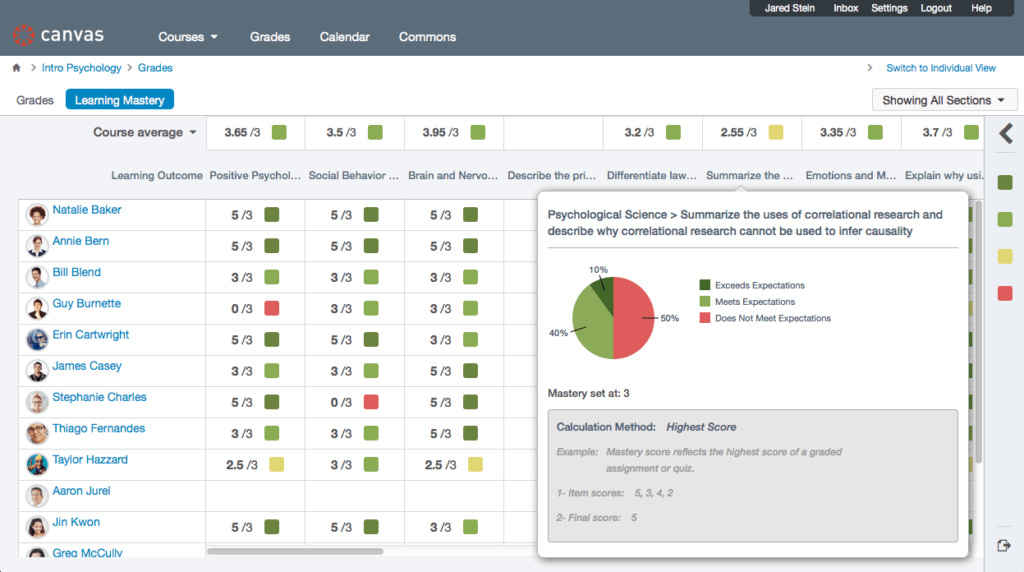 SpeedGrader
Student work can be uploaded through the LMS and teachers can view, assess, provide feedback and grade, all in one place.

Canvas Commons
This learning object repository is designed to be a place where best practices, unique ideas, courses and curriculum can be freely shared — all seamlessly integrated into the Canvas LMS environment. The Commons has the ability to create a virtual PLC that connects teachers across the world and makes sharing lessons and resources effective and efficient way.
Attention to User Experience
Built in to each feature is a unique approach to the user experience. There is a direct connection to teacher efficiency and student productivity. To name a few:
Video Tutorials: In order to make sure that you get the most out of the Canvas LMS, there is a tutorial video for just about anything you may need to know.
To do lists: Canvas has digitized the go to organization strategy of the 'To Do' list. When users (teachers or students) log on, they can easily see and prioritize what needs to be done with the personalized To Do list.
Mobile Capabilities: The Canvas Mobile App allows for a user experience all within the palm of your hand. Canvas for Android 4.0 was released in early 2015 and focused on an increased ability to customize for greater functionality.
Personal Notification Options: If you want people to responsive, you should probably make sure that information is received in the format that works best for the individual. Communication between teachers and students can happen in a variety of ways (text messages, emails, Twitter), and the user has control over how frequently and on which channel they wish to be contacted.
Integration and Interoperability: Canvas Integrates with hundreds of apps and makes finding the right app easy with the Edu-App Center. This includes SIS integration. As noted in the  announcement that the North Carolina Department of Public Instruction selected Canvas as its learning management system, a new feature within Canvas integrates with Pearson's PowerSchool, allowing the student information system and the LMS to work together with a single sign-in, creating more efficiency for educators.
When broken down by features, you can see how the learning management system has educators asking is Canvas, Quite Possibly, the Perfect LMS?
In addition to the LMS, the Canvas line up includes Canvas.net and Canvas Catalog: a white-label platform that enables any institution, government entity, university or K-12 school to create a branded index of online courses.
Want to know more about how Canvas connects to student centered learning, head to Salt Lake City for InstructureCon 2015.
This blog is part of the Learning Platforms Series brought to you by The Bill & Melinda Gates Foundation. For more, stay tuned in for the final published project, Getting Smart on Next-Gen Learning Platforms and check out additional posts in the series:
The Getting Smart Staff believes in learning out loud and always being an advocate for things that we are excited about. As a result, we write a lot. Do you have a story we should cover? Email
[email protected]