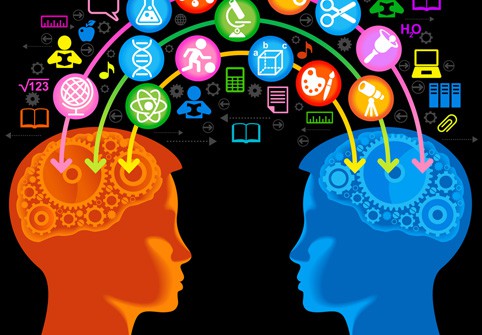 Blended Schools & Tools
How's it hanging? Google hosted its first EduOnAir Conference on Blended Learning using Google Hangout. Hangout OnAir allows users to broadcast, record and share its sessions. This is a great resource for educators teaching online courses or conducting professional development sessions.
Check it out the recording of the live conference:

Do you like your classrooms blended, stirred or enriched-virtual? This week Innosight Institute released an update of its K-12blended learning classifications, definitions and more.  These updates are a sign that blended learning continues to grow and evolve as more schools take the plunge. What blended learning model are you using in your classroom?
Steamy STEM Gems
Hubs in the Heartland: Iowa launched six STEM hubs to stimulate education and economic development across the state.  This is the first major initiative of the new Governor's STEM Advisory Council. We're anxious to see what's next from this public-private partnership
What do a Coca-Cola scientist, Science Museum Director, Braun Corporation CEO and three grad students all have in common? They are among the 14 Champions of Change recognized by the White House this week for leading education and employment efforts in STEM for Americans with disabilities.
Do you flip for free professional learning opportunities? Coming up May 16, 2012 HMH plans to host a virtual roundtable and webinar on STEM and flipping the classroom for
its ThinkForward STEM events this May.
Getting to the Core
Horses aren't the only thing drawing national attention to Kentucky this week! Kentucky is the first state, among all 46 that have adopted the standards in the last two years, that will begin rigorous testing this year.
Just a honeymoon? The National Council On Teacher Quality challenged us this week on how serious we are about Common Core. Are we just on a honeymoon? The answer should be no, we're buckling down to provide better tools for better learning for students. Kentucky has it right.
Bulldozing silos: Universities, Community Colleges and K-12 districts in 30 states announced plans to collaborate on Common Core aligned secondary math teacher preparation courses in a $200,000 grant project led by the Association of Public and Land-Grant Universities called the Mathematics Teacher Education Partnership.
Come On Get App-y
Educational Apps your digital natives will love: McGraw-Hill Education announced a lineup of free educational apps designed for iPhone and/or iPad through today. If you're still looking for more ways to use free, educational apps, check out this webinar on Google Apps:

No more blank stares: University of Toronto gaveUnderstoodit.com, a new web app that allows students to notify educators when they didn't understand a lesson, rave reviews this week. The app helps educators identify topics they need to revisit mid lecture without exposing any one student's confusion in front of a large class.
Get those creative juices flowing! Adobe announcedthat Adobe Creative Suite 6 Software and the Creative Cloud will be available today.
Higher, Deeper, Further, Faster Learning
Ivy League courses with your latte? MIT and Harvard University announced edX, a joint venture to provide free, online courses. In a recent interview, Anant Agarwal, the new president of edX explains that short video clips, interlaced with concept exercises and labs will make learning accessible anytime, anywhere (even from your local coffee shop).
Recognizing teachers and 20 years of public charters this week: The Association of American Educations announced the launch of AAECharters.org for public charter school stakeholders.
The shortest distance between two points is a straight line. The Saylor Foundation partnered with StraighterLine, an online course provider, to allow students to earn college credit for lower costs beginning Fall 2012 through new assessments and course materials.
Movers, Shakers & Ground-breakers
It wasn't an earthquake that shook things up in California. NewSchools Venture Fund announced recipients of its annual awards, including Entrepreneur of the Year, Organization of the Year and Change Agents of the Year Award.
Are you going to Bay Area Faire? The Maker Faire Bay Area 2012 coming up next weekend will showcase a "DIY Learning: Your Future School" exhibition of examples showcasing how educators and entrepreneurs are using technology, engineering and design for student-centered learning.
Econ + Ed = SEII  MIT professors Josh Angrist, Parag Pathak and David Autor founded the School Effectiveness and Inequality Initiative (SEII), a new center at MIT to study education and its effects on the working lives of Americans.
ABC, easy as BYOD: The Milken Family Foundation recognized educator Shekema Silveri, an AP History and English teacher at Mount Zion High School in Jonesboro Georgia whose students delivered a 100 percent passing rate on all standardized tests by enabling her students to use smart phones and other devices to advance personal learning in the classroom.
The Getting Smart Staff believes in learning out loud and always being an advocate for things that we are excited about. As a result, we write a lot. Do you have a story we should cover? Email
[email protected]