Podcast: Giving the Gift of Place (Repost)
Murie Ranch, in the Grand Teton National Park, is often called the birthplace of the modern conservation movement. It was home to Olaus Murie and his wife Mardy. Olaus was president of the Wilderness Society and was an advocate for the preservation of wild lands in America. The framework for the Wilderness Act of 1964 was written on the porch of the Murie residence (below).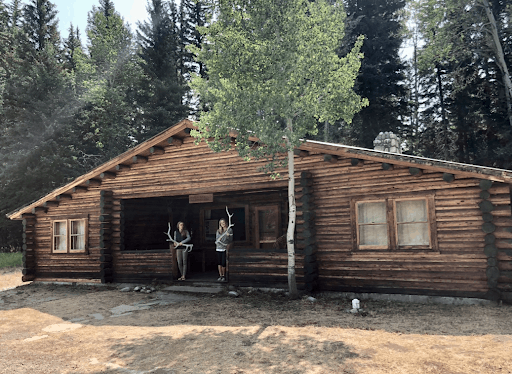 In 2015, Murie Ranch became a campus of Teton Science Schools, an educational nonprofit focused on place-based learning. Christen Girard is the caretaker for the ranch. She shares the storied history of the ranch and the power of connecting people to the place they're from. 
"The Murie legacy is about the impact an individual can have," said Girard. They wanted the ranch to be a place, for generations to come, that inspired people to follow their curiosity and to act decisively on behalf of the places relevant to the individual.  
"Place-based education is the interest and ability to engage with a place, to dive deeper, to ask questions," said Girard. "It's the kind of learning experiences that young people will remember 20 years from now." 
Nate McClennen, Vice President for Education and Innovation at Teton Science Schools, said "Place-based education creates learning in communities to increase student engagement, academic outcomes, and impact in the community."
Place, explains McClennen is broadly defined as the economic, social and political, and ecological forces at work in a region.  He adds, "It's really critical that students get a perspective from all three lenses."
"There is a misnomer that place-based learning is just outdoor education, but we've seen powerful examples in urban centers, in rural communities, in workplaces–every place has something to teach us," said Getting Smart's Director of Advocacy Emily Liebtag.
"Most high-quality projects have a link to place and place-based learning usually involves an extended challenge–there is a big overlap between PBE and HQPBL.
Place: A Guidebook
With our friends at Teton Science Schools, we're developing a guidebook to place-based learning. It is organized around their six principles which are illustrated and discussed below.
1. Community as the classroom. "We see the end of the era where the classroom was the only place learning happens. Place-based education taps into the learning ecosystem which all becomes fodder for learning," said McClennen.
This expanded view of what learning looks like includes "cultural-historical underpinnings, environmental factors, and future plans for that place," added Liebtag. 
This expansive view of learning spaces includes some barriers such as transportation, access, and safety–most of which can be navigated. Why bother? With well-facilitated place-based learning, 'Engagement skyrockets," said Liebtag.
2. Learner-centered. "Putting the learning at the center–what's important to them, their context and background–and giving them voice and choice builds agency, collaboration, and project management skills," said McClennen. "Place-based learning taps into learning science to boost outcomes."
3. Inquiry-based. Describing the Teton Science approach, McClennen said, "We start by asking students 'what is?' How is the world working? What can I collect?"

"That includes understanding of the nature of science: natural science, social science, and data science," added Liebtag. "This integrated view is key to deeper and equitable learning, to developing a sense of how young people discover and see the world." 
"As we get older, the blinders go on. The key is to keep asking good questions," said McClennen.
4. Local to global. Jodiana, a student at the MET in Providence, saw an increasing refugee population and became fascinated with the issue. She studied the assets they brought and what they lacked. She discovered that immigration was a big global challenge, and she came to appreciate what that means locally.
The Hartford Heritage Project makes the city's rich and diverse cultural institutions, landmarks, and neighborhoods an extension of Capital Community College classrooms. Professor Jeffrey Partridge said many students didn't care about Hartford before the project, after a deep local experience, they want to stay and make a contribution. 
McClennen said they've seen a similar response in Cedar Rapids as an impact of Iowa BIG, an innovative place-based school. "There has been a big increase in how much students care about the community," added McClennen. 
"Collectively," said McClennen, "Communities with students engaged locally can make a difference in the world."
5. Design thinking. "When we take a human-centered approach to place-based learning, students gain empathy for people and the physical environment," said Liebtag.
"We use inquiry to see what is and design to see what could be," said McClennen. "We don't get caught up in tech solutions. "Design thinking is a way of learning." 
"It's entering a place of not knowing and using the skill of iteration to create something of value," added Liebtag. (For more, see What's Up With All the Design-Focused Schools.)
6. Interdisciplinary. Studying place-based issues is inherently authentic and interdisciplinary. 
The Place Network, launched by Teton Science, connects small rural schools to their local community and to each other. "It's personalized and project-based approach with a focus on core skills in literacy, math, design, technology and other core subject areas." 
Place-based projects require students to explore the intersection of multiple topics and content areas and rely on their ability to make connections. 
How You Can Help
To make the guidebook and associated resources as helpful as possible, we're looking for good examples of place-based education. 
What problems did you investigate? 

What challenges did you encounter? 

What did students learn? 

Did they make a local impact?
Email examples to [email protected].
For more, check out our place-based education series.
Key Takeaways:
[2:48] The famous people that have spent time at the Robin's Nest cabin at Murie Ranch.
[3:38] Cris explains the kind of learning that happens at the ranch.
[4:48] What Cris hopes for the impact that the Murie Ranch will have.
[6:10] What should all educators know about place-based learning?
[7:24] Is place-based learning worth all the extra effort?
[9:46] Nate describes place-based education.
[10:21] The community impact that place-based education has.
[10:55] The three components Teton Science Schools defines "place" as.
[11:26] Emily explains how place-based education relates to high-quality project-based learning.
[13:28] Nate runs through the six design principles of Teton Science Schools, starting with the first: that the community should be viewed as the classroom.
[16:46] Nate explains the second of the six design principles: learner-centered.
[18:16] The third design principle: inquiry-based.
[20:45] Emily explains the fourth design principle: local to global.
[24:20] The fifth design principle: design thinking.
[25:38] Teton Science Schools' view on design thinking.
[27:42] The sixth, and last, design principle: an interdisciplinary approach.
[28:56] How to get involved with Tom and Emily's guidebook that they're writing on place-based education.
[29:52] Where to learn more about Teton Science Schools.
Mentioned in This Episode:
Teton Science Schools
Murie Ranch in Grand Teton National Park
Big Picture Learning
Getting Smart Episode: "What's Up With All the Design-Focused Schools?"
PlaceSchools.org
For more, see:
---
Stay in-the-know with innovations in learning by signing up for the weekly Smart Update.
The Getting Smart Staff believes in learning out loud and always being an advocate for things that we are excited about. As a result, we write a lot. Do you have a story we should cover? Email
[email protected]