Getting Smart Podcast | Student-Led One Stone is Transforming Boise
As you've probably read by now, we think One Stone is one of the coolest schools in the country because it is setting an amazing example for service, engagement and preparation. One Stone is a Boise nonprofit organized almost a decade ago to promote learning through service. Three afterschool programs have engaged hundreds of Treasure Valley teens each year, and this marks the first year of its full-time school program.
In this podcast and blog, you'll gain an understanding of how they have incorporated "student-led" as a core value and ingrained it in the school culture as we've profiled during recent trips to Boise to attend their annual event and student-led board meeting.
The gavel fell precisely at the appointed hour of 6:30 p.m. Rowan Pierson, the student chair (blue t-shirt on left), called the meeting to order. Committee chairs, all students, had posted reports to Basecamp and each board member had review materials in advance so that they could spend less time on progress reporting and most of their time together working and designing. After a quick review of operations, external relations and board recruitment, the board meeting focused on strategic planning.
Based on advice from author Simon Sinek, Geneve Lau (below) shared the draft strategic plan starting with the why: "One Stone believes in the power of students." Next, she reviewed an updated set of shared values which provoked a lively debate about what was in and out.
To further explore how the organization delivers value, the One Stone board, 16 of 19 of whom are teenagers, broke into a spirited sticky note throw down. In less than five minutes they had brainstormed and charted more than 200 examples (charted below).
Students have the power to make a difference in their community today–and doing so prepares them for their future. In the growing hustle of Boise, this fact is illustrated through every One Stone student.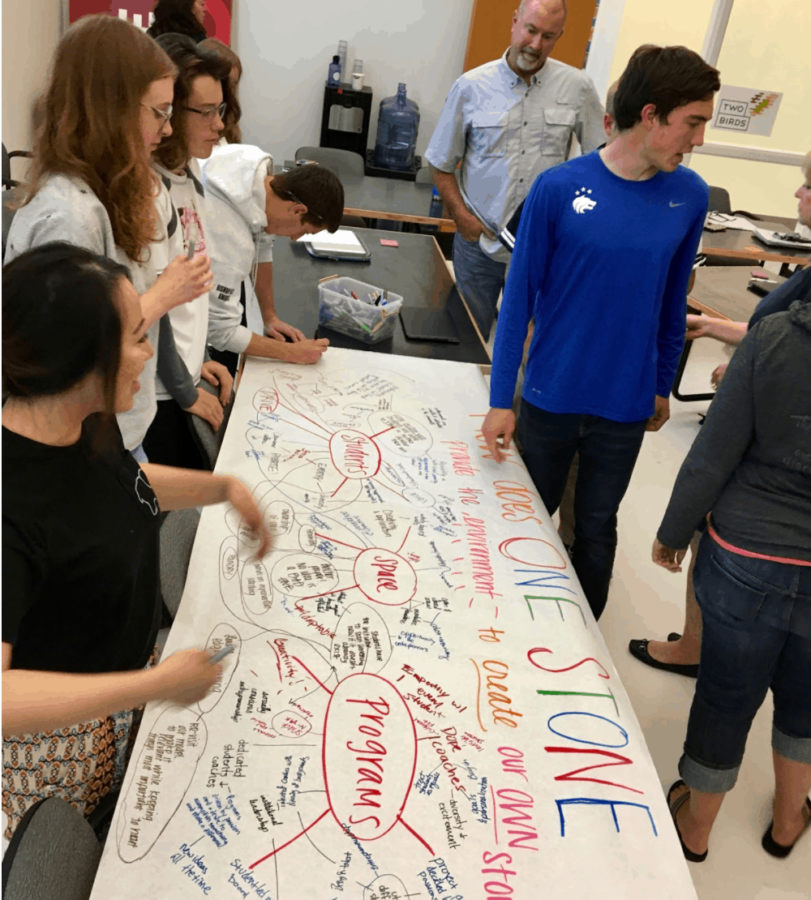 Students involved in all four One Stone programs united for the annual One Event, appropriately themed for 2017 as "Forging an Army of Good for Good."
One Stone students delivered a fast-paced professional production that highlighted the pride of each learner as they defined community service through stakeholder voice for more than five hundred One Stone parents, alumni, supporters. Illustrated through a creative montage of personal impact testimony and awe-inspiring narrative provided by current students and alumni, it was a night that was delivered for the community, by the community.
Every detail, from handcrafted centerpieces (pictured right) to casual, well-articulated insight into the organization by One Stone servers, it linked each aspect of this fluid celebration with motivation to join the One Stone "army" in their mission to spark and deliver positive change in their immediate and global world.
The husband and wife team behind this Treasure Valley treasure is Teresa and Joel Poppen. Teresa is the volunteer executive director and head of school. Joel is general counsel for local chip maker Micron Technology.
One Stone was born through Teresa and Joel's unwavering belief in the potential of youth and the incredible outcomes created when armed with solution design skills and access to opportunities to deliver those skills. The evidence suggests that young people can do more than they (or we) ever dreamed possible.
With the support of community partners like the J.A. and Kathryn Albertson Family Foundation, who have demonstrated a commitment to provided access to student achievement and alignment of youth development throughout Idaho, One Stone is part of impact portfolio that breathes life into the youth as our future.
For more, see:
---
Stay in-the-know with all things EdTech and innovations in learning by signing up to receive the weekly Smart Update. This post includes mentions of a Getting Smart partner. For a full list of partners, affiliate organizations and all other disclosures please see our Partner page.
The Getting Smart Staff believes in learning out loud and always being an advocate for things that we are excited about. As a result, we write a lot. Do you have a story we should cover? Email
[email protected]