Key Points
After-school programs and community-based organizations are already working hard to close the learning gap left by the pandemic.

Carolina Crown is a Marching Arts organization dedicated to assisting students in achieving lifelong excellence.
In the aftermath of pandemic school disruptions, the Biden administration is positioning its new initiative to bring 250,000 tutors and mentors to American schools over the next three years to help propel students to academic recovery. The administration intends to improve coordination among districts and educational organizations as they use existing COVID-19 relief funds to provide tutors and aid in recovery efforts.
After-school programs and community-based organizations are already working hard to close the learning gap left by the pandemic. Carolina Crown, a Marching Arts organization dedicated to assisting students in achieving lifelong excellence, is one organization on the front lines.
Founded in 1988 as the Charlotte Drum Corps Association, Carolina Crown has evolved into a world class performing arts organization with a commitment to enriching the lives of young performers, as well as developing community outreach through music education initiatives and the CrownCARES program. Carolina Crown achieves this through a commitment to their core values of Integrity, Commitment, Respect and Excellence.
CrownCARES was created in 2015 with the Mission of "Impacting a Generation." Toward that end, CrownCARES seeks opportunities to come alongside worthy causes with resources for the betterment of the lives of those who need a hand up. In doing so, they believe CrownCARES contributes significantly to the overall Mission of Carolina Crown. One-way CrownCARES contributes to the community is through the Rhythm of Reading Program.
The Rhythm of Reading Program is designed to address the issues of literacy at an early age when children are beginning to read. Specifically, students in the school districts that are most at risk of educational failure and not meeting literacy expectations by grade level 3.
There are many factors that impact a student's ability to learn to read and speak English at an early age and excel in the classroom. Some of these factors include growing up in poverty, facing trauma at home, unemployed or underemployed parents, and lack of parent engagement. It is also known that students who fail to learn to read and write are more prone to become part of the justice system. According to the Department of Justice, "The link between academic failure and delinquency, violence, and crime is welded to reading failure. Over 70% of inmates in America's prisons cannot read above a fourth-grade level." Additionally, according to the National Assessment of Adult Literacy, two thirds of students who cannot read proficiently by the end of the fourth grade will end up in jail or on welfare.
Finally, students from families struggling with employment will have fewer opportunities to read. According to a January 2019 article published by the Children's Bureau, "By age 3, children with employed parents have a vocabulary of about 575 words compared to children with unemployed parents, who have a vocabulary of about 300 words."
The Rhythm of Reading Program began as an idea in 2018 when Carolina Crown COO Jim Williams encountered a major problem. He had partnered with the nonprofit book company, First Book, to provide free books for children during an upcoming CrownCARES event in 2018 but found he had received far too many books and they were filling the small warehouse space at the Carolina Crown home office in Charlotte, NC. Jim knew he had to make effective use of these books so the idea of combining rhythm and reading was born.
This was an obvious combination because Carolina Crown is known as a Drum Corps, a 160-member youth outdoor marching ensemble made up of students ages 16 to 21 from around the world. Carolina Crown was founded in 1988, and today is one of the top Drum Corps in the world of outdoor pageantry arts, winning the Drum Corps International Championship in 2013. A Drum Corps is like a marching band, and creates lavish productions performed on a football field using marching brass instruments, percussion, props, and dance to entertain audiences and compete each summer with other corps throughout the country. The idea then of utilizing rhythm, an essential element to any musical performance, with reading seemed like a natural combination.
The objective of the Rhythm of Reading Program is to inspire reading age children by combining drumming with the reading of age-appropriate books to increase the reading readiness of children as they move from kindergarten to grades two and three. The program outcomes are measured by partnering with school administrators and teachers to view current grade level proficiencies at the start of the Rhythm of Reading session, and then viewing the results at the conclusion to determine if there have been measurable improvements in the following ways:
Students have taken more books home to read with their parents.
Student reading comprehension has improved compared to the state average.
Students are at a higher percentage of readiness compared to the state average than in the previous year.
The activities involved in a Rhythm of Reading session begin with a series of CrownCARES volunteers arriving at a school or local community space with five-gallon buckets, sticks, and books. Volunteer instructors include former and current members of the Carolina Crown Drum Corps, current and former Carolina Crown music educators, and CrownCARES board members. Each child is sat down in front of one of these buckets, and the instructors work with the group to get them to read a line from the book and then drum the rhythm that combination of words makes using their sticks and drum. The instructors apply the same rhythms on their own drums at the front of the group, often played by 6-10 drummers. The session continues in this manner and the children have a fun time learning how phrases and sentences in a book sound like rhythms they can easily identify with and play together on their drum. After the session, the children get to keep their sticks and proceed to a kind of bookstore set up nearby. The children can choose any book they want from the selection of free books provided by the nonprofit organization, First Book, as well as other book providers.
Each summer and fall the program is delivered at summer camps, afterschool programs, park districts, churches, schools, and community events. CrownCARES calls it the "Music with a Mission" tour. Students get the Rhythm of Reading Book, new school shoes, reading books and a message of HOPE!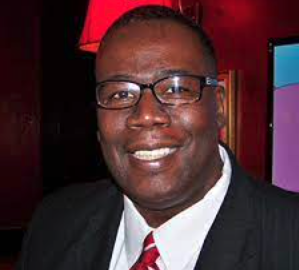 Antonio B. Boyd, Ed.D. serves as President and CEO of the Think Tank Consulting Group, LLC. A national management, development, and public affairs company specializing in the education, non-profit, government and public health sectors.