College Degrees More Important Than Ever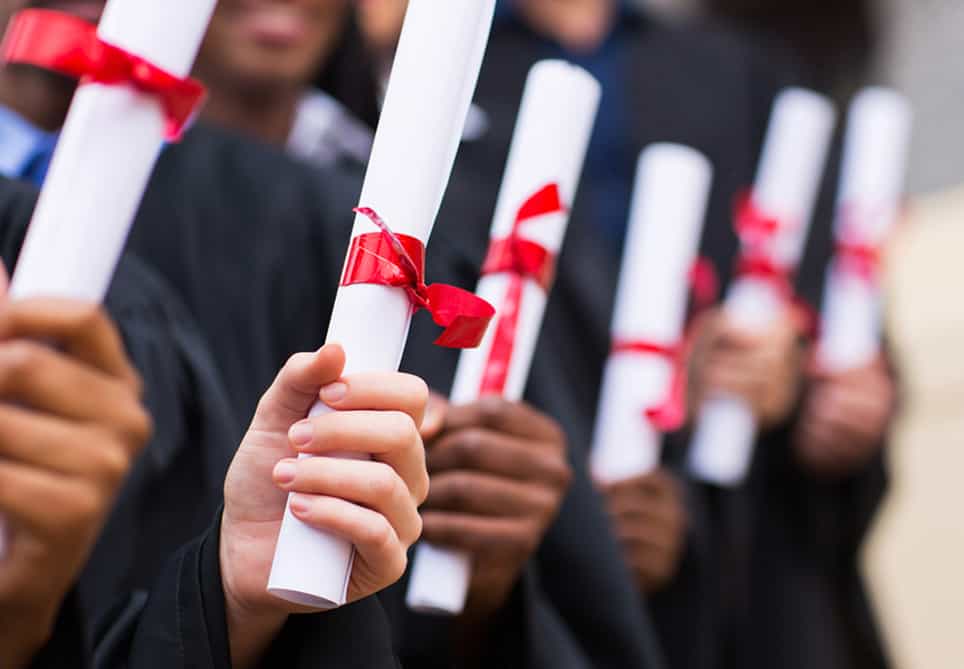 Almost 12 million U.S. jobs have been created post recession–and virtually all have gone to workers with at least some college according to a report released Thursday by the Georgetown Center on Education and the Workforce. The chart below tells the whole story.


People with at least a bachelor's degree now make up 36 percent of the workforce, the largest share on record. Those with a high school diploma but no college education make up 34 percent of the working population, while people who have taken some college classes comprise the remaining 30 percent.
Authors Anthony P. Carnevale, Tamara Jayasundera, and Artem Gulish note the post-recession radical recomposition of the American workforce–for the first time four-year college graduates comprise a larger share of the workforce than those who got a high school diploma but don't have a college degree.
"While jobs are back, they are not the same jobs lost during the recession," note the authors. "The Great Recession decimated low-skill blue-collar and clerical jobs, whereas the recovery added primarily high-skill managerial and professional jobs."
Key findings:
Graduate degree holders gained 3.8 million jobs, bachelor's degree holders gained 4.6 million jobs, and associate's degree holders gained 3.1 million jobs, compared to workers with a high school diploma or less, who added only 80,000 jobs.
Workers with at least some postsecondary education now make up 65 percent of the total employment. Bachelor's degree holders now earn 57 percent of all wages.
Among industries, consulting and business services added the largest number of jobs in the recovery (2.5 million).
Management added the largest number of jobs of any occupation since the recession began (1.6 million), and healthcare professional and technical occupations added the second most jobs (1.5 million)
"The trend away from an economy that was anchored in high school to an economy anchored in post-secondary education and training has accelerated in the last two to three recessions," said Carnevale. "If you can afford to send your kids to college, this is good news. If not, it's bad news."
Office and administrative support positions, the largest occupational group in the American economy, lost 1.4 million jobs during the recession and recovery because of the rise in digital information storage and automation, the report said. These jobs were a primary source of work for people with limited education, which is why the disappearance of this work is hitting that population so hard, Carnevale said.
The report, Carnevale said, "reaffirms the trend that continues to leave Donald Trump voters behind. They tend to be in specific industries, high school educated and remembering that in the 1970s they were the dominant workforce. This is a new world."
"Workers with a high school diploma or less must attain postsecondary credentials if they want to compete effectively in growing high-skill career fields," conclude the authors.
For more on young people charting their own course through high school and college see the #GenDIY series including:
---
Stay in-the-know with all things EdTech and innovations in learning by signing up to receive the weekly Smart Update.
The Getting Smart Staff believes in learning out loud and always being an advocate for things that we are excited about. As a result, we write a lot. Do you have a story we should cover? Email
[email protected]