Summit Public Schools Continue to Innovate and Expand Impact
Summer break? Not at Summit Public Schools. New schools, summer school, and a national partnership program keep Summit sites humming in June and July.
Given the compelling mixture of personalized playlists and projects, we think Summit is the most innovative secondary network in the country. Summit's Personalized Learning Plan (PLP) promotes student agency and engagement. When school opens in August, the learning platform will have improved playlists, expanded college and goal setting tabs, and projects that can be personalized and self-paced. Every project combines collaborative elements with individual tasks and deliverables.
The seven school network will open two more schools in Seattle and Tacoma in August. The schools are small and diverse, reflecting the communities they serve.
Summer of Summit serves almost 1,500 kids on five campuses. Through a training partnership with Teach for America, 130 corps members teach alongside Summit teachers in the morning, and receive coaching and professional development in the afternoon. The experiences prepares TFA Bay Area corps members for their classrooms in the fall equipped with next generation tools and resources.
Through a program called Basecamp, Summit encouraged school teams to apply to join them on the next-gen journey. Twenty two grade level teacher teams were selected and spent the last two weeks in Redwood City.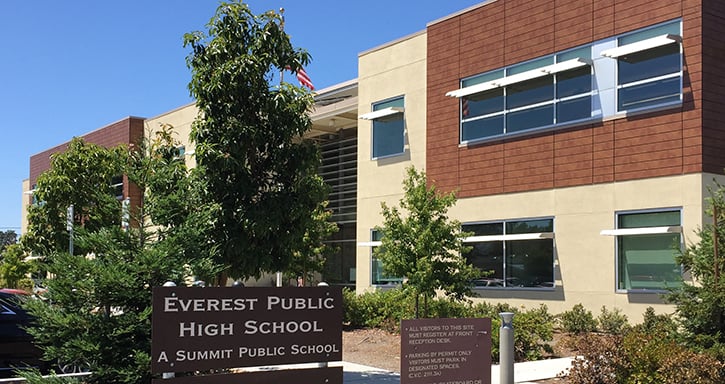 The partnership schools are committed to:
Project-based learning with a focus on cognitive skills
Self-paced competency based progression
1:1 mentorship
Building a self-directed learning culture
Using the Personalized Learning Plan (PLP)
Designed just like a Summit school, Basecamp is a sequence of projects that pose essential question, project steps, and final products. Teacher teams used the PLP platform they'll use with students in the fall to engage in a sequence of projects supported by knowledge-building playlists. Projects cover goal setting, the role of teacher/mentors, habits of success, and parent engagement.
Partner schools provide 1:1 student access to technology and administer NWEA MAPs to measure academic gains.
Summit raised $2.8 million to cover the cost of the program for them and the school team. Former Summit math teacher and project manager Lizzie Choi directs the Basecamp project.  Five former Summit teachers support the 20 teams.  They'll be making site visits this fall to ensure successful deployment.
CIO Jon Deane (headed to the Gates Foundation next month) said, "Learning with these teams has been incredible. More mind meld than replication, Deane said "We're learning what experiences it takes to transfer a set of idea." He added, "It's been spectacular!"
This first Basecamp cohort left Friday with updated plans for fall implementation. A second cohort, with sights set on 2016 deployment, starts next week.
Why Summit matters. We include Summit Public Schools on our list of 100 schools worth visiting because it is the best example of a group of a network iterating on a school model and platform simultaneously with a clear vision for learning experiences and a broad set of outcomes. Only Brooklyn Labs and a few other NGLC grantees are doing similar work.
Summit makes interesting use of time and limited resources. It's a great example of how, according to Michael Horn, the shift to blended learning will "free up teachers to focus far more on helping students work on meaningful projects, take part in Socratic discussions, engage in the community, and participate in other activities that allow students to discover their passions, create and innovate." He notes:
Students engage in a total of 16 hours a week of "Personalized Learning Time" online, for which students set learning goals for the week; develop a plan to achieve the goals using Summit's curated online learning playlists; and work through the plan. Because the learning is individualized for each student's distinct needs, that's enough time for students to master the core knowledge and skills of the curriculum. That frees up the rest of a student's day for project-based learning, sustained reading time, physical education, and time to meet with his or her mentor. In addition, Summit provides its students with eight weeks a year of "Expeditions," in which students learn largely off-campus in the real world. Students explore their passions in everything from elective courses to real internships to learn about career options.
Opening new schools is expensive and, as noted earlier this month, charter authorizing has become arduous. As a result, it takes a long time to build out an innovative school network. That's why it's so important that Summit decided early on to bring partner schools along with them on the journey. Five years from now there will be 100 Summit managed and Summit partner schools in every corner of the country. That's the kind of proof point at scale that starts to change things.
For more, see:
Tom Vander Ark is the CEO of Getting Smart. He has written or co-authored more than 50 books and papers including Getting Smart, Smart Cities, Smart Parents, Better Together, The Power of Place and Difference Making. He served as a public school superintendent and the first Executive Director of Education for the Bill & Melinda Gates Foundation.