Teachers Now "Pinning" Common Core Resources in MasteryConnect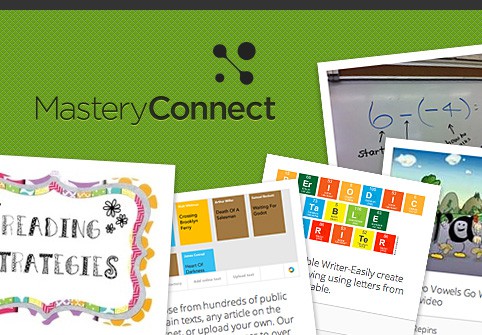 MasteryConnect is focused on changing the paradigm from the traditional letter-based grading to a mastery-based system where student learning relative to standards can be viewed in real-time.  The site has really caught fire: teachers and administrators are registered with accounts in over 9,000 school districts and 28,000 schools.  These MasteryConnect users have scored over 7.3 million standards for mastery and uploaded more than 48,000 assessments to the MasteryConnect Learning Community. MasteryConnect has become the largest network for sharing assessments around both state and Common Core standards, and now they've launched a tool to help teachers "pin", find, and share standards-aligned resources.
I visited the MasteryConnect team in Salt Lake a few weeks ago right after they launched updates to the site. After watching the team in action, I noticed that they are always learning and asking for feedback. In addition to having a number of teachers on staff, MasteryConnect keeps an intense focus on listening to teachers in the schools and districts they serve, and translating that feedback into immediate changes and improvements in their product.
Recently, MasteryConnect unveiled a cool, social bookmarking feature for standards aligned resources. Much like the Pinterest paradigm of social bookmarking, teachers find or upload any resource on the web, align it to a state or Common Core standard, and "pin" it to a board or collection. Like MasteryConnect's community of teacher-created formative assessments, it seems that MasteryConnect is at it again, working to create the biggest collection of resources for the Common Core.
Besides this great new tool for the Common Core, here are the top ten features that teachers love most about MasteryConnect:
The MasteryTracker – shows current student mastery relative to Common Core and/or state standards.

Time-saving assessment tools – allow instant data collection through plain paper bubble sheets using GradeCam, or through the MasteryConnect Assessment App on any tablet or mobile device.

Ability to assess with multiple content types, including the new Technology Enhanced Item type.

Curriculum Maps/Scope & Sequence Planning – allow districts and teams to organize standards, assessments, and resources into units and deliver them electronically to teachers.

Free Common Core App – all the standards in one convenient app, that has been downloaded by educators and parents over 650,000.  Get it on iOS, Windows, and Android.

Item Bank Integration – ability to create assessments using content such as The Formative Assessment Item Bank (FAIB) from NWEA.  Look for an announcement soon about an item bank partnership with Pearson and MasteryConnect.

A free and active Professional Learning Community – where teachers from over 28,000 schools across the country sharing standards-aligned assessments and resources.

News feed & collaboration tools – around standards, assessments, resources, and data – notifies teachers of new activity from others within their network.

Easy to manage RTI – tools for remediation and re-teaching.

Class, parent, school, and district level reporting tools – makes it easy for teachers and administrators to compare and collaborate around data driven by common assessments and compare that data to benchmark level data.  MasteryConnect can gives parents a real-time window into what their student is learning.
Teachers and administrators aren't the only ones taking notice of MasteryConnect. In 2012, MasteryConnect announced their partnership with Solution Tree, a PD company focused on PLCs.  Early in 2013, MasteryConnect completed a Series A round of financing of $4.25 million dollars. Investors included Catamount Ventures, The Michael and Susan Dell Foundation, Learn Capital, and GSV Advisors. The investment round marked Michael and Susan Dell Foundation's first program-related investment in the U.S.
MasteryConnect's Common Core App is THE most downloaded app for the Common Core and provides a resource for parents and educators alike. The integrated Common Core app for iOS, Android, and Windows devices has been downloaded over 650,000 times.  MasteryConnect is currently working on a new app, in partnership with the National Science Teachers Association (NSTA), for the Next Generation Science Standards (NGSS) that will be launching in August 2013.
Technology Enhanced Items, one of the recent buzz words in education, are what the Smarter Balanced Consortium calls "computer delivered items that include specialized interactions for collecting response data". MasteryConnect supports Technology Enhanced Items by using the latest in Question and Test Interoperability (QTI) standards for assessment items that allows them to work with any QTI compliant item bank developing these new assessment item types.
Learn more about the new "Resource Pin" feature as well as the impact MasteryConnect is having on student outcomes in their latest videos:
Disclosures: Mastery Connect is a Learn Capital portfolio company where Tom Vander Ark is a partner.
Tom Vander Ark is the CEO of Getting Smart. He has written or co-authored more than 50 books and papers including Getting Smart, Smart Cities, Smart Parents, Better Together, The Power of Place and Difference Making. He served as a public school superintendent and the first Executive Director of Education for the Bill & Melinda Gates Foundation.