What Could lynda.com Do For Your School?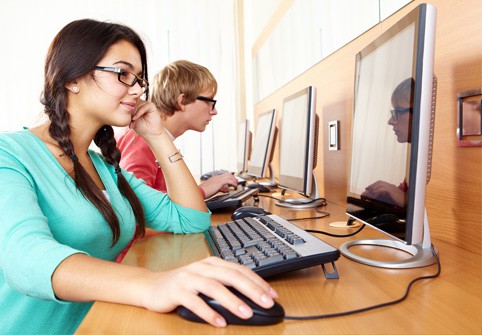 By Tom Vander Ark & Scott Williams
Lynda Weinman, co-founder of popular video learning site lynda.com, will deliver the breakfast keynote on April 17 at the ASU/GVS Education Innovation Summit. We asked her how their videos could help schools, what lessons they have learned, and where they're headed.
TVA: How did you get your start?
LW: lynda.com is 18 years old. The company started in 1995 when I worked on my first book that taught web design. My background working in the film industry made me especially interested in the creative use of computers, specifically animation and design. My animation career segued into becoming a university level teacher and writer. Upon completing my book, the publisher let me know that they were not interested in publishing topics that I wanted to teach. lynda.com began with me creating niche VHS material on my own, which transferred to DVD material, which led to where we are today with online delivery.
TVA: Who uses lynda.com?
LW: In addition to individual consumer users, there are three main industry segments that use lynda.com. The education segment has had the highest adoption rate and uses lynda.com for training, students, faculty and staff. K-12 is seen as a strong growth segment, specifically for middle school and high school students, as well as faculty and staff. Higher education tends to view lynda.com as a partner or adjunct, such as a substitute for library materials. The corporate enterprise segment views lynda.com as a mixture of a help desk substitute and a just-in-time training partner, and a lot of the subject matter they need to teach is baseline business skills. The government segment uses lynda.com mainly for staff training and continuing education.
TVA: How do you decide which courses to offer?
LW: We listen to our subscriber requests, as well as industry trends and emerging technologies.
TVA: What do you know about your learners?
LW: We chart the learning history of our 3 million users.  They can look up and see every video they have watched. Enterprise customers can get reporting by group, subgroup, or person.
TVA: What about playlists and recommendations?
LW: Whenever you end a course, you can see suggested courses on what to take next. One course may have 100 videos associated with it, while another may have 50 videos associated with it. You can do a search to find a specific skill. We also offer playlists that group together courses for future or recommended viewing.
TVA: Who develops the content?
LW: The majority of content development is done in-house. We publish more than eight hours of content per day and have over 90,000 videos on lynda.com. We have a 12-acre campus and state-of-the-art production facilities.
TVA: What have you learned about instructional content development?
LW: The teacher is most important. They obviously have to deliver solid instruction. People really prefer bite-sized chunking of information; contributors need to make it as short and succinct as possible, to engage the viewer.
TVA: Has that changed in the past 20 years?
LW: lynda.com began as a consumer learning resource, and enterprise sales didn't occur until
6-7 years ago. We see our quality and educational integrity as the main differentiator between us and our competitors. We make sure to not only pick top industry experts, but to ensure the instructor is excellent at delivering the instruction.
TVA: Is tagging and organizing becoming more of a challenge?
LW: Organization and tagging always become more complicated when content and subscriber numbers increase. The next frontier of our development is to construct more efficient ways to maneuver the site. We plan to develop an organized tagging process that will bring more value to our subscribers.
TVA: What have you learned about human development?
LW: Students and people today like learning in their own time, in their own way. Students prefer more engaging lessons versus a talking head at the front of the classroom. Lessons should also be more individualized. We have seen that if it is too fast some people get lost, and if it is too slow some people get bored.
Classroom time should really be about interaction, collaboration, participation and critical thinking. Kids don't just want to sit and watch a lecture. They are hungry for engaging experiences in the classroom.
TVA: Do you give assessments?
LW: No, if enterprise customers want to add assessments, it is their responsibility.
Our customers value flexibility and lynda.com values delivering quickly. There is much less production time in regards to video production, material can be updated more frequently than textbooks, and it can come to market much more quickly.
TVA: How has the growth of free content affected your business model?
LW: A lot of people think info should be free, but the problem is that it is difficult to make a sustainable business model that way. By charging our customers a low price, lynda.com can pay our teachers and staff and grow the company. Free MOOCs are appealing but they don't do much to create jobs. lynda.com has never had an unprofitable year in 18 years and that's how we've been able to scale and grow.
TVA: Is there anything in particular you want to say to the K-12 audience?
LW: Currently, 700 K-12 schools are using lynda.com, however, it tends to be more appropriate for middle and high school students. 3,000+ universities have adopted lynda.com. Also, lynda.com works seamlessly with most mobile initiatives, we provide a variety of apps that work on many different devices, and the site can be used to educate students, teachers and staff about these devices.
TVA: What is the average educational background of your authors? What areas of business do they come from?
LW: Our teachers are renowned experts in their field. They are published authors, lecturers, teachers and thought leaders.
TVA: What's next for lynda.com?
LW: Currently, lynda.com doesn't offer built-in curriculums. Playlists can be used to string together courses, to make mandates for students or employees to learn, but there is no formal class curriculum.
Using lynda.com in K-12. Your district's tech team could sign up to stay current on widely used apps. Your faculty could subscribe for just-in-time tech support on basic desktop applications. You could sign up a high school computer science class to learn C+, PHP, Ruby on Rails, and more.
Tom Vander Ark is the CEO of Getting Smart. He has written or co-authored more than 50 books and papers including Getting Smart, Smart Cities, Smart Parents, Better Together, The Power of Place and Difference Making. He served as a public school superintendent and the first Executive Director of Education for the Bill & Melinda Gates Foundation.