The Future is Here: Artificial Intelligence & What it Means For Our Kids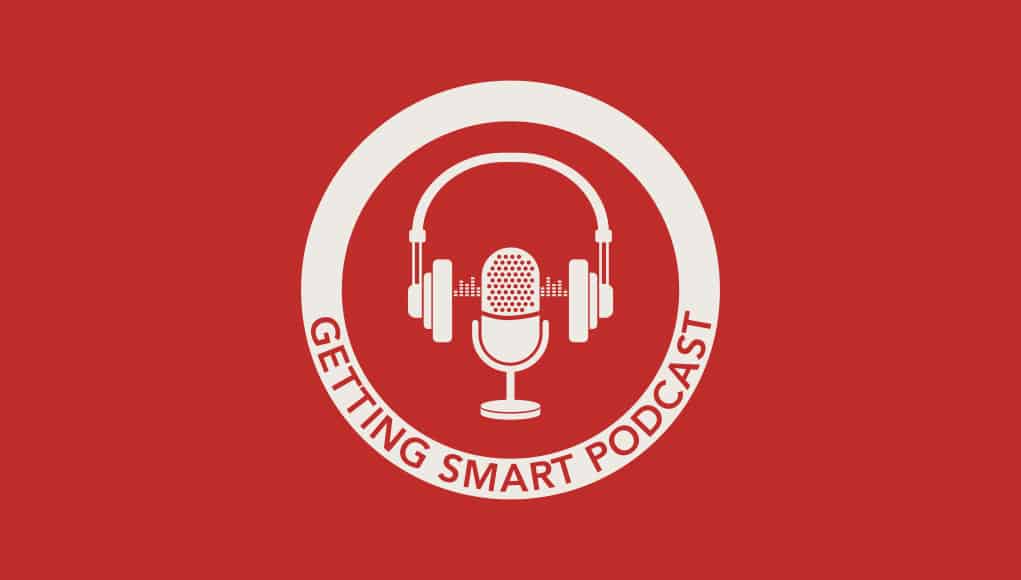 As you may have noticed, we've been researching artificial intelligence (AI) and its economic and educational implications.
From healthcare to transportation, we believe it is incredibly important for young people and adults to be learning about AI, and we are writing more about it to equip teachers and parents with information to help young people ask good questions about the implications of AI on their lives and livelihoods.
To get the scoop, I sat Tom Vander Ark down for a podcast interview on AI. You'll also hear from Gerald Huff, a senior Silicon Valley software engineer, who shares his thoughts on AI and what it means for students and the transportation industry.
Listen to the podcast, read excerpts from the interview below and be sure follow the campaign at #AskAboutAI.

Tom, we've noticed a lot of posts on artificial intelligence lately. What's that all about?
When I wrote Getting Smart in the fall of 2010, I predicted that by 2015 most learning platforms would  feature a smart recommendation engine, similar to iTunes Genius, that will build recommended learning experiences for students. We're not as far along as hoped on this front but as discussed in our recent podcast with Curriculum Associates, adaptive products like i-Ready and Dreambox are used by a big percentage of U.S. schools.
I also predicted that "information from keystroke data would unlock the new field of motivation research, yielding insights about what causes students to persist through difficult work." And we're still a few years away from that.
The point is that being a 'path forward' organization means we've been thinking about big data when it comes to learning for a long time. And over the Christmas break, a superintendent asked me what learning would look like in 2035, so I blogged him a response and that thought experiment caused me to make artificial intelligence and machine learning, the practical subset, my personal learning project for the year.
What are we doing now that we won't be in five years?
Driving for one thing. I seldom rent cars now when I travel, it's so much easier to Uber. You can catch a self-driving car now in Pittsburgh and Singapore. I bet my granddaughter will never learn to drive.
The interesting thing I've discussed this year is that the future is here. Over a two-week period in August I spotted 101 current applications of AI–it's part of every facet of life today from music to transportation, medicine, retail and, of course, learning.
It's behind this odd economic recover–low unemployment but low wage growth. It's shifting employment patterns
What's the AI connection to education?
Two fold, like Getting Smart, Pearson has been studying this topic. Their paper entitled, Intelligence Unleashed: An Argument for AI in Education, discussed improvements in personalize learning including Intelligent Tutoring Systems. An extension to our #PlaceBasedEd campaign, they wrote about Intelligent virtual reality to support learning in authentic environments–that could really improve science learning and career education.
Perhaps most interesting, they discussed intelligent support for collaborative learning: adaptive group formation, expert facilitation and moderation–smart social-emotional supports.
Those are the direct implications but I think there are more profound implications for what graduates should know and be able to do and the kinds of learning experiences we help them construct–the aims and means of schooling.
We need to promote deeper learning through big projects –sustained efforts against complex tasks in novel situations–that's how we'll best prepare youth for the automation economy.
It's not just learning to code, although that may be a useful vocational skill, it's combining
Cause + Code: The New Impact Formula, the inclination and ability to become an expert at a cause worth fighting for and combining it with big data tools and strategies.
In his new book, The Master Algorithm, Pedro Domingos, Computer Science prof at the University of Washington, calls machine learning the new infrastructure for everything. He calls it the new switchboard of HigherEd. It's still siloed but anybody doing important research has big data sets and is talking to the machine learning faculty in the Computer Science department.
What about CTE?
The third industrial revolution was the introduction of computers and automation in manufacturing in the last 40 years. The fourth industrial revolution is cyber-physical systems. Industry 4.0 will bring manufacturing back to the US and lead to onshoring thousands of great jobs in small local clean fab shops.
An example of how this is working: 800 North Carolina factory jobs got shipped to factories in China and call centers in Bangalore, where they blossomed to 1600, but they'll come back as 80 high wage jobs working with smart robots and chatbots.
So you think teachers and parents should be talking about AI?
There's nothing that will do more to impact lives and livelihoods of young people, nothing more profound in terms of ethics and economics. It's a good time to #AskAboutAI.
What are the eight areas you are exploring?
This month Stanford launched a 100-year study of AI (AI100) with a report: Artificial Intelligence and Life in 2030. The 16 member study panel issuing the report sees increasingly useful applications of AI, with potentially profound positive impacts on our society and economy emerging by 2030. The study identifies eight domains where AI is already having or is projected to have the greatest impact: transportation, healthcare, education, low-resource communities, public safety and security, employment and workplace, home/service robots and entertainment.
Last month we looked at the safety and security. The good news is that safety and convenience are improving. The bad news with GPS, facial recognition and voice recognition we have less privacy.
We've studied how smart transportation is helping to create smart cities and how that might change education and employment.
We also explored  health and health care. AI is speeding progress on detection of and cure for many diseases. In fact Mark Zuckerberg pledged $3 billion, posing the question, Could we cure, prevent, or manage all disease in our children's lifetime?
With these advances some thorny ethical questions and security risks of genomic editing (risk of bioterrorism using engineered pathogens). The Bulletin of Atomic Scientists concluded, "If we marshal it properly, it could lead to improvements in the quality of life for peoples across the world. If we don't, it could imperil life itself." That seems to warrant a conversation.
If we can automate everything that is repetitive application of rules then the value add as human beings is going to be in how we approach complex and novel situations–that suggests a project-based pedagogy aiming for deeper learning experiences.
Mentioned in this podcast:
#AskAboutAI is a campaign to equip teachers and parents to help young people ask good questions about the implications artificial intelligence on lives and livelihoods.
For more, see:
---
Stay in-the-know with all things EdTech and innovations in learning by signing up to receive the weekly Smart Update. This post includes mentions of a Getting Smart partner. For a full list of partners, affiliate organizations and all other disclosures please see our Partner page.
Emily Liebtag, Ed.D., is Education Reimagined's Senior Partner for Systems Transformation. Formerly, Emily served as the Vice President of Advocacy at Getting Smart.