One Year Into the AI Revolution….and Most Schools Are Still Seeking Direction
Key Points
If collective response is limited to risk mitigation, communities will miss the greatest impact opportunity in history.

We must view AI as a co-founder and creativity engine in entrepreneurship and community project construction.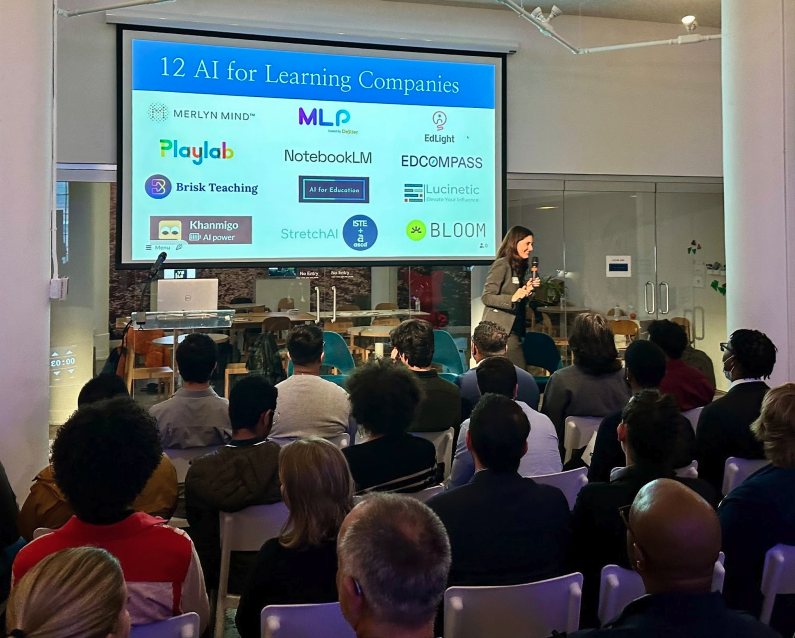 "…we have entered a new age of AI that will fundamentally transform productivity for every individual, organization, and industry on earth, and help us address some of our most pressing challenges." –Satya Nadella
We are a year into the new age of human-computer interaction and things are moving fast. Generative AI gets better every month at producing text, code, images, and even video.
In an Impromptu dialog with GPT-4, LinkedIn founder Reid Hoffman suggested we should now think of ourselves as a new species, homo techne, "tool-makers and tool users, augmented and amplified beings capable of more than we ever thought possible."
Two breakthroughs define this new age of human-computer interaction, explained Satya Nadella in his annual letter, natural language as the interface (after generations of keyboards, mice, and touch screens) and powerful reasoning engines. "This generation of AI helps us interact with data in powerful new ways—from completing or summarizing text to detecting anomalies and recognizing images—to help us identify patterns and surface insights faster than ever."
Hoffman's AI startup Inflection offers Pi, a "personal intelligence" willing to serve as "coach, confidante, creative partner, sounding board and assistant." The 2013 sci-fi movie Her is playing out with dozens of AI companions in app stores.
A year ago, the script was "Focus on human skills because AI will never be creative or empathetic." This fall AI apps promote idea generation, collaboration and creative content.
AI apps are empathetic confidants, coaches, and pathway advisors. AI capabilities are moving fast causing a reconsideration of what young people can do and should know.
At an AI demo at EdTech Week in NYC last month, there was a mixture of Hoffman's optimism and a dose of concern. Some pragmatic optimists are busy automating 20th-century pedagogy–making it easier to produce worksheets and robo-tutoring hand calculations in math.
Creative optimists are inviting learners into value creation. Warton professor Ethan Mollick invites students to view AI as a co-founder and creativity engine in entrepreneurship. Learners in DaVinci Schools in Los Angeles use Project Leo to construct community-connected projects.
Educators use Playlab to construct project tools and chatbots. Reinvention Lab used Playlab to create FutureShock, a summer impact sprint.
A new report from TeachAI summarizes the potential benefits of AI in education (below) leading with content development and (4th on the list) creative project-based work. To the personalized learning category, add smart career exploration and path guidance (see SchoolJoy for example).
The most widespread concern is (what is currently considered) cheating and plagiarism–or the unauthorized and undisclosed use of gen AI in completing assignments. Use guidelines are important but there is also the opportunity to move to what Professor Sarah Elaine Eaton calls "the post-plagiarism age of hybrid writing" with higher expectations for quality while valuing attribution.
The automation of bad pedagogy, as TeachAI notes, could lead to less agency and loss of critical thinking. The opposite is the goal– inviting learners into more challenging work yielding public products not previously possible. 
Getting Started With AI
School visits this fall suggest that most schools are waiting for guidance. And, that direction is beginning to emerge. AI for Education offers useful guidance on laying a foundation, developing staff, and engaging students.
Similarly, the new guidance from TeachAI suggests a three-step process of 1) creating/updating a use policy, 2) facilitating staff development, and 3) identifying areas for improvement and transformation.
A few school districts are well down this path. St Vrain Valley Schools in Longmont Colorado has invited staff to explore AI with a bingo card of 25 learning experiences. Drop-in coaching sessions are hosted at the Innovation Center and weekly pop-up events at schools invite exploration (example below). AI Champions at each school support ongoing development and real-time exploration.  
St Vrain students won the 2022 World Artificial Intelligence Competition for Youth and they are hosting the competition this year. St Vrain has 220 robotics teams across the district and hosted the 2023 Underwater Robotics Championship. Innovation Center students on the AI Cyber Bus Team are converting two school buses into mobile labs following the lead of the Future Ready Innovation Lab.  
The Peninsula School District in Gig Harbor, Washington developed Artificial Intelligence Principles and Beliefs rooted in Universal Design for Learning. It concluded, "AI is a potent tool that can dramatically improve education by offering personalized, inclusive, and compelling learning experiences when used responsibly and ethically." Teachers in an AI Action Research project developed Resources and FAQS.
To get started, check out AI 101 for Teachers from Code.org. Also, see ISTE's AI resources including Tips for School Leaders. For using AI to learn about teaching, request a demo of
Stretch AI from ISTE, a chatbot that is trained on their libraries of vetted content.
Communities Alive With Possibility
There are good reasons to be concerned about the proliferation of AI in work and learning. But if collective response is limited to risk mitigation, communities will miss the greatest impact opportunity in history. Gen Z (or as Reid Hoffman suggests, Generation AI) has the opportunity to do more than ever thought possible–to create, express, invent, heal, and teach.
What I most appreciate about visiting St Vrain Valley Schools is the sense of possibility. They lean into opportunity, they turn it into an R&D agenda, they invite teachers and learners to explore new possibilities, and then they scale innovation for equity.
With Colorado Education Initiative, St Vrain hosts the National Innovation and Leadership Institute where they share the formula for building a strong foundation and adding an innovation agenda. Assistant Superintendent for Innovation Joe McBreen challenged the last cohort, "Your district's greatness in 2030 will be directly proportionate to how innovatively you dare to lead." (And, he said it in three languages using an AI translation app.)It's time for a community conversation about what's possible, about lifting collective expectations of the kind of work young people can do. Like KEEN engineering schools, it's time to invite learners to spot opportunity, design solutions, and deliver impact. Like Real World Learning schools in Kansas City, it's time to invite learners into community-connected and entrepreneurial projects. Ethan Mollick said, "Given the inevitability of change, we need to figure out how to mitigate the negative, but also how to channel the change for good as much as possible."
Tom Vander Ark is the CEO of Getting Smart. He has written or co-authored more than 50 books and papers including Getting Smart, Smart Cities, Smart Parents, Better Together, The Power of Place and Difference Making. He served as a public school superintendent and the first Executive Director of Education for the Bill & Melinda Gates Foundation.