5 Ways to Use Google Docs in the Classroom
Google Docs is a user friendly suite of online collaborative tools that come with tremendous potential for use in the classroom. Last year all of the students in our school  received Google Docs accounts and I was kept quite busy getting students and teachers up and running with the new tools, then discovering innovative ways to use them as effective tools for learning. Here are some of the favorites.
Collaborative Writing
Sharing and commenting provide students with opportunities to receive immediate feedback on their writing from teachers and peers in the 24/7 classroom. The integrated reference tools and smart spell checker provide students with convenient writing support right on the page. The built in research tool expands opportunities for students to engage in real world writing and streamlines the process of creating links and citations with a handy one click feature.  For students using a variety of sources in their writing, Google Docs integrates seamlessly with EasyBib.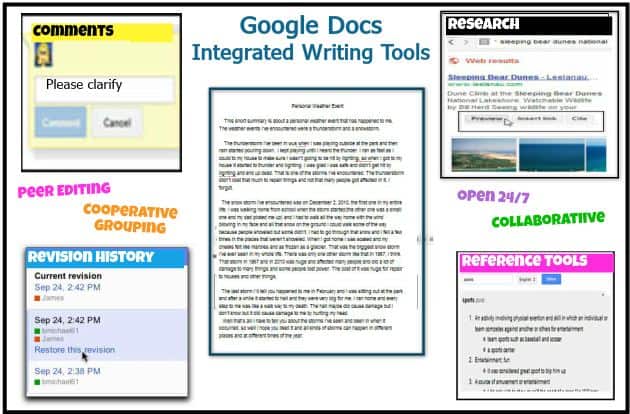 In Box 
One of the challenges of using Google Docs with a class full of students is in managing all those Google Docs. While it's fairly easy for students to learn to share their work teachers, the clutter that ends up in teacher's email boxes can be overwhelming.  To solve this problem John Miller came up with the idea of using a Google Form to collect assignments. Here is how John's invention works:
Teachers create and publish a Google Form to be used as an In Box.
When it's time to turn in a Google Doc, students complete the simple form and submit a link to their Google Doc.
Collaborative Brainstorming
The features available in the drawing component of Google Docs are well-suited for online, collaborative brainstorming  sessions that provide students with opportunities to work together to develop ideas. Digital brainstorming sessions provide all students with an opportunity to contribute, unlike traditional brainstorming sessions which encourage contributions from the "quick thinkers" in the room. Students can use shapes, arrows, text, and imported images to build a visual map for any task. The revision history uses colors to highlight and tracks changes to any Google Doc, making it easy to see what each student has contributed to the big picture.
Self-Grading Quiz
Provide students with immediate feedback and increase motivation by creating a simple self-grading quiz with a Google Form.  Just create a quiz with a few multiple choice questions, take the quiz yourself to submit the correct answers, and pop a simple formula into the spreadsheet end to let the technology do the grading for you.  Immediately publish the spreadsheet of results and teach students how to use the find tool (control + f) to quickly find their score and significantly raise the stakes to increase student motivation.  Please note: To avoid public humiliation and hard feelings make sure you require students to sign in with some sort of unique identifier that protects their privacy.
A Virtual Copy Machine
If you're looking for an easy and efficient way to provide students with a starting point for a digital project, Google Docs Templates can help. You can save time and guide the learning by providing students with a consistent page format by using and creating your own templates. A Google Docs template is like a virtual copy machine. There are plenty of user-submitted templates already created and available for public use and there is even a category for Students and Teachers.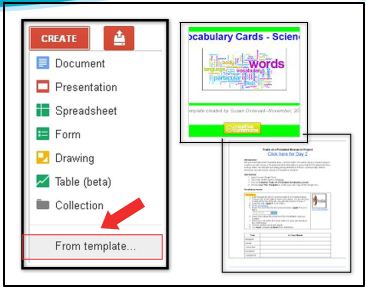 Final Thoughts
Google Docs is constantly evolving, adding new features, and becoming more useful for teaching and learning. If you haven't yet put Google Docs to the test, I suggest you try it.