Mentoring Your Students in Social Media or Vice Versa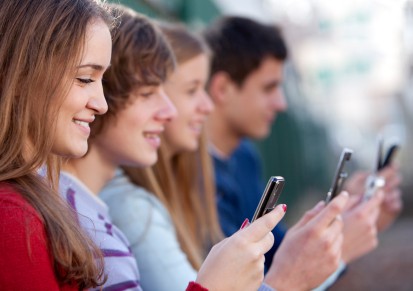 Generation Z is moving so fast we can only track their contrails. They have advertisers, marketers, and educators flummoxed with how they operate. What makes the Zs so different from the Boomers, Xs, and Ys? Quite simply, the Internet.
The internet is not technology for them. No more than the radio was technology for us. Or the apple was technology for Newton. It just exists for them as a common, ordinary, everyday tool. It's NO BIG DEAL. Same for the iDevices, tablets, computers, phones, cameras, and everything thing else that's digital. They're not impressed by it. It is what it is.
The Zs, born after 1992, only know life with the Internet. The world is rapid for them. Answers, music, TV shows, movies, virtually anything can be found instantly.
The Zs are also all about social media. They love that Google +1 button, and the Facebook Like button, and comments section on all their favorite sites.
Most of us educators are wrapped up in social media, as well, but we've managed to keep education itself in a sterile environment, safe from the outside world. By the way, the outside world prefers to be called by its actual name: The Real World.
Naturally, many educators want to include their students in social media too, but they are not sure how to safely orchestrate an educational integration with networks like Facebook, Twitter, Foursquare, and so on.
So let's get serious about making a social-networking strategy for our classroom. This needs to be a well thought-out strategy. Don't just start friending students on Facebook and firing off tweets with tomorrow's homework assignment on it. Let's work on the plan first.
Facebook is a good place to start since it is apparently too big to fail. The FCC in its recent Children's Internet Protection Act (CIPA) update, explicitly stated that using social networking sites like Facebook and MySpace were not in violation of CIPA. They even encouraged its use:
"Declaring such sites categorically harmful to minors would be inconsistent with the Protecting Children in the Twenty-First Century Act's focus on "educating minors about appropriate on-line behavior, including interacting with other individuals on social networking websites and in chat rooms, and cyberbullying awareness and response."
Fantastic! We're all onboard.
Don't discard your professionalism, though. You have worked long and hard for your professional educator title, so keep that in mind as you develop your educational networking strategy. Think about it, you will spend hours and hours planning for a single lesson, searching for the perfect video or link or assessment, so approach your networking strategy the same way. Don't let this be a professional breakdown for you. Too much is at stake. Remember that the while the Internet doesn't even register as technology for the Zs, it still does for the Boomers, Xs and Ys. Each older generation has more fears and distrust of technology than the generation that comes after it. And the older generation tends to include your bosses, and firing off the latest FCC updates to them might prove to be counterproductive.
Two Artifacts to Start With
Start with your district's social networking policy. See what guidelines are in place. Some will not have one yet. Let yours be the professional model.
Create digital citizen guidelines for your students. Be explicit in how they will interact with you and other students on your networking sites. All students and parents should read and sign before they network on your sites. Write your guidelines in a clear, understandable language that both parents and students can understand. The district guidelines written for teachers is likely filled with eduspeak that can't be understood by normal humans.
Here are two guides:
One Big Question
Should you friend students on Facebook? At this stage, I would advise not. There are too many difficult issues that could turn into minor or large headaches for you. The problem won't be with you either. . . the professional educator . . . it will be with your friends . . . yes, those college buddies, sorority sisters, and outcast relatives who probably should not be mingling with your students on your Facebook wall.
One Easy Solution
Set up a Facebook page for your students. When students send a friend request, direct them to your Facebook page. Forget about Facebook groups. You have to friend students to add them to groups, and one of the settings for groups is "secret." You want complete transparency for parents and administrators. Keep your professional hat on.
Facebook pages have really good controls now. In the page settings, you have tools like "Profanity Block" and "Moderation Blacklist." You will still need to moderate your page, but these types of auto-moderation tools area a great help.
Facebook Page Strategy
On your Facebook page, you will be a mentor, not friend, to your students. While you network with them, you will teach them proper netiquette with your digital citizenship guide.
You, of course, will always be positive on your page and will reward their positive behavior. That's not just good teaching, that also one of the underlying principles of Facebook. You've no doubt noticed that Facebook only has a "Like" button, and that's for a reason.
Keep students and parents up-to-date with homework tips and tutoring help.
Tools to Use
Import Blogs and Twitter – If you have educational blogs and an educational Twitter feed, save time and integrate those right into your Facebook page.
Slideshare and Microsoft Live – Both are integrated with Facebook and are a great way to share content.
Instant Messaging – Message a parent "Adam did great on his project." It will mean a ton to them!
"Ask a Question" Feature – This is perfect for formative assessments and polling students and parents.
Teacher Examples
You can find literally thousands of teacher pages on Facebook, but here are two to start with.
Final Thoughts
Remember that Facebook is not for everyone. You can't force it on students, so be prepared to have an alternative for them. If it's just a matter of access, allow those students to use your classroom computer or to have some "elbow time" with other students during class so that they can network, too.
Adam was a classroom English teacher for ten years and began teaching online in 1998. He now works for the North Carolina Virtual Public School, the 2nd largest virtual school in the nation. Adam has blogged for Getting Smart since September of 2011.