New NWEA Chief Chris Minnich on the Future of Assessment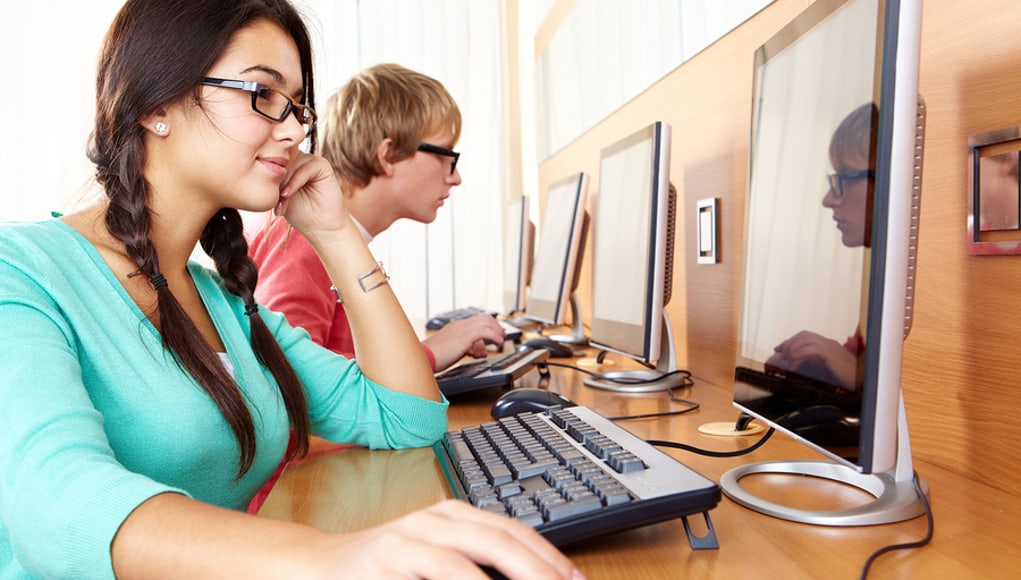 Chris Minnich grew up in Oregon and attended the University of Washington. After college, he moved back home to start his career. He found a temporary position at the Oregon Department of Education in the early days of No Child Left Behind, the federal legislation that required annual testing. As a result of this early exposure to the issues in education, Chris became passionate about better assessments.
During the 2003-04 school year, Chris led a pilot online assessment program that started with 28 schools–some still had dial-up connections. Oregon quickly became the leader in online assessment. Chris saw the long-term potential and became interested in policy to improve education.
At the height of the Great Recession, Minnich joined the Council of Chief State School Officers. The federal government had introduced a huge stimulus package that included a state grant program called Race to the Top. He launched a project to improve performance assessment, but in 2010 pivoted to support state adoption of Common Core State Standards.
In 2012, Minnich became executive director of CCSSO. As the outsized role of the federal government was coming to an end, Minnich helped negotiate the Every Student Succeeds Act of 2015.
On the Future of Assessment
In 2018, Chris returned home to Portland, Oregon as the CEO of assessment giant NWEA. More than 10.7 million students worldwide use the not-for-profit's flagship assessments, MAP Growth.
The adaptive MAP Growth assessments are given up to three times a year. Adaptive means that the test automatically adjusts the difficulty of the question to quickly zero in on a student's learning level. MAP Growth is part of the MAP Suite of assessments, which includes reading, language use, math, science, and a new K-3 assessment. Teachers use MAP Growth results (and other formative feedback) to monitor progress and differentiate instruction.
In 2016, NWEA announced a state solutions division to work with states to develop large-scale assessment systems that include formative, growth, and proficiency assessments. Nebraska has been NWEA's first partner, with the Nebraska Student Centered Assessment System starting for the 2017-2018 school year.
"Traditional end-of-year tests are built based on knowing nothing about a student," said Minnich. And they are not adaptive. As a result, they are really long. Minnich says a smart assessment system should take advantage of all of the data available about a student's progress. "We should be assessing students almost daily, and if we take that lens, we can take a different view of end-of-year assessment," added Chris.
Minnich sees assessment literacy as key to successful assessment. NWEA has focused on providing extensive professional learning opportunities for teachers to help them to maximize the value of assessments in teaching and learning; this is another major component of Nebraska's new assessment system. "If we can help teachers and administrators understand the inferences from data points, we'd be better off," said Chris.
Looking to the future, Chris believes hybrid assessments will become more popular. With the growing number of schools contemplating competency-based learning, Minnich sees teachers combining adaptive assessment and performance assessment (teacher observed and scored tasks like writing and problem solving) to get a deeper understanding of student learning.
He sees challenges, however, with the interoperability of various curricula and assessments, or the ability of programs to work together to provide seamlessly aggregated student data. The education industry will have to master this so that educators and parents can use comprehensive data to monitor student progress.
Chris is excited about the potential to do better for all students. "We have the opportunity in this country, in the next seven to 10 years, to really step up," said Chris, pointing to higher standards and better assessments in most states. "What if we got schools looking at where individual students are over time?" When teachers know how all of their students are doing, Minnich thinks, "accountability will become second nature."
Key Takeaways
[1:06] Chris talks about his educational background and whether or not it impacted his career choice.
[2:33] How Chris made it to the Oregon Department of Education.
[3:37] About Chris' work in becoming an early leader in online assessment.
[4:25] Why and when did Chris join the Council of Chief State School Officers?
[5:51] About Chris stepping in to become the Executive Director at CCSSO after the time of strong federal involvement.
[7:49] Why Chris decided to join the NWEA and what he wants he's looking forward to working on.
[9:19] About NWEA, their goal, when the tests are given, and the subjects covered.
[10:29] Does Chris see a way to use multiple forms of assessments together to both improve learning and to make mastery judgments?
[14:00] The benefits of assessment.
[15:25] Is there anything that could help teachers combine multiple forms of assessment?
[17:09] About Chris' interest in assessment literacy and helping teachers make better use of formative data.
[19:02] What Chris is looking to accomplish with NWEA in the near future.
Mentioned in This Episode
Oregon Department of Education
No Child Left Behind Act
Council of Chief State School Officers (CCSSO)
Northwest Evaluation Association (NWEA)
Dreambox Learning
iNACOL
For more see:
---
Stay in-the-know with all things EdTech and innovations in learning by signing up to receive the weekly Smart Update.
The Getting Smart Staff believes in learning out loud and always being an advocate for things that we are excited about. As a result, we write a lot. Do you have a story we should cover? Email
[email protected]