Five Learner-Centered Opportunities in Oakland
Located 11 miles northeast of San Francisco, Oakland is home to a little more than 425,000 residents of which nearly 75% are minorities. Considered part of the Bay Area, Oakland has witnessed economic and population growth along with gentrification, which has become commonplace for many cities in California. The growth in Oakland has not always been equal for all neighborhoods of the city, East Oakland, for example, has not felt the economic growth that other places in Oakland have.
Opportunities for learners have been on the rise, as many Oakland community members see the need for more meaningful learning, experiences, and connections for their youth. We visited several organizations in Oakland that are working to unleash and help develop the incredible potential in local learners, making Oakland a prime community for others to learn from.
The Hidden Genius Project
The Hidden Genius Project was founded in 2012 by five black male entrepreneurs/technologists who were unnerved by the dramatic juxtaposition between the high unemployment of black male youth and the plethora of career opportunities within the local technology sector. The organization offers three programs for young men:
Immersion:​ Designed for 9-11th graders, is a holistic mentorship experience that provides computer science, software development, entrepreneurship, and leadership training.
Catalyst: ​Designed for middle and high school students, offers workshops throughout the year with the express aim of igniting interest and exposing black males to mentors, basic computer programming and pathways to tech careers.
Uber Career Prep:​ In partnership with Uber, this program for college students is a year-long program consisting of bi-monthly (Friday) three-hour workshops on variable topics covering a range of competencies.
Brandon Nicholson, Founding Executive Director told the story of The Hidden Genius Project and how they came to be a formalized organization to support young men of color. It was a great testimonial of how wrap-around community support is necessary to overcome barriers and gain access to opportunity.
Latitude High School
We met Lillian Hsu (Principal) and John Bosselman (Director of Instruction) at  Latitude High School to kick off our exploration of what's possible for high-quality learning with an introduction to their new meeting space- a repurposed bus! After getting a rundown of what's on the horizon for Latitude's building & facilities, we had an opportunity to learn about the journey of Latitude High School and dig into an awesome 9th grade project inclusive of speaker design and construction, research, and the production of a podcast, which you can listen to here.
Earlier this year, Latitude High School became the 17th XQ Super School and received a five-year $10 million grant ​to "further its innovative work deepening students connections to their hometown, the city of Oakland, California." ​Latitude High School​ prioritizes real-world PBL, with strong arts, multimedia, and technology integration and extended learning opportunities with all students participating in internships and student-designed businesses.
Ever Forward Club
The Ever Forward Club was founded in 2004. It mentors young men of color in middle and high school by providing them with safe, brave communities that build character and transform lives. We went to learn from Ashanti Branch and experience a transformational activity related to the Masks We All Wear initiative, an effort to help young people and adults understand the masks we wear and those things we are going through that we might not always share and hide from others.
Oakland Reach
Back in Oakland, we had the opportunity to meet with Lakisha Young from Oakland REACH and she set our group on fire with wisdom and opportunity! Oakland REACH is a parent-run, parent-led group committed to empowering families from our most underserved communities to demand high-quality schools for our children. They are waking parents up and letting them know their kids aren't getting the education they deserve to be ready for the future. But, by coming together they have the power to create change. Oakland REACH has already engaged over 4,000 parents by hosting one-on-one conversations about how schools are doing. They have also had almost 300 parents go through the Oakland Family Advocacy Fellowship, providing the leadership training needed to change a system that has left students behind for far too long.
Lakisha's overview of The Oakland REACH and the activism of how they make the powerless parent powerful provided examples and important insight that our group needed to affirm their efforts and set priorities for their work moving forward.
Early Learning Lab
We closed out our day with dinner and learning from Sheetal Singh about how the Early Learning Lab ensures children's healthy development and kindergarten readiness. The Early Learning Lab​ was formed in 2015 and has a mission "to ensure children's healthy development and kindergarten readiness. They identify and spread smart innovations and technology solutions that equip parents, caregivers, and teachers with better ways to help children from birth to age five when it matters most."
In 2017, the Early Learning Lab launched the year-long Parent Innovation Institute in Oakland's Fruitvale neighborhood to "work more closely with parents to ensure that they have the best tools and strategies to help their children learn early."
Oakland community efforts recognize the importance of the entire community in supporting the access and acceleration of our marginalized youth. Experiencing the possibilities in high school learning, the focus on self-care and mental health, and powerful organization to empower parent advocates helped establish clear next steps and opportunities anywhere someone wants to take action or make a change for young people.
For more, see:
---
Stay in-the-know with all things innovations in learning by signing up to receive our weekly Smart Update[a]. This post includes mentions of a Getting Smart partner. For a full list of partners, affiliate organizations and all other disclosures please see our Partner page.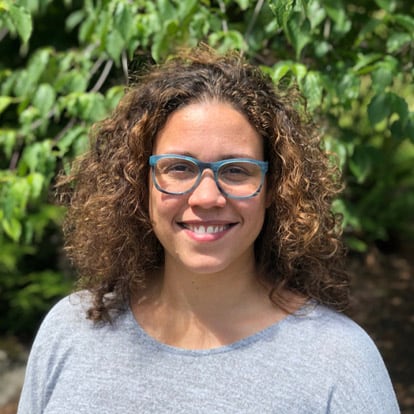 Kelly has been an educator for fourteen years. She began her career teaching in Southern California and has helped schools and systems reimagine teaching and learning, as well as serving as a school administrator. She is a Deeper Learning Equity Fellow, driven by the relentless belief in the possibility of social justice within education systems. Kelly focuses her education leadership on re-imagining structures for teaching and learning in order to empower all students for the future. Kelly is also a member of the Getting Smart Advisory Board.