How The Village School Puts Coding at the Center of Their Approach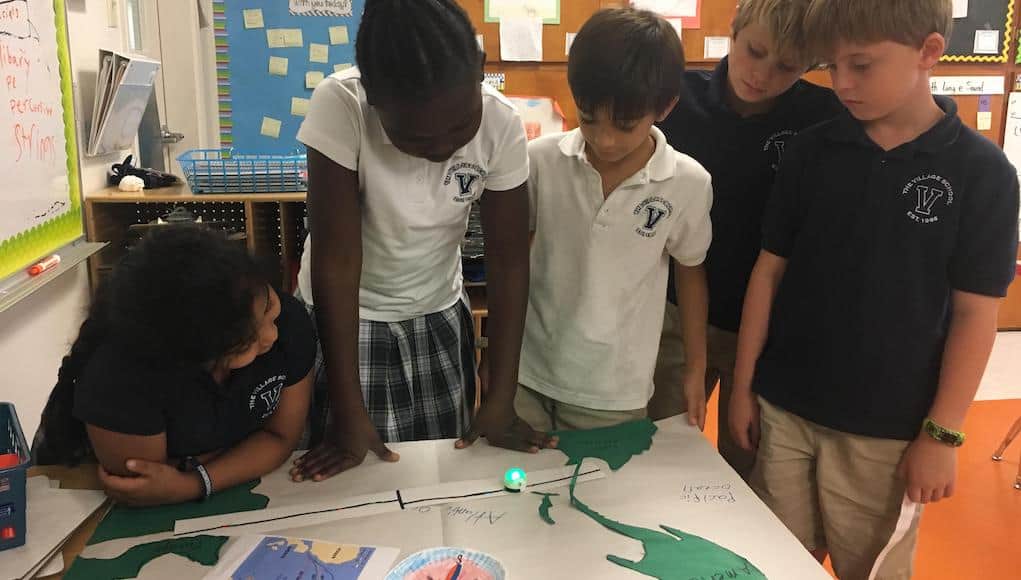 Today marks the beginning of Computer Science Education Week. With the new economy and the future of work rapidly changing, it would be hard to overstate the importance of the subject. We're excited to be spending the week exploring the different shapes computer science can take, and how teachers everywhere can begin incorporating it into their practice. To start the week out strong, today we're highlighting a school that's placed coding at the core of what they do.
The Village School in Houston, Texas, is a 52-year-old PK-12 school serving just shy of 2000 students. They have a diverse student body of both American and international students, offering both IB diplomas and an entrepreneurship diploma (developed in partnership with the Bridges to Wealth program of Wharton) for graduates. I recently spoke with Gabriella Rowe, Head of School, to learn more about why and how computer science has taken such a central role in their approach.
"Our focus and ethos is STEAM," said Rowe, attributing their focus in large part to the startup ecosystem they're seeing develop in their community. "Everybody knows and likes the 'Four Cs,' but we actually have five, and the fifth 'C' is Coding."
Their Approach to Coding
Rowe, who began her tenure with The Village School four years ago, began shifting the schools focus by asking, "what are the skills that our students are going to need?" They began their new coding program just over a year later.
They've developed different strategies for the different age groups they serve. Pre-K uses coding as a "language," replacing foreign languages, which they found were often distracting to their ELLs.
At the elementary level, they incorporate it into normal daily activities, like PE. For example, they'll set teams in two lines facing one another, and one line of students will be making a set of gestures that the other team is responsible for interpreting. If one student is sitting, one is standing, and one has their arms crossed, the other team has to decode what physical actions must be followed based on the "code." It then turns into a "race" of sorts, except it's a race that's also a really clever way of giving students abstract computational thinking skills at a young age. Elementary students also program robots to follow tracks that they develop (see below).
For middle schoolers, coding and robotics are mandatory. "Often this is viewed as a high-school topic, but it's much harder to learn a language as a high schooler than as a middle schooler," said Rowe. After increasing the number of coding-capable students at this level, the results have been promising enough that they're implementing a more programmatic approach to coding at the elementary level. "We want to see what that should look like in a PBL environment, beyond 'Google Apps for Education,'" said Rowe. The expansion will launch in the 2018-2019 school year.
They offer more intensive skill training for high school students, which is not mandatory, to allow students to begin exploring their passions. The high school program offers increased depth and breadth of design in tech-oriented offerings to include more science- and art-oriented students. According to Rowe, two of their most popular classes include one that gets students programming 3D printers to make art, and another on cybersecurity taught by an "adjunct professor."
Their (Limited) EdTech
Impressed by the program, I asked what EdTech tools they used, and was surprised to learn that they're actually using relatively little in terms of EdTech.
"It's more about setting a goal, giving teachers basic platforms, and letting them bring in tools that work for them. I've seen Cubetto, and Scratch for younger grades, and the entire school is on an open Google Platform… But modes and methodologies are more important that platforms."
At The Village School, you will find wood, glue and recycled products living side-by-side with laptops, 3D printers, sewing machine and welding equipment. "We spend as much on sewing machines and pvc and shop equipment as we do on EdTech itself, then ask both students and teachers to problem solve around that. If you have every piece of equipment you need and every solution layed out, then you'll never stretch your problem-solving."
Something that stuck out to me was the appearance of a common theme that emerged in the recent series of interviews I did with leading education pilot program organizations: a focus on teacher PD. "I think the single greatest resource to invest in is human resources. I want to put most of my budget into PD, and making sure [teachers] have the tools, time and support that they need to be inventing," said Rowe.
Entrepreneurship & Design Thinking
Coding, of course, no longer lives in a vacuum. Coding with a mission is the new formula for both impact and growth, and The Village School takes this to heart. Their entrepreneurship program (which includes a healthy dose of design thinking) allows students to take their coding skills into the real world and apply it to their passions.
The six courses that make up the "Bridges to Wealth" Wharton piece of the program focus on basic skills like leadership, decision-making, equity and accounting. "We believe our high school students are more than ready to put those skills into place," said Rowe.
If students opt for this track, three out of four of their high school years are dedicated to the program. Their capstone project requires them to create a startup that will be judged by Wharton panelists. Grading is based on the viability of their business plan, which must be focused on either social impact or engineering innovation.
"Practical, real-world skills are what students want," said Rowe. "They are hanging on every word in our investment class about 401ks, IRAs, etc. The big question they usually have is 'How am I going to ensure that I can take care of myself?' If a student says 'I have an idea for a company but have never even balanced a checkbook,' how are they going to move forward?"
For design thinking, she says, the key is making sure teachers learn the discipline of not giving answers. "It's our job as educators to teach children how to think," said Rowe. "That doesn't mean they don't have to memorize times tables–there are skills they will need–but the essence of a great education is learning how to think."
Early Feedback is Promising
According to Rowe, the most common feedback she has received from teachers is "I never thought I could do this." The other is "this makes so much sense and feels so right. It's what we should've been doing all along.' Students are engaged, the school is having fewer discipline problems and a number of parents have told her "I hope these kids grow up and work for me."
The school graduated more female engineers going to top 10 engineering schools than any other school in Texas, and has the largest high school STEAM entrepreneurship program in the state.
In a world where 91% of parents want their students to learn about computer science, but only 40% of schools offer it, The Village School has developed an interesting and accessible approach. Their inclusion of design thinking and entrepreneurship make for a powerful way to prepare students for a world in which a combination of technological capability and uniquely human skills will be of the utmost importance.
For more, see:
---
Stay in-the-know with all things EdTech and innovations in learning by signing up to receive the weekly Smart Update.