5 Students Discovering the Courage to Learn Independently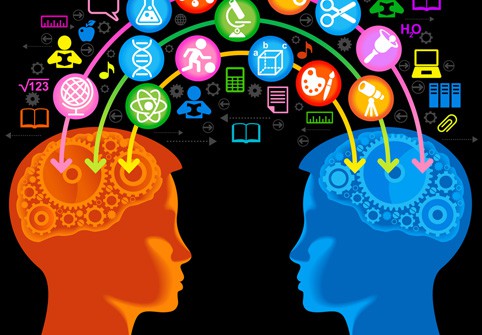 When nearly two-thirds of the students in my Senior Seminar abandoned their capstone projects and opted out of our course last December, I nearly despaired that our new program — meant to inspire students towards self-directed learning and gaining real-world skills — could stay afloat.  For the past four months, I have continued to work with the pioneering five students who took a chance, overcame peer pressure to slack off, and pursued their passions to create something lasting and important.  I had hoped my students would learn to persevere through difficulties, adjust to the unexpected, and communicate with a network of helpful supporters who could help them succeed. I am now proud to say that they have learned something completely unexpected: the courage to learn independently.
Dreaming Big
When I introduce the culminating senior project, I ask my students to dream big.  I show them TED videos of Adora Svitak on pursuing your passion and Dan Pink on motivation.  I show them the blank canvas given to me by a former colleague who wanted me to have what I needed whenever I felt the desire to paint.
This year I ran straight into all the things Seth Godin rails against in his education manifesto, Stop Stealing Dreams.  My students were in a panic as they faced the production line of the college process – many of them confronting this hardship alone because they were the first in their families to apply to college.  Burnt out by a grueling academic schedule and swamped by seemingly endless forms and applications, not to mention demoralized by less than inspiring SAT scores, they dropped everything else and focused on marketing themselves for college acceptance, completely missing the point that our work together on their culminating senior project was meant to help them begin to achieve the dreams that college represented for them.
Seth Godin says, "We can teach people to make commitments, to overcome fear, to deal transparently, to initiate, and to plan a course." This was exactly what we aimed for when we designed our culminating senior project.  Godin further states, "We can teach people to desire lifelong learning, to express themselves, and to innovate"  (Stop Stealing Dreams 28). Similarly, our project was meant to launch our students as independent learners who could do exactly those things – pursue lifelong learning, express themselves, innovate. But too many of my students were too scared, too alienated from their own passions, and too overwhelmed by the college process to dream their dreams any more.
Except for my brave five who persevered — I celebrate them here.
Promoting Outdoor Leadership

Inspired by his own experiences with the Woods Project and NOLS, Richard Juarez dreamed of creating his own outdoor education leadership program that could be used by schools like ours.  He got his chance to actualize his dreams on a school-sponsored camping trip in March.  Working closely with teachers Stephen Vrla and Lee Bryant, Richard took on the task of teaching his peers, but as he relates in his blog post about the camping trip, "Honestly, the camping trip was more of a learning experience for me. I had planned out to teach the students about outdoor leadership, but I feel that I was the one who learned about outdoor leadership. Throughout the trip I was learning about leadership by being in charge, for the first time, of a group of 19 students and giving them instructions." Richard is rounding out his project by blogging about his experiences and designing an outdoor leadership curriculum at Leading and Learning.
Meeting the Needs of Young Women
Ana Flores knew first-hand how effective counseling can help young people navigate the rough waters of growing up.  She felt so strongly about the need for her peers to have access to counseling, she began researching ways to improve counseling services at our under-funded school. She started a blog to share transparently how she had gained confidence and strength through counseling. But as her motivation started to flag in the face of seemingly insurmountable obstacles (read: funding), she nearly gave up on her project.  Luckily, she found a new focus by teaming up with her classmate, Alejandra Badillo, to revive a moribund support group for high school girls on our campus.
Alejandra was committed to creating a safe and comfortable forum for high school girls to talk about issues important to them.  Alarmed by classmates she knew were making poor personal choices – whether about sexual activity or about which career path to take – she began investigating how to resuscitate a club for girls, formerly called "Women's Group," that had fallen by the wayside when its faculty advisor had left the school.  With the help of Girls Inc. – Houston and her new partner Ana Flores, Alejandra began "Ladies of Chinquapin" in January.  Ana and Ale have designed bi-weekly programs in conjunction with Girls, Inc. facilitator Kori Harver, in which they have discussed subjects ranging from body image to friendship to sexual myths and misinformation. They have also bonded through the experiences of taking a Zumba class and participating in a trail ride with a female trail boss.  Their accomplishments are recorded on Ana's blog (see above) and Ale's blog, Dreamer; they have also created a video documenting their accomplishments. Most importantly, they have built a legacy for our school by creating a much-needed focus on girls' needs that will continue next year and, we hope, beyond.

Learning Creative Discipline through Songwriting
Lots of kids teach themselves how to play a musical instrument, especially these days with the help of Youtube videos. But I don't know very many who will sit down and teach themselves music theory.  Otilio Rios, Jr., had taught himself the basics of playing the guitar and had grown further as a member of our school's guitar ensemble, led by Paul Nichols.  Otilio, however, wanted something more.  He wanted to write and record his own songs.  Often frustrated by his own lack of knowledge, Otilio would try to create songs in fits and spurts, but he never got very far.  He talks openly about his process in his presentation for TEDxYouthDay.
This heart-breaking situation unfortunately comes up frequently in my work with children without financial means to gain the training they crave.  Yet, Otilio was undaunted, and armed with a copy of Music Theory for Dummies, he got to work. Now he is close to finishing his first song.  He will record it to share it on his blog, though he regrets not having decent enough professional equipment to get the sound right.  More than anything, though, Otilio has shown others that developing self-discipline and fortitude are essential to the creative process.
Film-making for a Cause

Alan Rodriguez is determined to pay back Chinquapin Preparatory School for the education it has given him.  Literally.  Having totaled up the cost of housing and feeding and educating an economically disadvantaged kid like him from Houston, Alan cast about for a way to raise money for the school.  He decided to create a video to share his story and invite others to donate to the school, even in small amounts, to meet his fund-raising goal of $1200, 10% of what his tuition might be per year if he had to pay for his schooling. He and I have discussed how to network on Twitter and Facebook, as well as how to share his video via social networking. He knows it's a long shot, but he hopes his video will go viral enough to bring in some ad income from Google.  Check out his trailer and follow his progress on his blog, Trying to Help My School.  You might even share his dream with others – and, who knows, maybe it will come true?
The Courage to Learn 
As my students reflect on their experiences designing and implementing an independent project, they marvel at what they have learned.  Richard says he knows now that teachers have a responsibility to prepare and deliver accurate, meaningful lessons.  He has also learned how to "rebound from mistakes."  Ale has gained confidence and learned she is not so isolated in her concerns for young women, while Ana has learned how to juggle the different roles of running an effective program.  Otilio has learned how to set more realistic, attainable goals, especially with regard to the time it takes to reach them.  Alan has learned that he loves film-making perhaps as much as he loves his school.
More than this, my students have found the courage to learn on their own.  As Richard states so well in his blog post on "Courage," "I realized that my classmates and I, who chose to stay in Senior Seminar, have courage. We took on a risk. We accepted the challenge to complete a senior project while handling many other important things during our senior year. This risk is scary because of having to sacrifice other things in order to reach your end product and even having the possibility of failing, but we stuck to the project because we find a meaning in what we are doing. Whether it is composing music or guiding young women, we are doing it because it is our passion." Amen.