10 Collaborative Projects for Your School — Light Years Beyond Group Work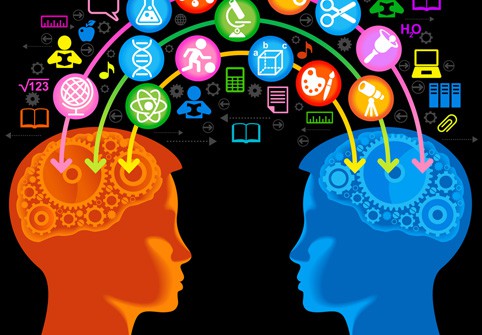 The art of collaborating is a fine art, and most of the time we are really just just having students do group work when we think we are having them collaborate.
As educators, we have to crack the collaboration code. Studies and surveys have indicated that collaboration is an essential and sought-after skill in the job market. Strategists predict that corporations will operate much more like the film industry in the future. When a film is made, contractors from numerous fields (camera crews, art departments, writers, directors, actors, set design, marketing, finance, etc.) collaborate for weeks or months at a time to work on the film project. The rise of super-structured organizations, new media ecology, smart machines, and a globally connected world will make future graduates' collaboration abilities a make-or-break job skill.
Collaboration vs. Group Work
True collaboration in school can be like herding cats. Marshalling a bunch of 6th graders into basic group work can be a task in itself. Actually, marshalling a bunch of teachers into productive work groups at the end of the day is an equally difficult task after those teachers have spent all day trying to do the same with said students. Adults need to have team building exercises that lead up to jumping out of an airplane together before they feel confident enough to really work together.


Collaboration is an advanced level of group work, and it is a learned skill. It involves sharing knowledge, learning, building consensus, planning, and implementation. Anthropologists suggest it's why we built civilizations and apes did not. But unless we learn how to collaborate, unless it is modeled for us, we are not very good at it. In schools, when we put six kids together for group work, it pretty much pans out this way: One does the work, one marginally helps a little, one manages to look busy, and three totally sluff off. But our directions for these unskilled collaborators are often something like this:  Okay, now we're going to work in groups.
So why are we surprised at the results? We need collaboration to have instructions, be modeled, and be monitored.
21st-Century Collaboration
If you really want to collaborate, you need to bring together different skills sets and expertise. You can't just lock six accountants together in a room and expect the taxation burden in the U.S. to be solved. It's more than getting the numbers in the right order. When they assembled the The Avengers, they didn't just go out and get six Scarlett Johanssons. And while that might sound like a pretty good idea, Marvel knew they needed a diverse skill set to save the world.
Similarly, if you really want to collaborate at your school, it needs to be across disciplines to reflect a real-world environment. Bring together a math, science, music, foreign language, art, and history student into the same group.  This will be a great opportunity for them to showcase those class skills outside of classroom with a real-world problem. This is a goal we should have with all of our classes, and what an exciting opportunity it is.  This will take some coordination, but the process will be worth students going through, and results will be more meaningful.  And . . . hopefully . . . the students will go back to their classroom teachers to bug them with real-world applications for what they are studying.
Creating a Collaboration Plan
Here's a sample strategy on how to roll out a real, 21st-century collaborative project at your school.
1. Get departments to agree that if students take part in the school's collaborative project, all teachers will accept the participating students' project grades as an extra credit grade or actual grade in their classes. So even before you get the students to collaborate, you will need to get teachers to come to a consensus. The project will be directly related to a student's class, so that should make it more palatable for each department.
2. Establish a range of collaboration topics for which students can sign up. Give the students a chance to determine their own paths here. Here's a popular list of grand challenges, but tailor it to fit your needs or to better reflect your community.
3. Have students register for their favorite topic by using something like Google Forms to collect registration information. Students must pick one class in their schedules from which they will bring that class's expertise or skill set to the project. This is the class in which they will get their extra credit or additional grade. If it's for their French class, for example, they will use their French skills in the project. If it's for their math class, they will apply their math skills. If they are in a leadership class or SGA, then they can have a great opportunity to lead the group. Music and art students will add those layers to the project and so on.
4. After students have registered, you need to create their groups for them. Be sure to get a diverse mix of disciplines in each group, just as if you were assembling your own Avengers team.
5. Have students meet in their groups. Since they are in different classes, have them meet online in something like Join.me or a Google+ Hangout. This can even happen during school hours as students won't have to leave their classroom to meet with their collaboration partners.
6. Teams can use a Conceptboard to plan their strategy for tackling the grand challenge.
7. Have students research their grand challenge by using Google's new WDYL search engine. The "What Do You Love" search engine searches across Google's channels and delivers all the results on one page.  It's a great place to start a research project. Give it a try now if you've not used it before. Here's a WDYL search on collaboration.  Remind students that they have to relate their project work back to their courses. Each student wears a specialized hat for this project.
8. Have students share their search results via Twitter, short blog posts, or on Delicious. If you've not used Delicious  or if you've not used it since the YouTube guys bought it, you need to check it out.  It's a great place to curate and tag what you find on the Internet. Blogger is a free and easy place for the blog posts. Although, if your school has a portfolio program, use that!
At this point in the project, students are not working on a solution for their grand challenge. They are just defining the problem and sharing their knowledge via the social networks.
9. It's time for the group's first publication. While continuing to meet via the net or occasionally in person, students should now clearly define and publish what the problem is. This polished publication can go on Blogger or in the school's portfolio. A video or Slideshare will work just as well, or a combination of all three is even better.  Students should go global and local in defining the problem. If there are students from a foreign language class in the group, that language is where the global focus should be.
10. Market the publication by creating an amped up video on Animoto. In a short period of time, students can create a powerful music video that will bring attention to their cause.
11. It's now solution time. Students should create solutions for their grand challenges on the local and global level or they can endorse and promote solutions that others have already launched. The solution phase should include an awareness campaign that motivates others to become involved. Back to Blogger for this final showcase and don't forget a new Animoto marketing video!

Adam was a classroom English teacher for ten years and began teaching online in 1998. He now works for the North Carolina Virtual Public School, the 2nd largest virtual school in the nation. Adam has blogged for Getting Smart since September of 2011.